Welcome to WebsitesAdvice's review of another website hosting provider. On this review, let's take an in-depth look at SiteGround, a web hosting company that provides Joomla, WordPress, Drupal, Magento, and more web hosting services. Today, it has about 500 employees working in 4 different offices and more than 350,000 domains are hosted. The company achieved all that by creating its own solutions, and technology in the fields of server security, uptime, and speed developed in that process. SiteGround's portfolio of services includes shared web hosting, cloud hosting, dedicated servers, reseller hosting, and domain services. SitGround also provides its loyal customers with a range of free website models, free website guides, and knowledge base posts.


Like Website Design, Development and Maintenance, a dependable web host is a crucial part of any successful website. During the planning stage, the choice of web host is probably one of the last things you have in mind. However, failing to pick the correct host can cause a lot of problems to your website and, more importantly, to your business moving forward. Here at WebsitesAdvice, we will try our best to help you to choose what hosting is the best for your needs.


What makes SiteGround unique is its unique team of individuals who have been providing outstanding services to their clients' websites since 2004. The team put their passion, dedication, and expertise in taking care of their clients' websites every day. SiteGround has grown to more than 500 employees in the last decade and a half. A large number of their men, including their top executives, who started working at SiteGround 10 years ago or more, are still part of their team. In the high-paced IT industry, this long-term dedication results in a healthy company culture with vision and values that drive them steadily ahead. They are also pleased that each year, they can embark on talented people who add know-how and improve their expertise. They love what they do and are motivated to provide exceptional services. They solve obstacles their rivals find difficult and help their customers easily navigate their websites.


Effective and easy-to-use applications and tools are also available to manage the hosting and pages. Their customer-facing software has been built in-house to guarantee an excellent user experience and an operational performance on their platform. All their tools follow the same design guide to ensure a consistent and cohesive experience if you're using their Client Area and Site Tools or downloading some of the WordPress plugins that they've built for their clients.


E-COMMERCE – We could also have set up the website with e-commerce software from the get-go, such as PrestaShop, CS-Cart, or Magento. Under AutoInstallers, the control panel has icons for specific platforms, making them easy to find. You can also go to Softaculous and select one of the 30 choices available, including ZenCard, ShoWare, OpenCart and Axis, to name only a few. Using their drag and drop builder, we can use Magento to create an attractive shop. If you need a shopping cart, that's not a problem. If you want to focus on billing and invoicing, there's also an app for that. You'll want a secure socket layer (SSL) certificate if you're planning to sell the products online. The web host includes these in all their plans above the shared StartUp tier and it's free of charge. SiteGround also provides Wildcard, a premium SSL certificate that secures the top-level domain, and unlimited subdomains.


SECURITY FEATURES – SiteGround provides many security options, including SG Site Scanner, SpamAssassin and SpamExperts antispam tools, hotlink defense, and blocklists of IP addresses to let you know when your site is under threat. To make sure your website is clean, it scans all the links on your homepage. They also offer an interesting feature called Leech Protect, which allows administrators to prevent users from giving out their passwords to portions of the site or posting them publicly. Our team likes that SiteGround incorporates improved efficiency and protection into the CloudFlare content delivery network (CDN) service. SiteCheck is yet another useful tool. This automated scanning software tool scans the website to see if any malware is in the code or on the site. Periodically running the software is a good idea. The last thing you want to see in your email inbox is messages from irate users saying their computers have been infected by visiting your website. SiteGround also has free daily backups to protect your data.


EXCELLENT UPTIME – Website uptime is a significant aspect of a hosting service. If your site is down, customers or clients will not be able to find you or access your products or services. We use a website monitoring tool for this research to track the uptime of my test sites over two weeks. Every 15 minutes, the tool pings my website and sends me an email if it is unable to contact the site for at least one minute. The data revealed that SiteGround is incredibly stable; during the two-week observation period, our test site did not descend once.


AWESOME CUSTOMER SERVICE – SiteGround says its emphasis is on customer support and displays many wizards, knowledgebase posts, and tutorials on their web. Customer support is provided through a ticket-based system, live chat, and 24/7 telephone assistance. We tested the online chat with SiteGround and we were amazed at how quickly somebody came to my help. Within a couple of seconds, we were connected to a chat representative. We asked about the differences between cloud hosting and optimized WordPress hosting for SiteGround and received a prompt, clear response. On a weekday morning, we called the phone number to ask a representative about how to import my WordPress.com setup into SiteGround. The representative walked me through the process patiently and with success. SiteGround lets users cancel their credit card within 30 days of being charged.|


BENEFITS OF USING SITEGROUND
A SOFTWARE STACK OPTIMIZED FOR SPEED
With Apache as a web server and Nginx as a reverse proxy, they run on an in-house implementation of Linux Containers. They have a more streamlined custom PHP handling setup with OPCache extension. Their platform is designed to deliver incredibly fast hosting service.


FIRST TO PROVIDE THE LATEST SPEEDS
They consistently rank among the first hosting companies to provide access to the latest speed technologies for their users. Their customers need not wait to take advantage of PHP's latest versions or the most innovative protocols such as HTTP/2, TLS 1.3, OCSP Stapling and QUIC.


MORE SPEED BOOSTING SOLUTIONS
The SuperCacher is a powerful in-house caching solution based on Nginx reverse proxy and Memcached. Free Cloudflare CDN and Railgun are included in all plans. WordPress users can increase their site speed even more with the help of their unique SG Optimizer plugin.


NGINX DIRECT DELIVERY
They are now using NGINX Direct Delivery to serve static content such as images, CSS, JS Files and others. This method allows them to remove static content from the server memory, but directly load it from the SSD and disable more RAM space for dynamic content caching. This feature improves browser caching for your site and also makes CDN use easier and more efficient.


REAL-TIME SERVER HEALTH CHECKS
Their unique monitoring system checks the server status every 0.5 seconds and not only detects ongoing issues and fixes many of them automatically, but can also prevent potential problems.


SMART WAF TO PROTECT FROM EXPLOITS
The SiteGround Security Team is monitoring emerging threats and software vulnerabilities and is writing smart new firewall rules to protect servers and sites from hacking and breaches.


SITEGROUND PRICING AND FEATURES REVIEW – SHARED HOSTING

SiteGround does not provide monthly shared hosting options, but it has a one-month trial available to check it out before you buy it. After that expires, you sign up for one-, two-, or three-year contracts, and discounts are available during the sign-up period. SiteGround allows you to choose which data center you want to host your website: United States (Chicago), Europe (Amsterdam, Milan), Asia-Pacific (Singapore) and United Kingdom (London). If you are worried about data protection or retention laws, you can select a European data center. If most of your users are based in Asia, you can use the Asia-Pacific data center. Or you can only go to the US site by default. We can't imagine that many businesses will need this feature, but it's a surprisingly advanced option for such a newbie-focused provider.


The StartUp plan (starting at $3.95/month) includes one website, 10 GB of storage, network traffic for approximately 10,000 visitors per month, unlimited email, and support for CloudFlare's web performance and security services. The GrowBig plan (starting at $5.95 per month) is intended for slightly larger sites, with support for multiple websites, 20 GB of storage, network traffic suitable for approximately 25.000 visits per month, unlimited emails, CloudFlare support, a one-year free SSL certificate, and up to 30 backups.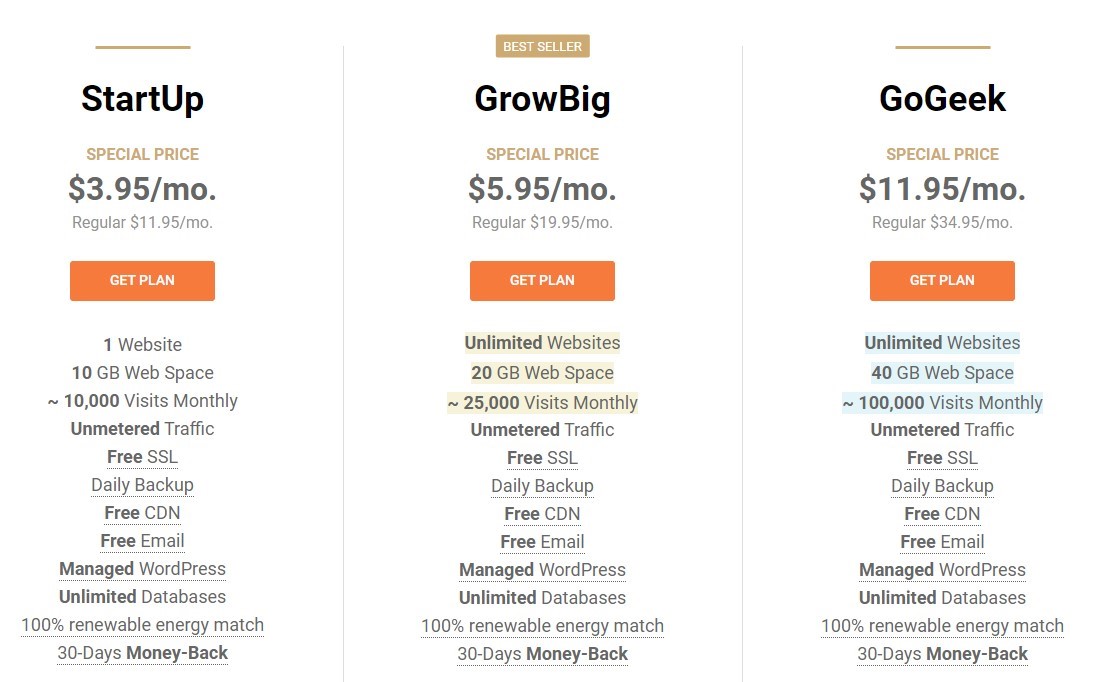 The GoGeek plan (starting at $11.95/month) is intended for larger sites, with support for several websites, 30 GB of storage, network traffic "suitable" for approximately 100,000 visits per month, unlimited emails, CloudFlare support, one-year free SSL certificate, up to 30 backups, and the Git repository. SiteGround also provides GoGeek customers' accounts better hardware with fewer accounts (meaning that you share better-performing hardware with fewer other sites) and a PCI review to make sure your site is compliant.
Notice that SiteGround states that it can accommodate more visitors than specified quotas, but only as one-time events (such as when your blog lands a Reddit hit) every month. I offer props to SiteGround for its accessibility limitation; most web hosts, including those with "unlimited" visitors or data, have some traffic limitations in their terms of service.
Are you interested with the plans that we discussed? Check it out by clicking the image below!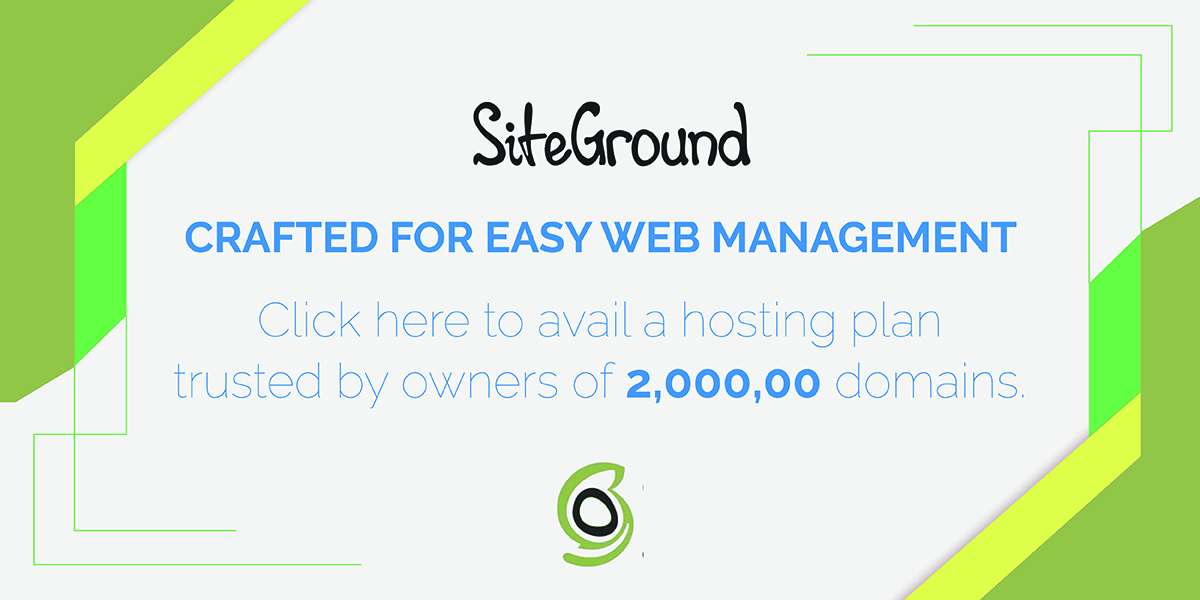 SITEGROUND PRICING AND FEATURES REVIEW – CLOUD HOSTING
SiteGround has removed VPS hosting, but now it boasts cloud hosting. The new Linux-based platform, which draws resources from multiple servers, is designed to auto-scale traffic surges so that your site won't go down due to lack of power.
The four Cloud Hosting plans start at $80/month for 4GB of RAM, 40GB of storage, and 5TB of monthly data transfers, and max out at $240 per month for 10GB of RAM, 120GB of storage, and 5TB of monthly data transfers. There's lots of room for growth. You can also customize your Cloud Hosting plan should you need more power. They also include a free, one-year SSL certificate.

SITEGROUND PRICING AND FEATURES REVIEW – WORDPRESS HOSTING
Like several of its competitors, SiteGround offers WordPress hosting. SiteGround oversees your installation with optimized managed WordPress hosting, a service that grants your website enhanced security, automated daily backups, page caching, staging, and automatic content management system updates. It also provides one-click installation and a free transfer of the account. SiteGround no longer provides a free domain name but offers significant discounts for registration. The plans are similar to the company's shared price hosting plans. As a matter of fact, you're going to need to sign up for one, two, or three-year contracts.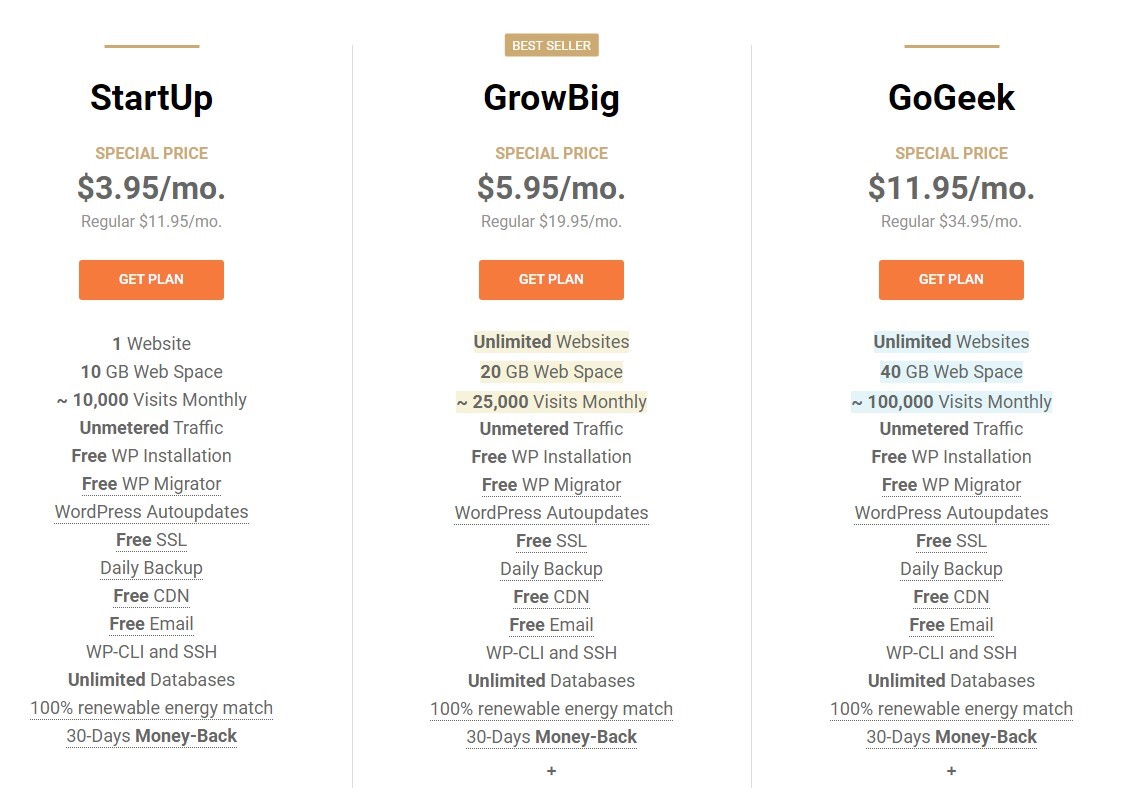 SiteGround's WordPress base tier, StartUp ($3.95/month), offers a  10 GB of storage, a mere 10,000 monthly visitors, and the ability to host just one WordPress site. GrowBig ($5.95/month) increases capacity to 20 GB and monthly visitors to 25,000, thus allowing you to host unlimited WordPress pages. The top-level package, GoGeek ($11.95 a month), builds on GrowBig with 30 GB of storage and 100,000 monthly visitors. All plans come with unlimited e-mail and monthly data transfers. SiteGround also provides a range of free WordPress themes.

SITEGROUND PRICING AND FEATURES REVIEW – RESELLER HOSTING
If you're looking to get into the web hosting business, but you don't want to deal with infrastructure issues, check out SiteGround's reseller hosting packages. The plans start at $11.95/month and offer sales and commission reports and credit card processing. Servers have 10 GB of storage, unlimited monthly data transfers, unlimited MySQL databases, and free backups and emails.

DO WE RECOMMEND SITEGROUND?
With all of these being said, we strongly recommend SiteGround.

SiteGround is positioning itself as a hosting provider for newbies, particularly small business amateurs. SiteGround's services, from its limited features to support resources, are designed for mom-and-pop stores, sole owners, and independent businesses that do not have a lot of design time or fancy web skills. Moreover, the surprising number of security features of SiteGround also indicates that it has small businesses in mind. Small businesses are highly vulnerable to website attacks. They are unlikely to invest in a site scanner to search for malware or a cloud provider to protect them from denial-of-service attacks. The fact that SiteGround does it for them makes him a good friend for small businesses.


I hope you enjoy WebsitesAdvice's comprehensive review of SiteGround. If you've used SiteGround or are an existing customer, drop your comments below and let's talk!


 Thank you so much. See you again!