Hi there! Welcome to another comprehensive review brought to you exclusively by WebsitesAdvice. We hope you were able to browse our series of comprehensive reviews about different Web Hosting Providers. If you haven't, please check it out. There's a tone of information there to help you choose your next provider.
Now, we'll take a look at the BEST OF THE BEST. In this review, we will be discussing 10 BEST WORDPRESS HOSTING PROVIDERS for 2020. WordPress is an open-source web development framework that is written in PHP and uses a MySQL database. In non-geek speaking, it's probably the simplest and most efficient blogging and content management system (or CMS) in existence today. WordPress is an outstanding website network for a wide variety of websites. From blogging to e-commerce to business and portfolio websites, WordPress is a flexible CMS solution. Designed with simplicity and versatility in mind, WordPress is a perfect solution for large and small websites. Choosing the best hosting for your WordPress platform is very critical. Your website's health will depend on the hosting provider you use.
Yet how do you know which is the best WordPress host?


No matter which host you select, bear in mind the three most critical WordPress hosting factors:
Speed – often referred to as "load time."
Uptime – must be at least 99.94%.
Customer Service – they will support you with WordPress related issues.
We cannot guarantee that you will have the same uptime or speed results to your website because this varies with a variety of factors, such as your preferred hosting package, the size of your website, and the number of visits your website receives.


TOP 10 BEST WORDPRESS HOSTING PROVIDERS
Uptime: 99.94%
Load time: 709 ms
Support: 24/7 live chat
Features: Free domain, unlimited storage & bandwidth
Website: iPage.com
iPage also offers "WordPress" hosting. They have 2 WordPress plans that cost $3.75/month and $6.95/ month (renewed at $7.49 and $10.49/month, respectively), both of which come with a free domain name for 1 year. The main aim of iPage is to ensure the best possible experience, from registration to customer service. iPage offers 24/7 online chat and phone support. All plans come with one-click WordPress installations as well as a free SSL certificate, bandwidth and storage.
On the opposite side, iPage doesn't provide any content delivery network (CDN), you can't change data centers (USA only) and there are no free site transfers (cost $150 extra). While their uptime (99.94%) and load time (709 ms) aren't bad, performance, in general, isn't as good as other WordPress web hosts.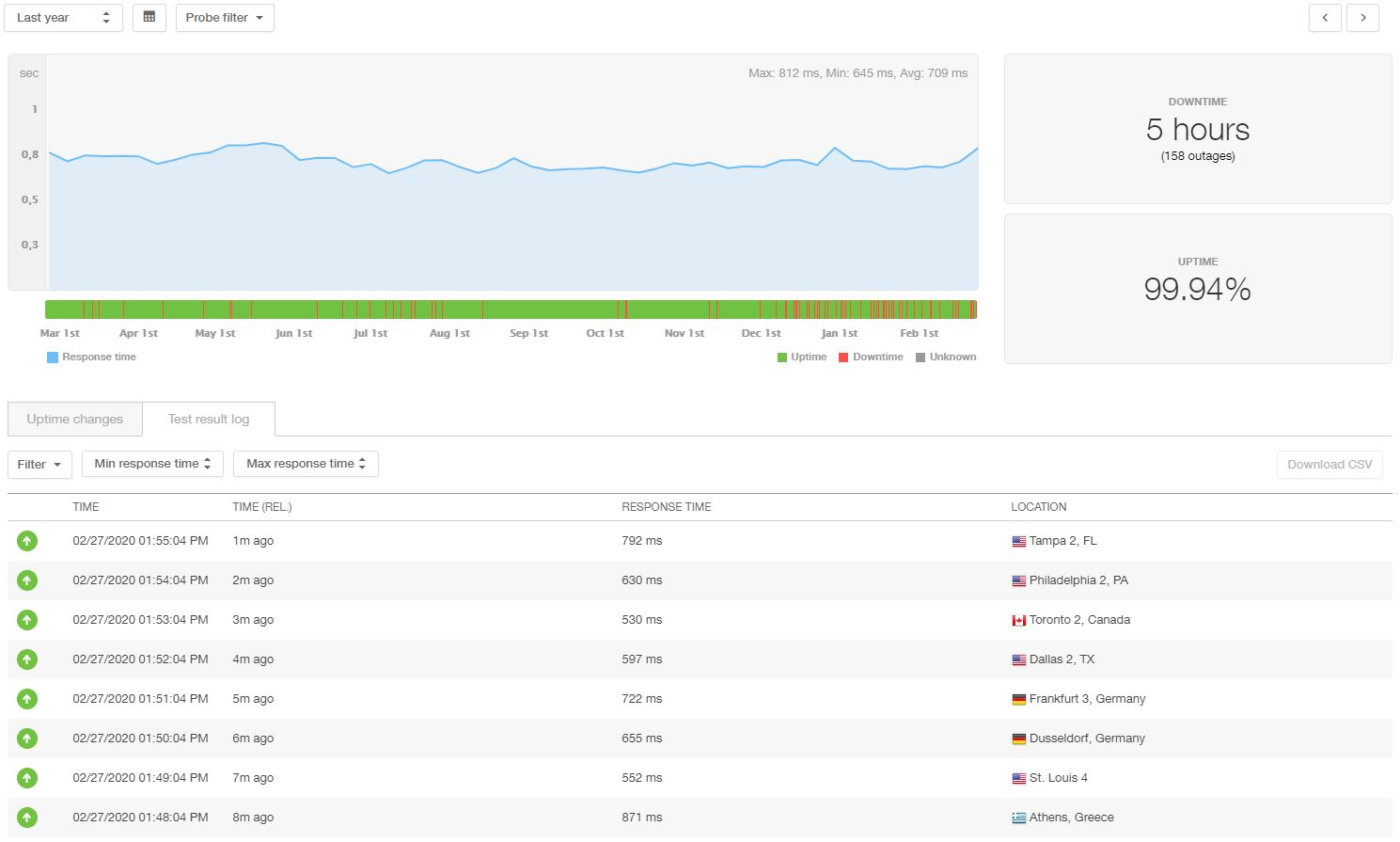 The cheapest package is $3.75 for 1/12/24/36 months. Monthly and annual packages are renewed at $9.49/month while the 24-month plan is renewed at $8.49, and the 36-month plan is renewed at $7.49. A 30-day money-back guarantee is included in all plans. Backups cost $1.00 a month, and email addresses are $6 a month from Google Suite. 
PROS: Good features.
CONS: Not very knowledgeable customer support, high renewal costs.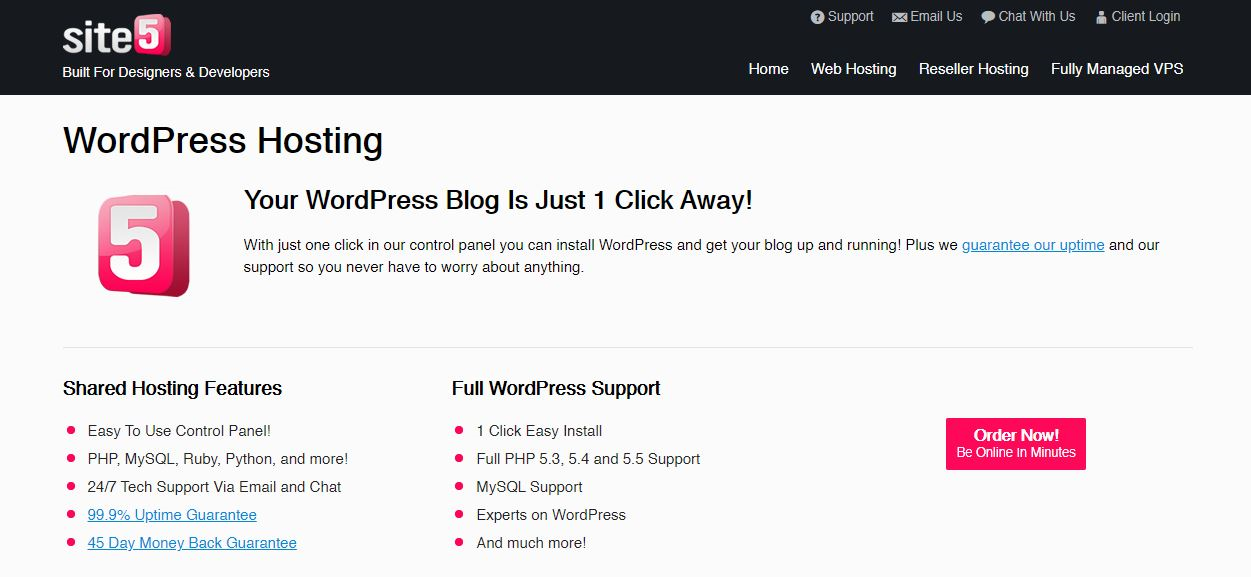 Uptime: 99.99%
Load time: 575 ms
Support: 24/7 Live Chat
Features: free site transfer, One-click install for WordPress, expert WordPress support
Website: Site5.com
Site5 is not the cheapest provider of shared WordPress hosting. That being said, they claim to be the best option for designers and developers because they have a flexible control panel, good customer service and stable hosting.


Site5 also offers free Cloudflare CDN, 24/7 live chat, and site transfer/s to other hosting providers. They also provide an uptime guarantee of 99.9%. It is also worth noting that the cheapest WP hosting plan for Site5 does not have the option to choose between data centers. The default location is set to the US (central) location. Their "actual" average uptime in the last year was 99.99% and the average speed was 575 ms. It's not as fast as Bluehost or A2 Hosting, but it beats many others in uptime.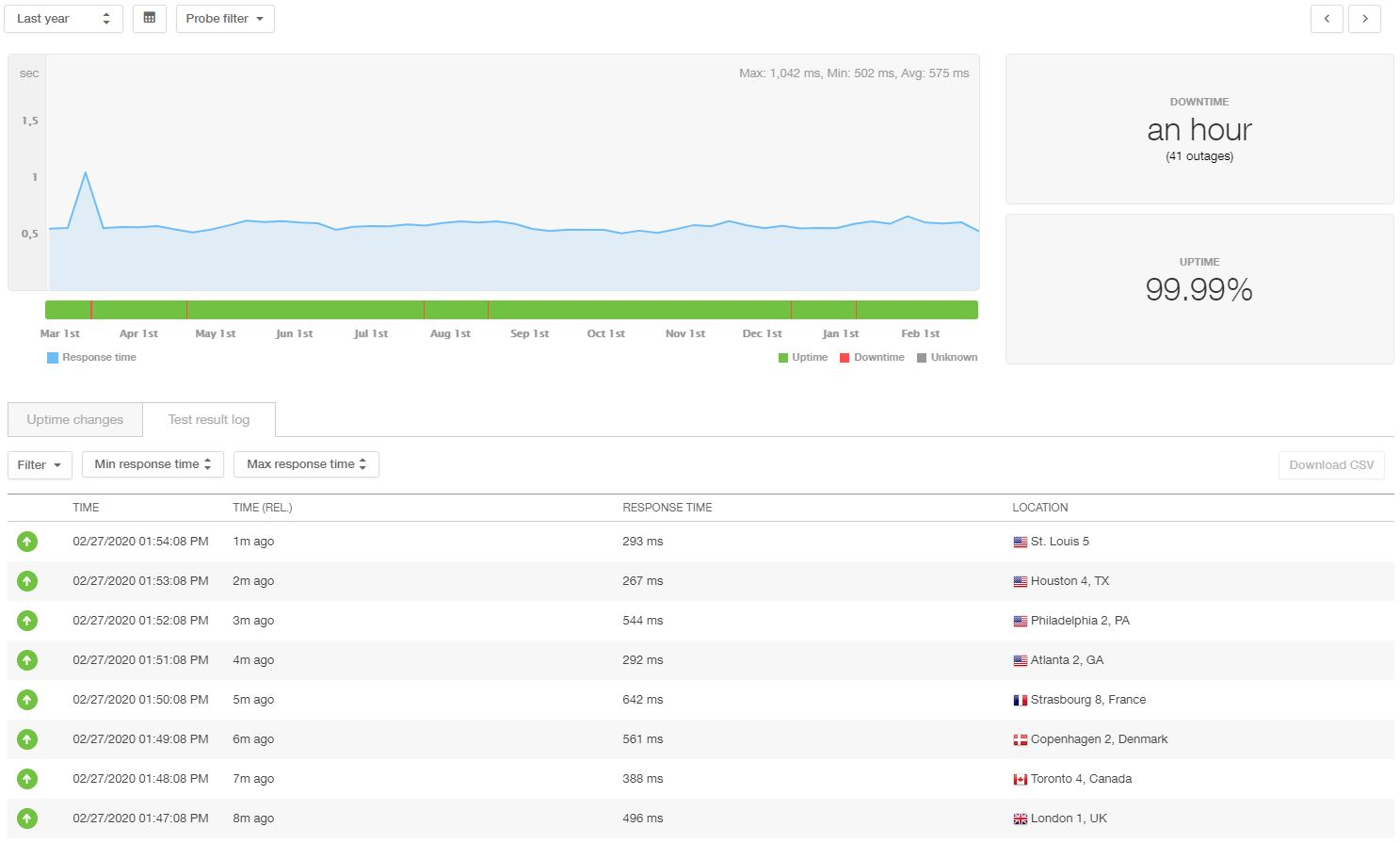 Site5 is very costly. The cheapest package will cost $6.95/month for 24 months; it will be replaced later at a slightly higher rate of $8.95/month. What we don't like about their billing process is that even though they offer a 30-day money-back, your hosting will automatically renew up to 15 days before the end of your current term.
PROS: Good uptime, OK speed
CONS: High costs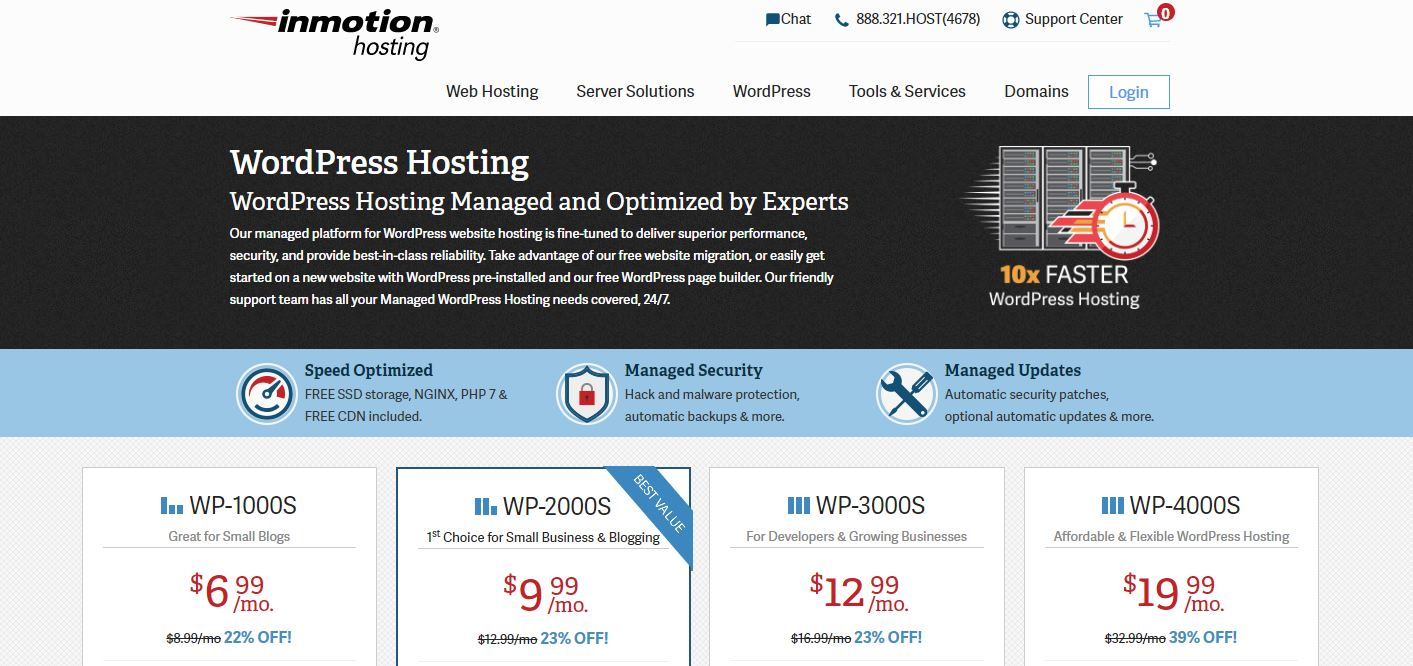 Uptime: 99.95%
Load time: 767 ms
Support: 24/7 Live Chat
Features: WordPress is pre-installed, unlimited bandwidth/storage, unlimited email accounts
Website: InMotionHosting.com


InMotion is another US-based WordPress server with over 350,000 domain names. There are several reasons why InMotion is a perfect match for WordPress users. Every package comes with free SSL, free CDN, unlimited email accounts, and 200 free WordPress themes. The only thing they restrict is the number of pages you may use, the storage space and the bandwidth. They've got 24/7 online chat and US phone support. Also, site transfers are free (a nice benefit) and you can try their pre-installed BoldGrid web builder.


One of the drawbacks of InMotion Hosting is that there is no instant access to the account. This means that if you are an international customer outside of North America, for example, there may be a delay and difficulty in trying to verify your new account. Their uptime and pace are average but consistent enough. They are coming in at 99.95% uptime and average speed of 767 ms over the last 12 months.


InMotion offers several WordPress, WordPress VPS and Dedicated WordPress plans from $4.99 (renew $8.99) to $248.99 that range from max domains, storage capacity, and bandwidth (max visitor). They are also one of the few hosts to deliver dedicated WordPress solutions.
PROS: Reliable, quick, good customer support.
CONS: No immediate activation for people outside of the US. Speed could have been better.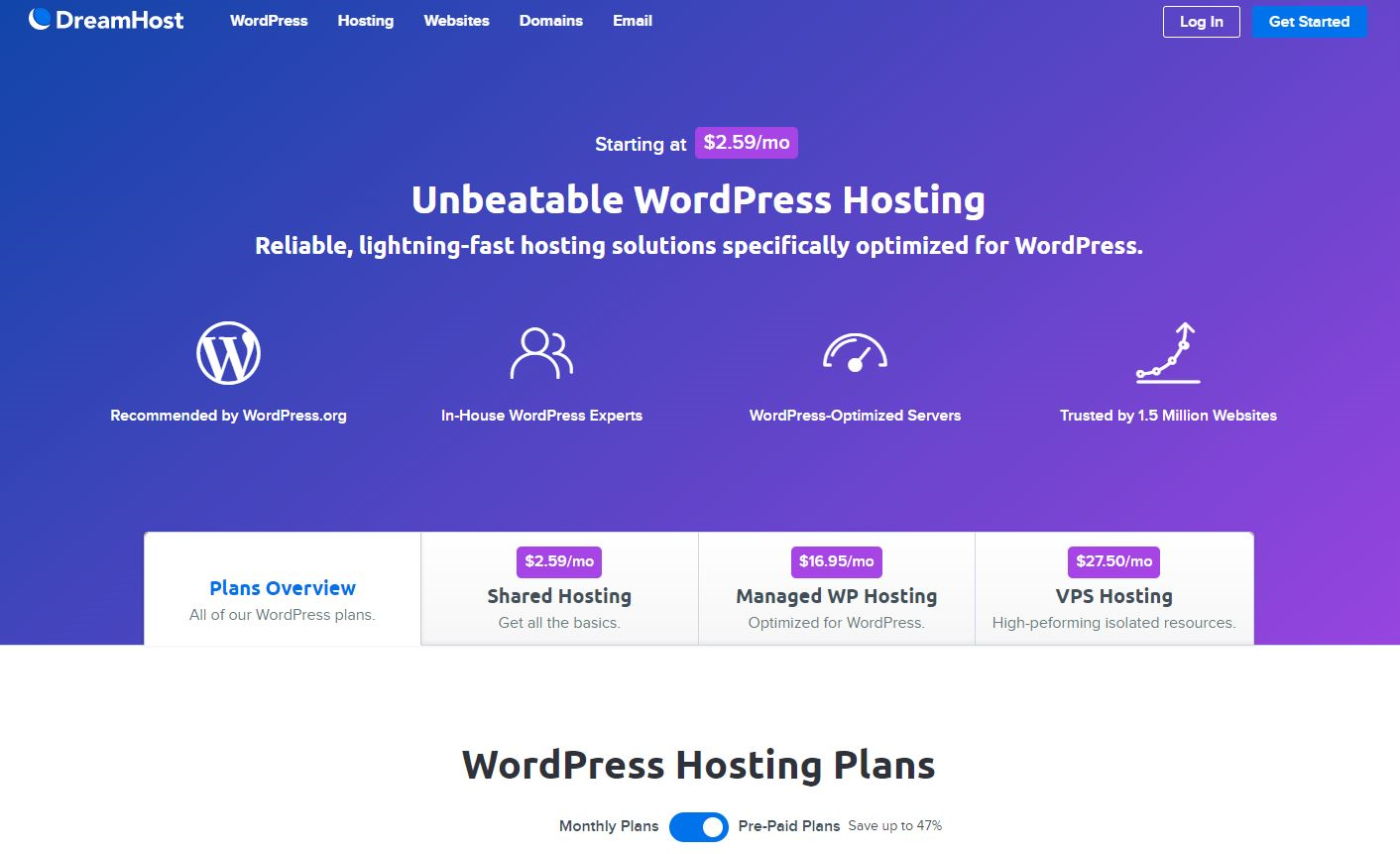 Uptime: 99.92%
Load time: 569 ms
Support: 24/7 Live Chat
Features: WordPress is pre-installed, drag and drop builder, unlimited bandwidth/storage
Website: dreamhost.com
DreamHost is a successful, well-developed US hosting service with over 340,000 customers. Like Bluehost and SiteGround, they are also listed as approved WordPress hosts on the WordPress.org website. The aim of DreamHost is simple – to be fast, reliable and optimized for WordPress users. All of their WordPress plans (Shared, Managed, and VPS) provide WordPress website builders, free SSL, and unrestricted bandwidth SSD storage.
Site transfers are not free (costs $99, but are free with a DreamPress plan of $16.95/month) and there is no 24/7 support service. They have live help chat, but it's only available at 5:30 a.m.-9:30 a.m. Pacific time, but it's at least 7 days a week.
They don't seem to be the perfect host for a website that serves travelers outside the US or Asia, but they have a consistent page speed (569 ms) and 99.92% "Good" uptime. There is also no option to choose server locations outside the USA.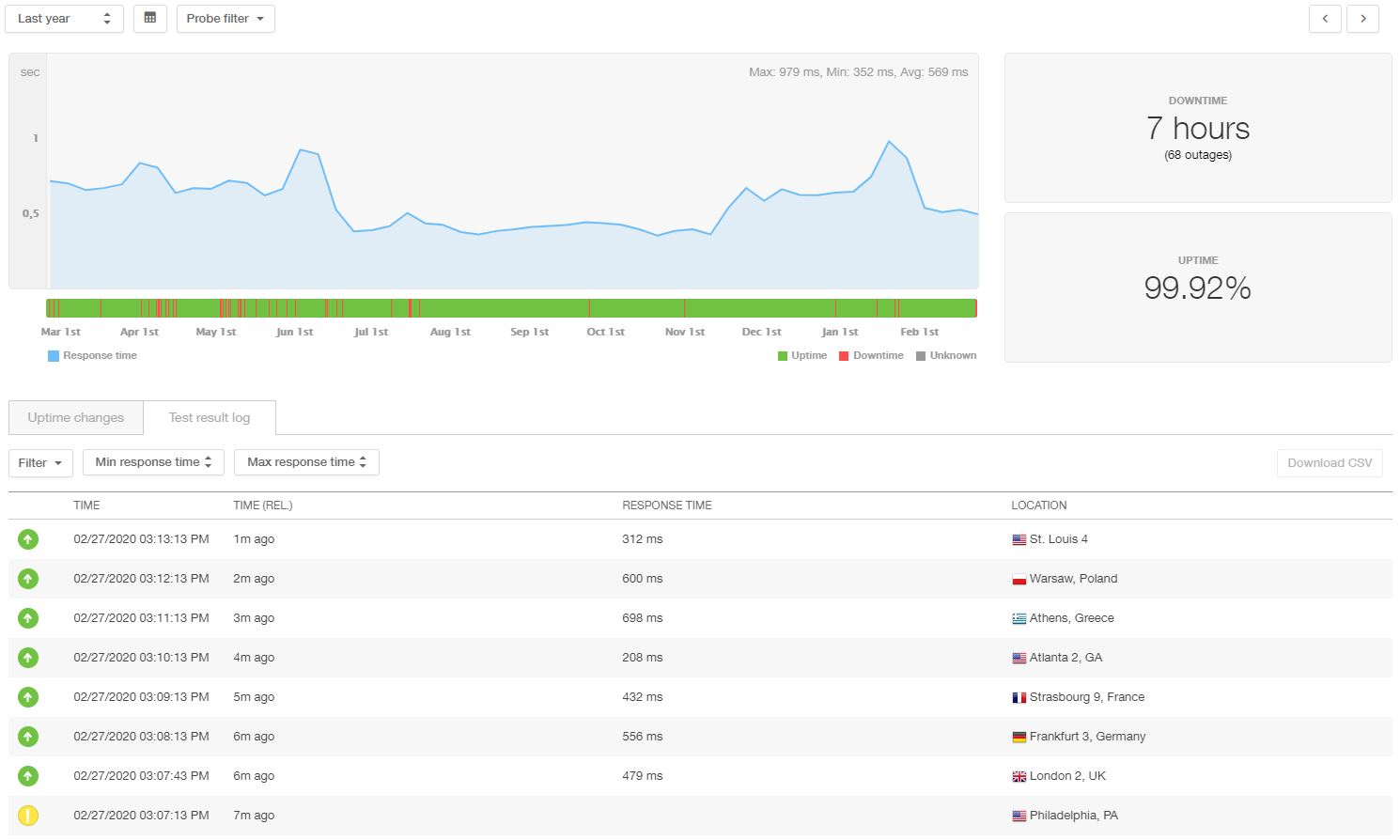 Their cheapest package starts at $2.59 per month or $4.95/ month. DreamHost has produced "high value" WordPress plans that are more costly, priced at $16.95/month. Like some, DreamHost has a 97-day money-back guarantee. Email domains cost an additional $19.99/year, and the free domain renews $15.99/year.
PROS: You can pay monthly, excellent service, willingness to scale.
CONS: Uptime should have been higher.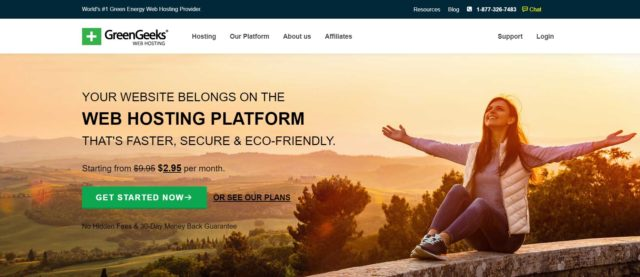 Uptime: 99.99%
Load time: 375 ms
Support: 24/7 Live Chat
Features: Unlimited storage & bandwidth, automatic updates, free SSL
Website: greengeeks.com
GreenGeeks is a fast, stable and scalable host for WordPress users. Their name comes from the fact that they have adopted an environmentally friendly approach to hosting websites. All their WordPress plans come with free SSL, in-house/ private CDN, unlimited email accounts, unlimited bandwidth, and unlimited SSD capacity. When you sign up, you can select from various server locations between the USA, Canada and Europe. Transfers to the WordPress site are free.
On the support side, they have 24/7 live chat, email and phone support, as well as several WordPress related tutorials and guides. Typically, their help is fast and reliable. GreenGeek's efficiency, particularly speed (375 ms), is strong, and uptime is also very reliable (99.9%) – just 36 outages, with a total of only 1-hour downtime per year.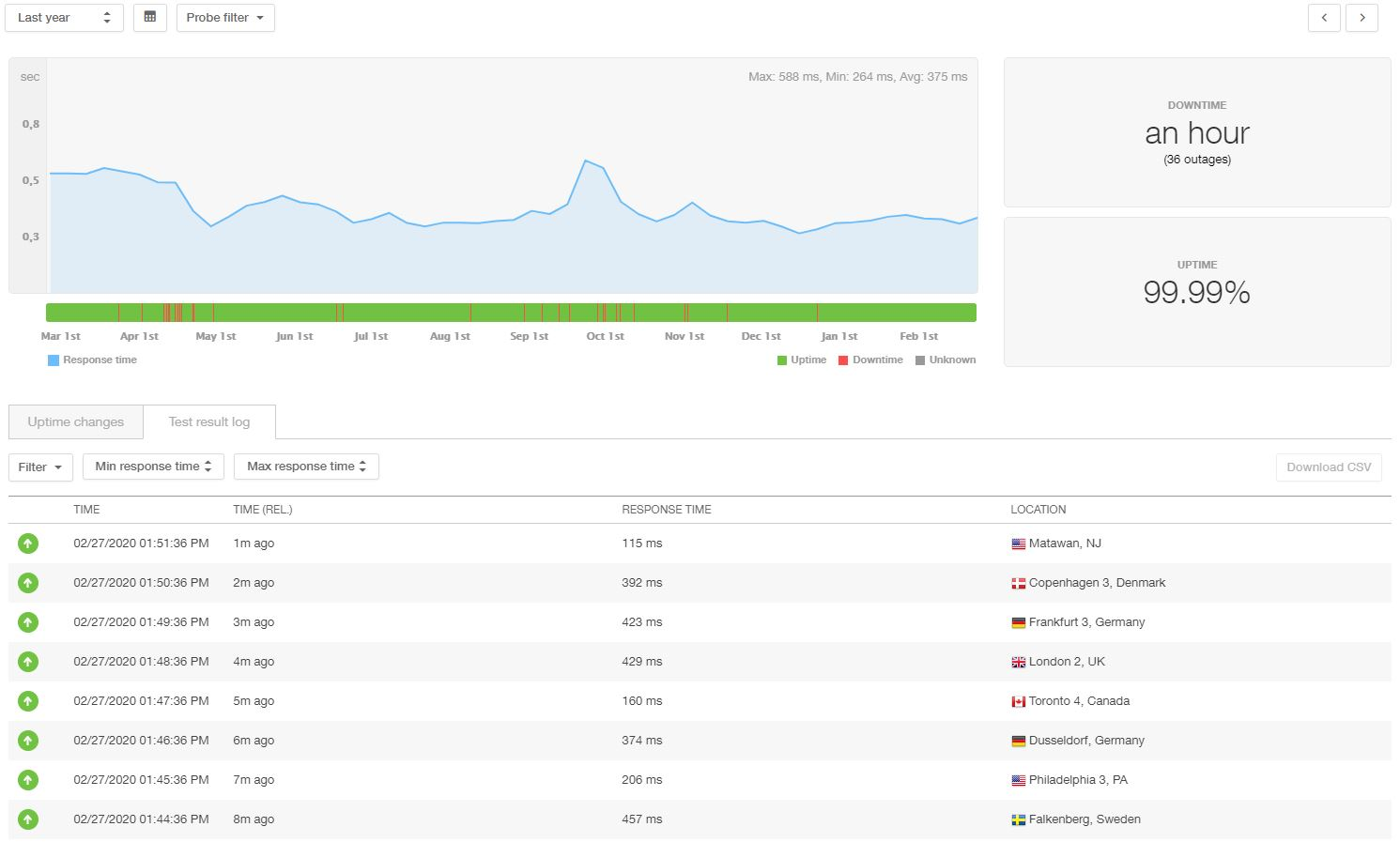 The only downside is higher renewal fees. The cheapest $2.95/month plan will be renewed at $9.95/month. Their money-back guarantee is 30 days, but if you accepted their 'free' domain name bid, the refund would be reduced by $13.95 for a domain name registration fee.
PROS: Strong uptime, green hosting provider, free transfer of sites
CONS: Higher renewal fees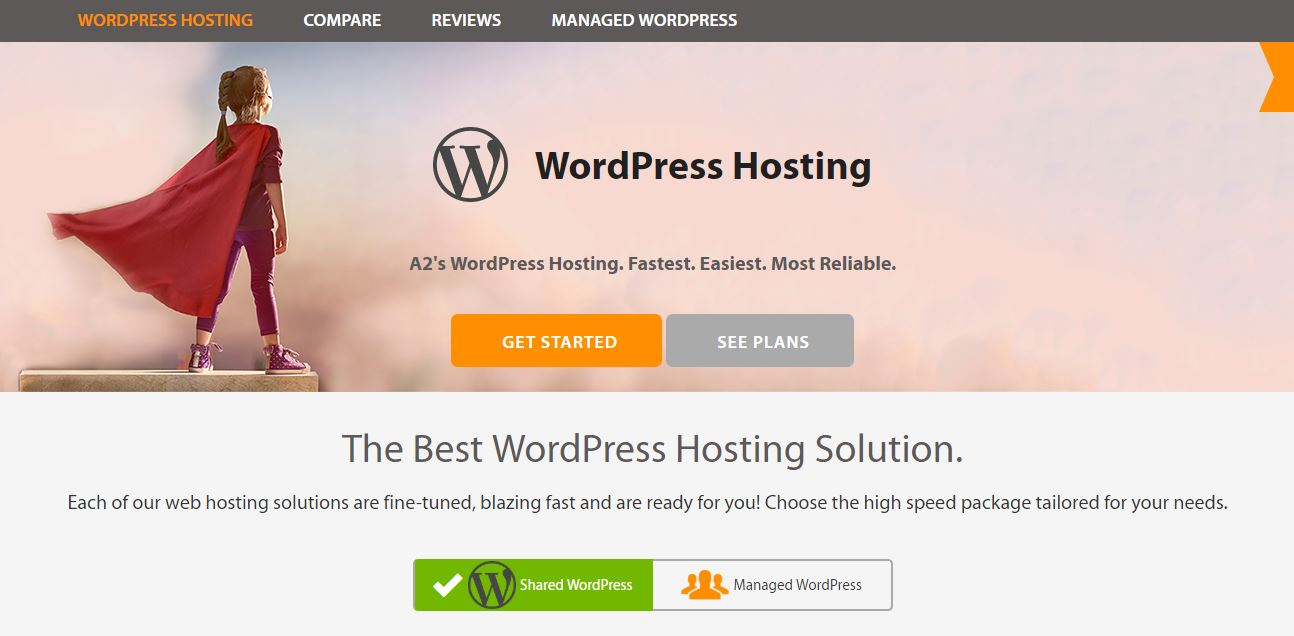 Uptime: 99.93%
Load time: 295 ms
Support: 24/7 Live Chat
Features: Fast servers, free SSL, free CDN, 24/7 live support
Website: a2hosting.com
A2 Hosting is another low-cost WordPress hosting service. On their homepage, they boldly claim to be 20x faster than your current hosting. But is that true? All their plans come with SSL (Let's Encrypt), free Cloudflare CDN and unrestricted SSD storage and bandwidth. You can also change server positions on A2 Hosting, just as on SiteGround. Currently, data resellers are available in the USA, the Netherlands and Singapore.
While their customer support chat isn't ideal (take us ~8 minutes to get in touch with them), it's available 24/7. Also, you can contact them by phone. According to performance tests, A2 Hosting was also the fastest shared WordPress hosting service at 295 ms. While there were many positive aspects of A2 Hosting, their last 12-month uptime was not optimal for us. They were coming at 99.94%, with a minimum of five hours of downtime per year.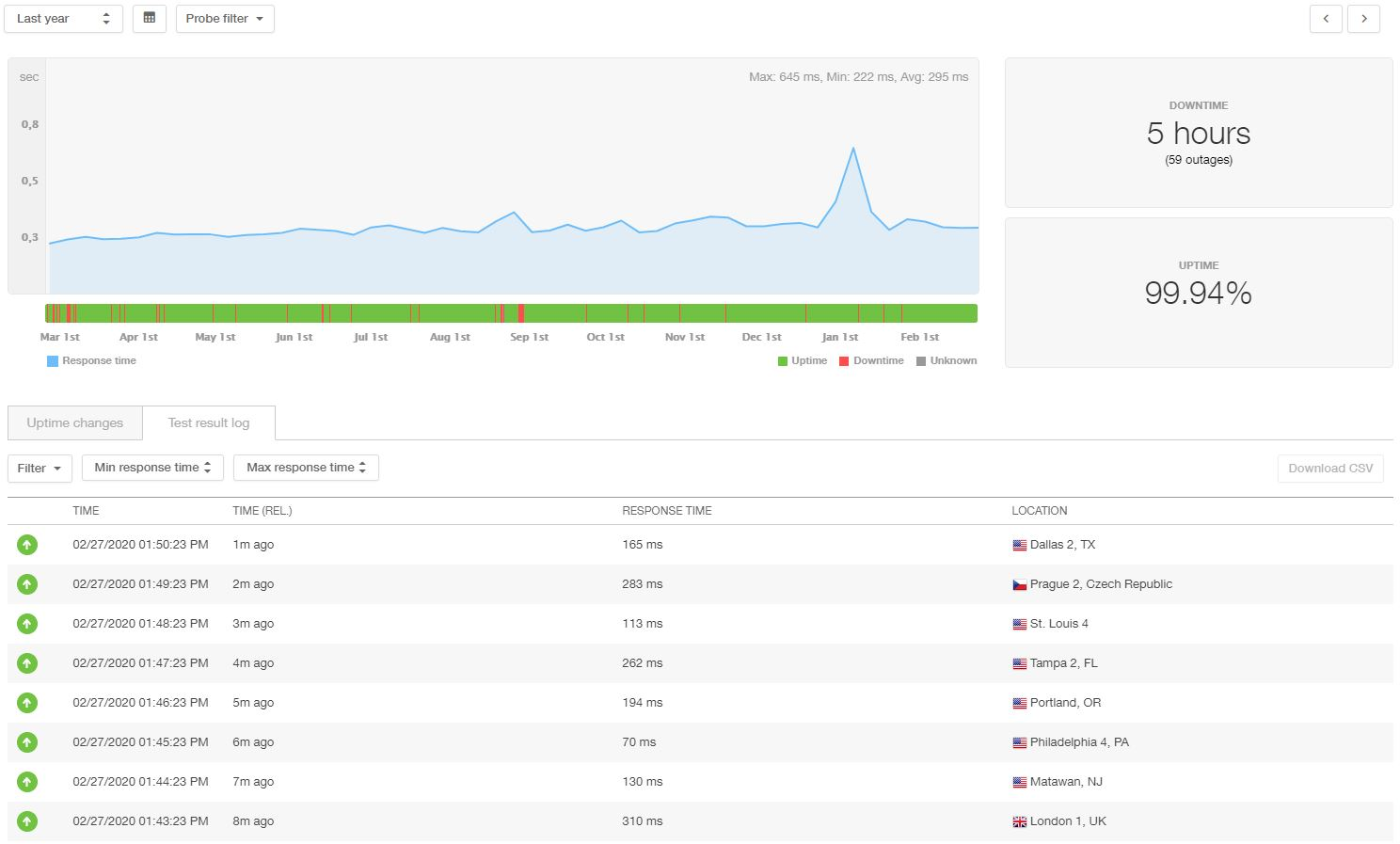 Their cheapest WordPress plan begins at $3.92/month for a total of 36 months and then resumes at $7.99/month. You'll also get 25 email accounts and unlimited website transfers. A2 can be a convenient host for anyone who owns a variety of WordPress websites. Finally, A2 hosting offers a 30-day money-back guarantee.
PROS: Fastest WordPress hosting, Optimized WordPress servers
CONS: Average uptime-only 99.94%.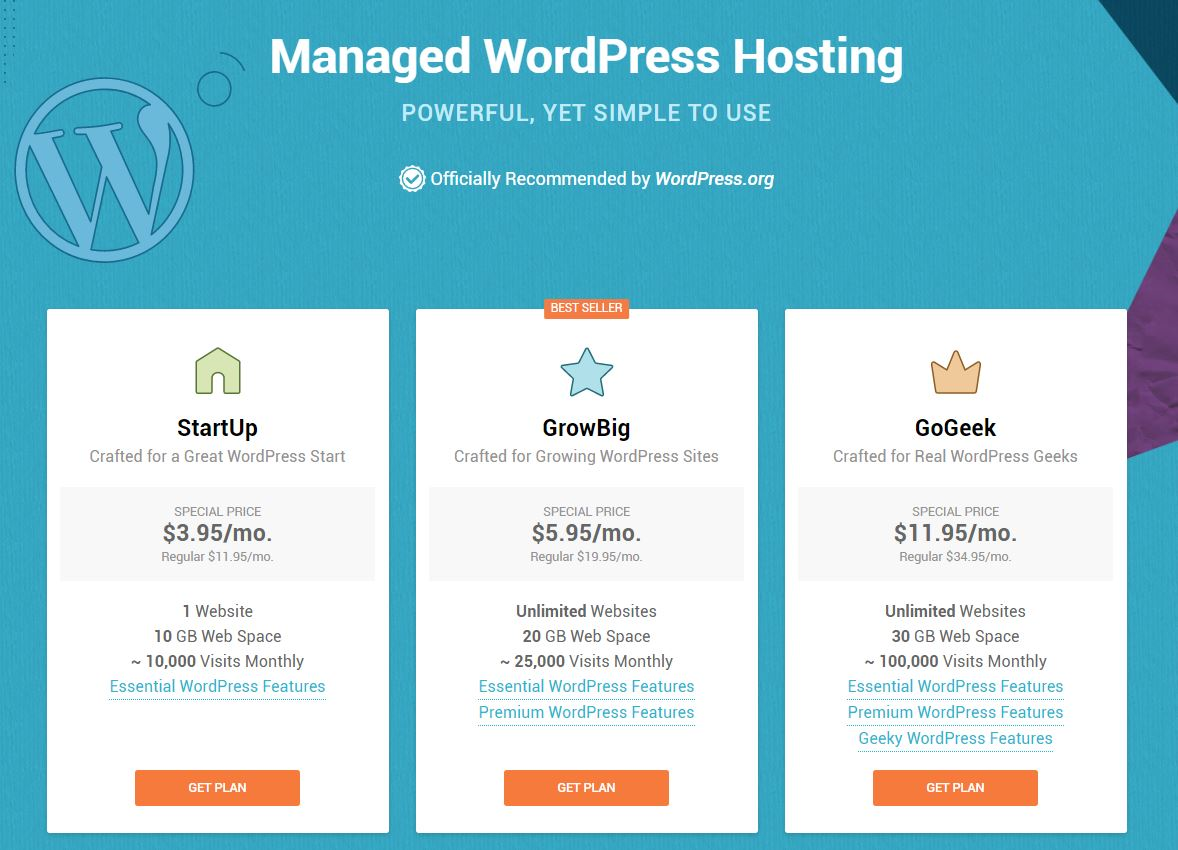 SiteGround is another popular and legitimate WordPress hosting service, recommended by WordPress.org. Since 2004, SiteGround has grown to an extensive network of over 800,000 domain names worldwide. They are one of the few hosts where you can change the location of your data center from Europe to the USA. So, if your visitors are mainly from Europe, this is probably a good option for you.
They also offer free WordPress site transfers, including free CDN (caching) and image improvements, all of which combined will make your WP website faster than before. We also tested customer support by connecting to their live chat and asked a few questions to evaluate their support team. They were friendly and helpful; they were quick to answer questions.
In terms of uptime, SiteGround maintained an average uptime of 99.98% (with 34 outages) followed by a high load time of 629 ms. According to our study, it's not as good as Bluehost or HostGator and that's why they landed in third place.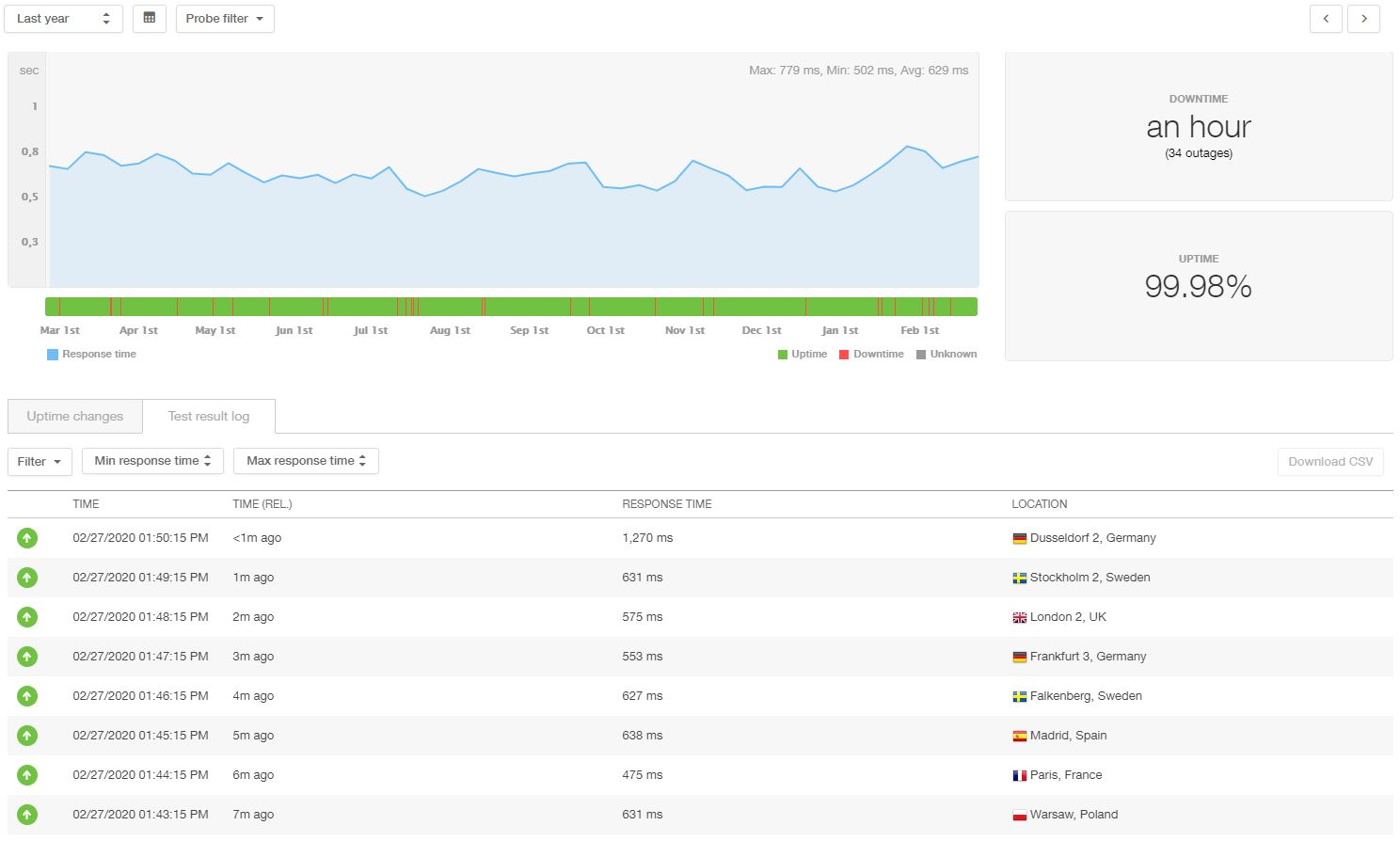 SiteGround plans start at $3.95/month but renew at a higher rate (similar to many providers of hosting services). All of their operated WordPress plans are updated at $9.95/month (once your initial plan is over). A domain is not included, but email accounts are offered free of charge. 
PROS: Good uptime, stable speed, Best WordPress Support, Free Website Transfer, WordPress Officially Recommended, Free SSL. 
CONS: Higher renewal fees

Uptime: 99.93%
Load time: 339 ms
Support: 24/7 Live Chat
Features: Free email account, 24/7 customer support, free SSL (https)
Website: hostinger.com
Hostinger originally comes from Europe but has data centers in the United States, Asia and Europe. They do not offer the choice of automatically choosing a data center, but after you have signed up, you can ask for their help to move your server locations from the US to Asia or Europe. This is an outstanding functionality that is not provided by many other web hosting companies.
They also include a builder of a WordPress website that is not ideal but can be of great help to a beginner. Hostinger also provides live chat 24/7 and has a vast WordPress library of guides and tutorials. Despite being on the cheapest WordPress hosts, there is a positive side to their results. They were just beaten by A2 Hosting in terms of load-time (339 ms). Uptime is all right – coming in at 99.93% over the last 12 months.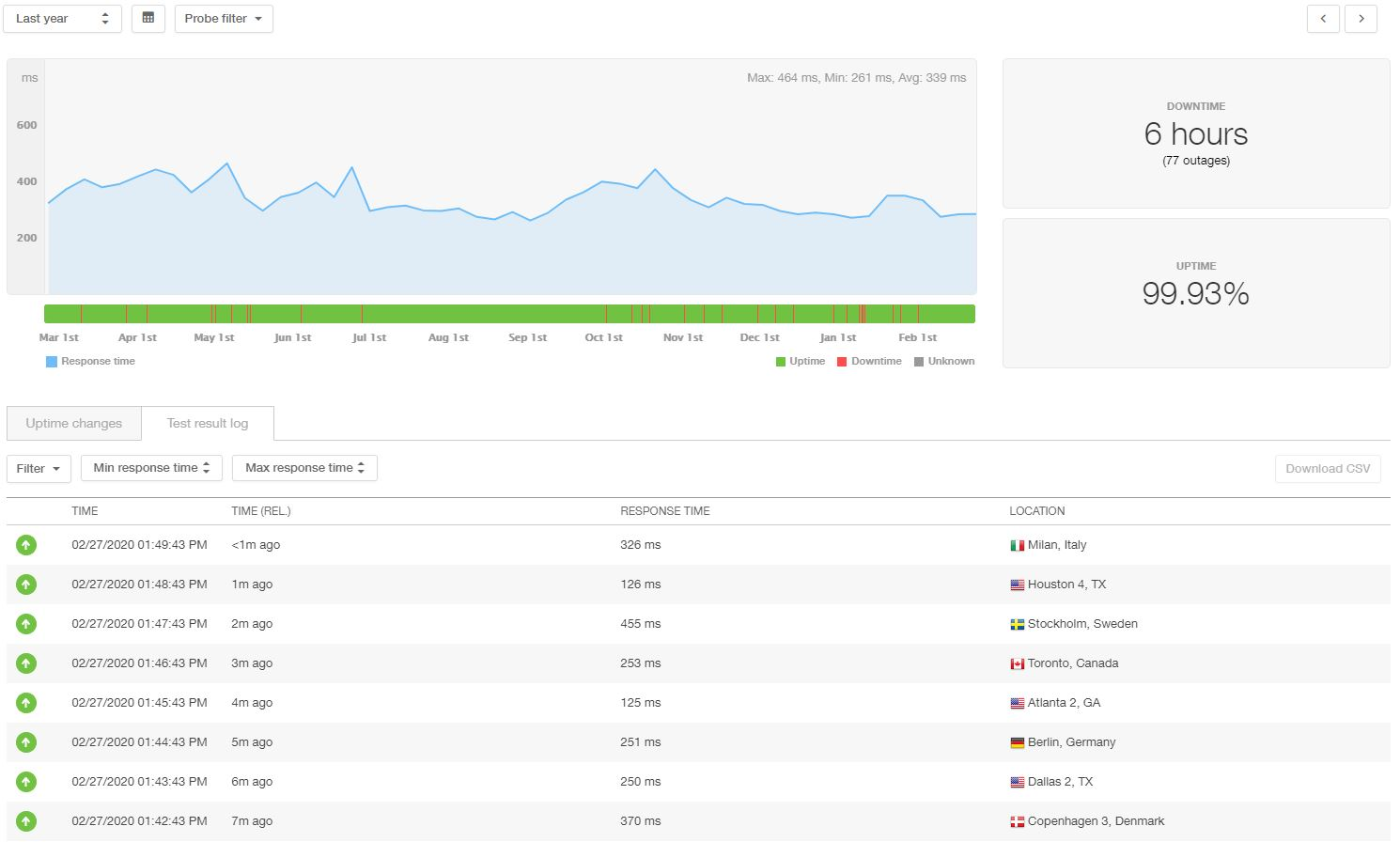 Their cheapest hosting plan for WordPress starts at $2.15/month and renews $3.49. This package provides a bandwidth of 100 GB, which is ideal for a smaller WordPress domain. In addition, they include 1 email account in all their plans, as well as SSL certificates. If you are not happy with their operation, you will be able to get a full refund from the signup until 30 days after.
PROS: Cheap price, WordPress installation with one button, fast pace
CONS: Mean uptime.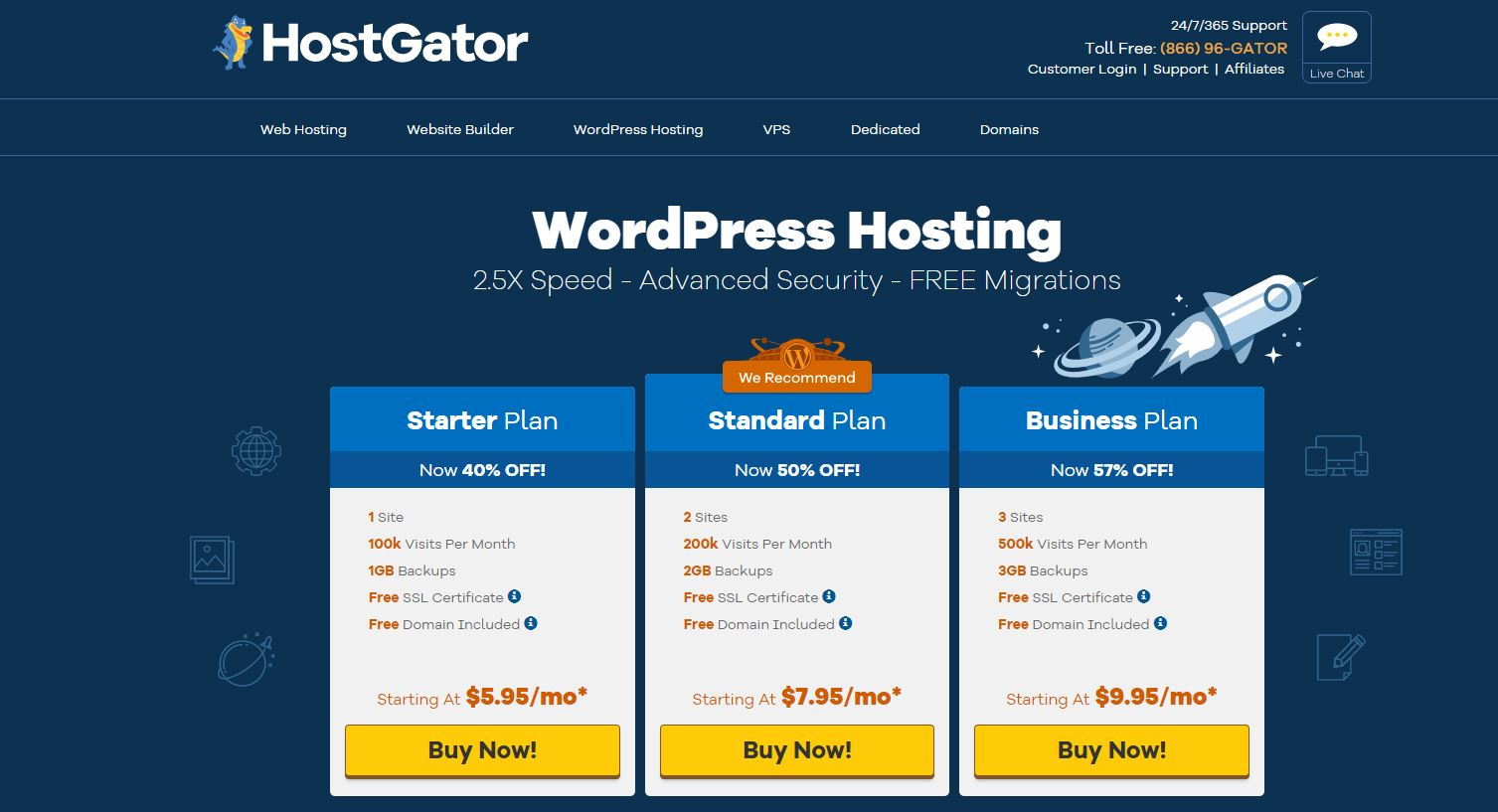 Uptime: 99.99%
Load time: 369 ms
Support: 24/7 Live Chat
Features: Free site transfer and backups. WordPress Optimized Servers
Website: hostgator.com
HostGator hosts over 10 million domains, making it one of the most popular web hosting providers on the market. HostGator also offers specialized WordPress hosting solutions similar to Bluehost, such as "WordPress Hosting."
They are the best choice for high-traffic websites that require faster load times. HostGator's WordPress plan will make your site faster, particularly for mobile users across different regions. Their last 12-month average load time is 369 ms and uptime >99.99%. Their total yearly downtime was only 22 minutes, which is rather outstanding.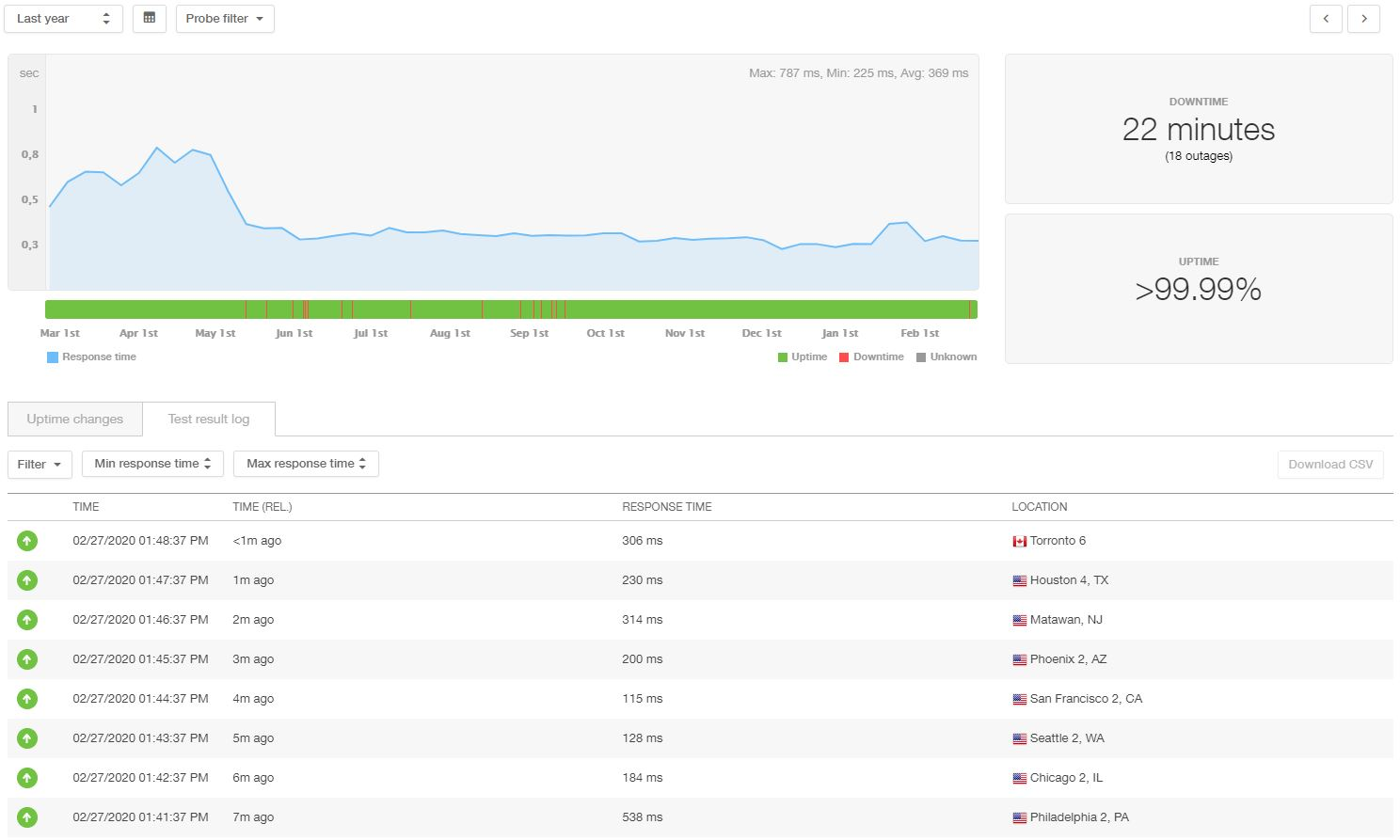 They also offer free site migrations in all of their plans. All their plans come with unlimited bandwidth, email accounts and storage. While their promotional rates are low, their renewal fees are higher at $9.95 per month, starting from $5.95 per month. However, if you apply our coupon code (WEBSITESETUP), you can get it for $3.99/month.
PROS: Good loading time, stable, One-click WordPress installation, 1 Free Website Migration
CONS: Higher cost for renewals.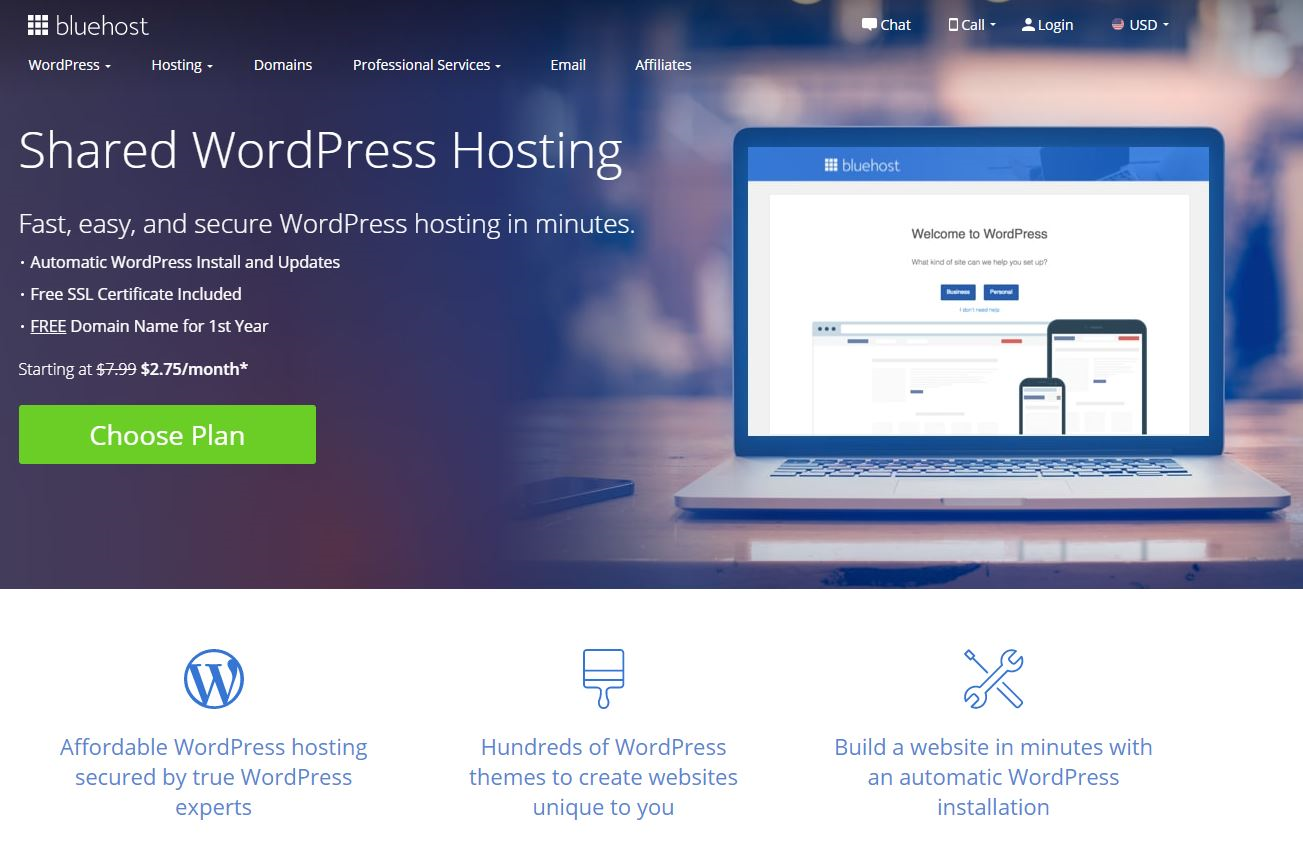 Uptime: 99.99%
Load time: 390 ms
Support: 24/7 Live Chat
Features: One-click install for WordPress, https (SSL), Free Domain for 1 year
Website: bluehost.com
Bluehost is a popular hosting service for a large number of small business owners and bloggers using WordPress. The explanation for this is easy – they have low promotional pricing ($2.75/month), it's quick to use (one-click WordPress install), and typically have no performance issues.
In fact, we found that Bluehost had the best value/cost ratio. Our Pingdom uptime and speed monitoring tool shows us an overall uptime of 99.99%with just 24 outages (all less than an hour in time) and an overall page loading speed of 390 ms over the past 12 months.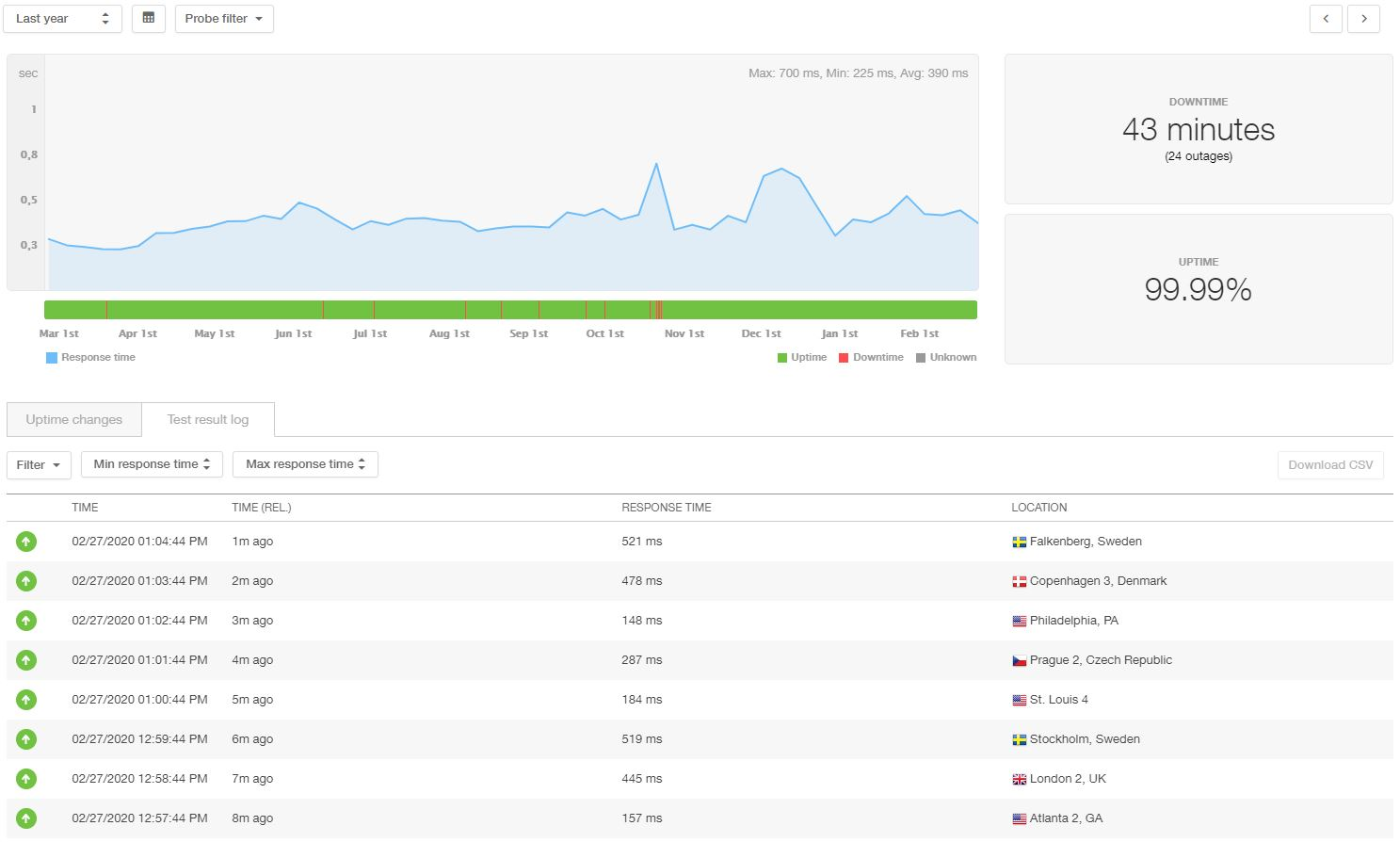 They 're just one of the few web hosts the WordPress.org community officially recommends. All their plans come with free SSL (https), WordPress staging environment, and easy installation feature for WordPress. They also have an extensive WordPress tutorial database and all plans come with live client support 24/7. Yet they aren't cheap. Prices start at $2.75/ month, but they throw a free domain name with SSL for one year.
PROS: Strong uptime and load time, Free Website Transfer, Free Domain name, WordPress.org recommended
CONS: No monthly payable option.
Every analysis was focused on speed, uptime, and cost of our test site. Sources by third parties, such as Pingdom, have been used to track and evaluate results. In short, we suggest that you use a web hosting service that offers a reasonable uptime of 99.94% while holding your load time below 700 ms.
We concluded with HostGator WP Managed, Hostinger or Bluehost that you can't go wrong. All of them deliver powerful uptime, quick page loading times, excellent customer service and low introductory rates.
Do you like our comprehensive review of the Best WordPress Hosting? Please leave a comment below and let's discuss!
Again, this is WebsitesAdvice saying, PEACE AND STAY SAFE!