Hey there! It's nice to see you again. If you are reading this, you will probably be searching for a VPS solution that fits your hosting requirements. We'll bring you through our Top 7 Best VPS Hosting Providers with this post, and why we find them impressive. But before we do that, let's look at what a VPS is and why people want services like this.
Virtual Private Server (VPS) is a unique networking system that fits well between traditional shared web hosting and dedicated server services. It is better suited for organizations needing a hosting package that offers more computing space, reliability, and flexibility than shared servers but without the dedicated server price tag. In other words, you get the best of both worlds with VPS hosting. You get more of anything, but it's not too insane at a price.
VPS lets you host your website in a physical server in virtual compartments. Although that can sound quite similar to a shared hosting platform, it's very different because you have your own operating system, dedicated resources (CPU and RAM), and dedicated storage on a private virtual server. So, it's perfect if you need the benefits of a private server, but prefer to keep costs low.

SO, CAN YOU PLEASE TELL ME THE DIFFERENCE?
Let's take a look at the inner workings of every hosting service to give you a better understanding of the differences.
SHARED HOSTING
By hosting a shared server, your website is hosted on a single physical server along with hundreds of other websites. It is also the cheapest hosting option, but often the most restricting because you share with other users all of your server space. It is almost like staying in a housemate's apartment. Generally speaking, hosting shared servers is better suited for smaller websites that do not need a great deal of bandwidth or server resources. Most providers will manage the server's maintenance, making it easy to use for those without technical knowledge. The downside is that you have minimal resources, and if you end up with a bad user, they'll probably end up storing all the resources, causing your website to be slowed down.
Do you know what happens when your website is slowing down? Reduced conversions. This is something nobody likes.
VPS HOSTING
You have the entire apartment to yourself and while you are still housed with other users on a physical cloud, the computer resources are yours alone. Despite sharing the same physical server with VPS, you won't worry about getting poor users hogging server resources because you're separated from one another. That means your website can run better, leading to more CONVERSIONS and SALES. You will have more reliable protection with VPS, because all your data is isolated from other users, reducing the chances of a hacker accessing your website.
Usually, VPS costs about a fraction of a dedicated server. Mostly, you get the advantages of a private server, minus the expensive cost.
DEDICATED HOSTING
When you hit a certain point in your life, you'll want to live in a spacious house with toilets bigger than your old apartment's living room. Dedicated servers are just that. You mostly have the entire server to yourself with access to as many services as you like, but just like owning a home, dedicated servers are the most expensive choice out of all the hosting. Since you have the entire physical server to yourself, you will have access to all the server resources without having to share it with other users or divide it. You will have full control of all aspects of your server, including the operating system, hardware and so on.
It is the most effective but also the costliest hosting service and is usually recommended for users running high-profile, high-traffic websites that need wide bandwidth.
SHOULD I SWITCH TO VPS HOSTING?
That's the million-dollar question. Some of you may wonder if you should switch to a VPS or not. Honestly, if you are running a small website or hobby, then it is definitely a no. However, if you encounter any of the issues we've mentioned below, that should be a clear sign that living with housemates isn't precisely the best option for you:
Your website is beginning to slow down or your users are experiencing slow page loading.
You get high traffic volumes regularly.
You continue to see the message "Internal Server Error."
Your website contains confidential data.
You are planning an online shop.
There is a custom program or device you want to run.
When you load your page, you still get the "Service Unavailable" error.
Also, if you run a company or a service, you'll probably want to make a switch. VPS hosting is typically more secure and quicker than shared hosting, and the extra speed can help boost sales and conversions.
Finding the right VPS hosting plan could be daunting. There are so many hosting companies out there that provide VPS options. Taking the time to research all of them will take days. Fortunately for you, WebsitesAdvice has already taken the time to do all the work. We've been through hundreds of VPS hosting plans and narrowed down the top choices for you to consider.
Below are our Top 7 picks for the Best Virtual Private Server Hosting Provider in 2020 (in no particular order).
Normally $59.99/month

Fully managed services
Enhanced SSD servers
59 second support guarantee
LiquidWeb is not one of the most popular hosting services on the market, but they still provide excellent hosting solutions. All of the LiquidWeb VPS plans are fully managed. They're running your hardware and your network. They also manage all security updates and patches, as well as support for the operating system and all software.
Like some of the other hosting companies that we've seen so far, LiquidWeb doesn't have any exclusive or fancy names for their plans. You pay for your resources, starting with RAM.
2 GB RAM — $29 per month
4 GB RAM — $49 per month
8 GB RAM — $69 per month
16 GB RAM — $129 per month
These rates are based on annual contracts. You 're going to pay considerably more if you want to go month-to-month. LiquidWeb has 2-year plans available on request. You'll need to speak to their customer support department to find out about the exclusive rates for your website.
In terms of customer service, the support offered by the LiquidWeb team is exceptional. They're available 24/7 via phone, email, and live chat. All LiquidWeb virtual private servers have 10 TB of bandwidth, the most we've seen so far. The 16 GB RAM plan has up to 200 GB of SSD disk space, which is also the highest we've seen so far. Most VPS providers do not sell a 16 GB package. I can't believe that any of you would need it, but for those who do, I'll recommend it.
So, put that in context for you, 16 GB of RAM is twice the amount of the maximum plans provided by both Bluehost and InMotion.
Normally $64.99/month
Free domain and SSL certificate
Free and unlimited email
90-day money back guarantee
Unlike other web hosting providers that are best known for shared hosting or dedicated servers, InMotion specializes in VPS hosting. It's a top option to consider whether you're upgrading from an existing program or planning to launch a brand-new website. One of the main InMotion differentiators is that they deliver both conventional managed VPS hosting and Cloud VPS hosting. Altogether, there are six VPS plans (three for each category).
Let's take a look at each for you to see what's best for your website.
INMOTION MANAGED VPS HOSTING
The managed plans are suitable for owners of businesses, agencies and resellers. Each plan offers free server administration, updates, and site migration. You will also benefit from a dashboard, unlimited domains, unlimited email accounts, and unlimited MySQL databases to monitor resources.
VPS-1000HA-S — Starting at $22.99/month
VPS-2000HA-S — Starting at $34.99/ month
VPS-3000HA-S — Starting at $54.99 /month
You'll need to sign up for a 2-year plan to get those low introductory rates. All plans are tailored for e-commerce and come with optional root access for those seeking more advanced control of your settings.
InMotion's supported cloud hosting account plans are suitable for developers and network administrators. That's because each plan comes with full root access, including SSH keys, giving you total customization control. As a developer, you'll get a blank slate to configure a VPS to suit your website's exact needs. You can also code in your preferred language, such as Java, Ruby, and other options in the population.
InMotion Cloud VPS offers hardware at the enterprise level, with 20x faster SSD servers than the competition.
cVPS-1 — Starting at $5/month
cVPS-2 — Starting at $10/month
cVPS-3 — Starting at $15/month
cVPS-4 — Starting at $20/month
cVPS-6 — Starting at $30/month
cVPS-8 — Starting at $50/month
cVPS-16 — Starting at $80/month
cVPS-32 — Starting at $160/month
To get the best cloud VPS introductory rates, we found out that you need to commit to the controlled plans for one year, as opposed to two years. The pricing for the managed plans and cloud hosting plans is very similar, as you can see. So, the biggest difference between the two is how much control you want over the server. Unless you are a developer, I think most of you should lean towards the managed plans, based on simplicity alone.
Managed starts at $49.99/month
Unmanaged starting at $5/month
Free SSD with root access
30-day money back guarantee
A2 Hosting stands out as they provide VPS plans which are both managed and unmanaged. Unmanaged VPS plans with root access and custom apps usually come up at a higher price point, but not with A2 Hosting. Experienced developers will get as little as $5 a month for an unmanaged virtual private server. However, this entry-level package probably won't meet your needs, with only 20 GB of storage and 512 MB of RAM.
Here's a closer look on the VPS plans for A2:
UNMANAGED VPS PLANS
Entry — Starting at $5/month
Mid — Starting at $10/month
Elite — Starting at $15/month
With the unmanaged plans, you can configure disk space, CPU , memory, and bandwidth preferences on your server. Any changes would obviously have an effect on price.
MANAGED VPS AND CORE VPS PLANS
Power — Starting at $25/month
Prestige — Starting at $35/month
Pinnacle — Starting at $50/month
The only difference between the Controlled plans and Core plans is that the core plans come with root access. However, if you pick an unmanaged plan, you won't be able to configure your server the same way you should.
Overall, A2 is a perfect choice for developers who want an affordable rate of full control and customization of their VPS. I'd probably look elsewhere for the traditional, managed hosting.
Normally $29.99/month
Free domain and SSL certificate
Free SSD for extreme speed
30-day money back guarantee
Bluehost is a leading Web hosting company. Their VPS plans offer a wide variety of hosting solutions to cater to almost any website's needs. The reason Bluehost stands out as a top alternative to consider is that its private virtual servers offer both power and flexibility. They allow multi-server management, which means that you can add more room to your plan at any given time.
This is ideal for websites that require the ability to scale without delays or downtime at a time notice. You will be able to do this directly from your advanced cPanel, without any assistance from a Bluehost administrator.
Standard VPS
Starting at $19.99/month
2 CPU cores
30 GB of SSD
2 GB of RAM
1 TB of bandwidth
Enhanced VPS
Starting at $29.99/month
2 CPU cores
60 GB of SSD
4 GB of RAM
2 TB of bandwidth
Premium VPS
Starting at $49.99/month
3 CPU cores
90 GB of SSD
6 GB of RAM
2 TB of bandwidth
Ultimate VPS
Starting at $59.99/month
4 CPU cores
120 GB of SDD
8 GB of RAM
3 TB of bandwidth
As you can see, Bluehost offers websites of all shapes and sizes with pricing and resources.
In our complete analysis of BlueHost, we found that even though you are looking for a VPS entry-level package, I would suggest starting with the Enhanced VPS as opposed to the Standard one. You will get double SSD, RAM, and bandwidth for just $10 more per month.
Though it is worth noting that the prices mentioned above are promotional rates only. If the contract is extended, you will charge $29.99, $59.99, $89.99 and $119.99, respectively. All plans for the Bluehost virtual private server include 24/7 support and a money-back guarantee of 30 days. Compared with other market options, you'll benefit from plenty of resources, support, and uptime for a fair price.

Normally $89.95/month
Flexible Software Options
Advanced Server Features
45-day money back guarantee
 
HostGator is yet another famous name in the web hosting world. Though they're best known for their low-cost shared hosting plans, they do have worth considering virtual private servers. HostGator provides attractive prices for VPS, though their plans are not the lowest we've ever seen.
Snappy 2000
Starting at $29.95/month
2 GB of RAM
2 CPU cores
120 GB of disk space
5 TB of bandwidth
Snappy 4000
Starting at $39.95/month
4 GB of RAM
2 CPU cores
165 GB of disk space
2 TB of bandwidth
Snappy 8000
Starting at $49.95/month
8 GB of RAM
4 CPU cores
240 GB of disk space
3 TB of bandwidth
The prices are resource fair. But like most hosting providers, when your plan is renewed, those introductory rates will increase. Nonetheless, HostGator offers you the right to lock for the longest time in these low rates compared to other choices we've seen.
But with that said, price increases are also the biggest in comparison with other providers. The discounted prices are just about 75% less costly than the regular rates. With its reliable and multi-layer safety net, HostGator stands out. This enhanced protection, coupled with the ability to scale your resources easily, makes HostGator one of the top VPS options on our list.
They also offer good cloud hosting plans, as we discovered in our HostGator Cloud Hosting review. Just keep in mind that their customer service and support falls a bit short compared to other providers.

If you are searching for a virtual private enterprise-grade server, HostPapa needs to be at the top of your list. HostPapa's capacity is unmatched, with up to 12 CPU cores, 24 GB of RAM and 1 TB of SDD.
Here's a closer look at all their plans and their rates: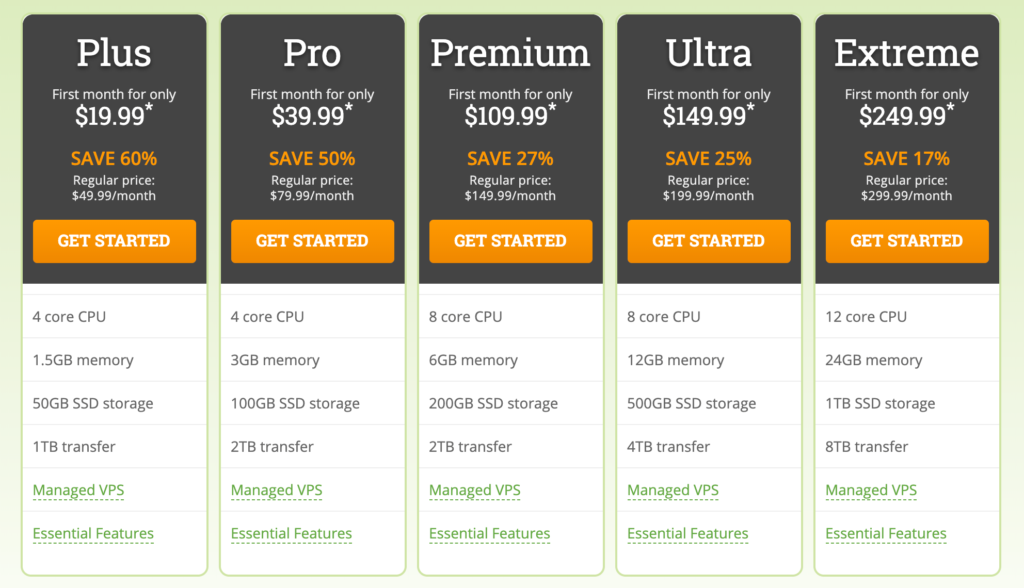 You'll have to pay top dollar for all of you who want as much money as possible to get it. The Intense VPS plan commences at $249.99/month and renews at $299.99/month. Saying that's a big leap from their lowest price-point is free, beginning at just $19.99/month.
You will have root access for those of you who are developers or more advanced to make customized changes. Another of HostPapa's top benefits is that you can boost your power and resources anytime. They also give you the option to administer multiple servers simultaneously. Regardless of your plan, you can always add an extra server directly from the HostPapa dashboard.
So, you won't have to worry about outgrowing your VPS for those of you who intend to scale significantly. All of HostPapa's VPS plans are optimized for e-commerce and provide increased security for online stores. HostPapa is a top choice for businesses also looking to build a web-based app.
The cPanel interface provided by HostPapa is extremely simple to use with technology and features which are so advanced. You can track all of your resources with just one button, and make any changes in real-time. HostPapa provides a free domain transition and free VPS conversion if you are using another hosting service. They also have outstanding 24/7 support.
With all that in mind, we would only suggest using HostPapa if you need a program with the most resources possible. Otherwise, you could get a better rate of equivalent plans elsewhere.
Normally $24.99/month
Free domain and SSL certificate
FREE drag and drop site builder
30-day money back guarantee
Look no further than iPage if you're looking for a low-cost VPS plan. With plans starting at as low as $19.99 per month, iPage offers quality service at an affordable rate. The iPage has been around for over 20 years. Over 1 million websites use this web hosting platform. So, if you decide to go with one of their VPS plans, you know you're going to get it from a reputable provider.
Let's take a closer look at their plans here:
Basic VPS
Starting at $19.99/month (renews at $24.99)
1 CPU core
1 GB of RAM
40 GB of disk space
1 TB of bandwidth
Business VPS
Starting at $47.99/month (renews at $59.49)
2 CPU cores
4 GB of RAM
90 GB of disk space
3 TB of bandwidth
Optimum VPS
Starting at $79.99/month (renews at $99.99)
4 CPU cores
8 GB of RAM
120 GB of disk space
4 TB of bandwidth
As you can see, these are the lowest prices we've seen so far, even after full price renewals started. iPage also specializes in web design and other services. For those of you who are building a new website from scratch and want to start with a cheap VPS hosting plan, iPage is the best choice.
Even with these low rates, you will still benefit from quality 24/7 support. You're just not getting the capacity and resources offered by some higher-level providers.
WHAT ADVICE CAN YOU GIVE ME TO FIND THE BEST VPS HOST FOR ME?
Now that you've had a chance to look at some specific VPS plans, it's time to make the best choice for you and your website. Your decision should be based on two main factors:
What resources do you need?
How much are you willing to spend?
In most cases, prices and features will go hand-in-hand. If you need the highest possible RAM, disk space and storage, you should expect to pay higher prices. Apart from that, you could lean to one provider or plan over another based on other features such as customer support, security, and ability to scale. 
Some of you may be wondering what qualifications and standards we used to determine which VPS services are the best. All the plans on our list were based on the following considerations:
UPTIME RATES
The main attraction of VPS hosting is that it can dramatically increase the performance of your website. Your website will experience a significant speed boost now that it does not share resources with other sites. Site speed is essential for all websites, but it is crucial for those of you who are planning to experience high traffic volumes. You want to make sure you find a plan that can accommodate your traffic without sacrificing speed. 
RESOURCES
The number of resources needed to host a website effectively varies from site to site. Your needs will depend on the type of website you have and the size of your site. These are the primary resources you need to look at when selecting a VPS plan: 
CPUs — Computer processing unit cores for computing information on a server. 
RAM — Amount of working memory that your CPUs can access. 
Storage — Available space for things like images, videos, content, web pages, etc. 
Bandwidth — Amount of data flowing between your server and your website.
 
The number of resources you get will be determined by the plan you choose. It all depends on what you need and how much you want to spend. For example, we saw RAM as low as 512 MB (A2 Entry Unmanaged VPS) and as high as 24GB (HostPapa Extreme VPS).
ROOT ACCESS
Not every VPS plan on our list comes with root access since not everyone needs it. Root access is only necessary for developers who are technically advanced or want to make custom changes to your virtual server. Most of you will be better off choosing a fully managed VPS plan. That said, some fully managed plans come with optional root access as well. So, make sure you know in advance whether you want root access before choosing a plan.
SUPPORT
Don't underestimate the importance of website hosting. If you choose one of the providers listed above, there's a good chance you're not going to run into any issues. However, when something goes wrong, you want to make sure you have a web host that's easy to get in touch with. We would recommend a VPS plan that includes 24/7 phone and live chat support. Some of the choices on our list stand out more than others for their support. I made sure that this was pointed out in the reviews.
ADD-ONS AND FREEBIES
While this isn't supposed to be a deal-breaker, add-ons and freebies can sway you in one direction if you're torn between two web hosts. For example, if you create a new website from scratch, you probably don't care about free site migration. But for those of you who are looking to transfer from another provider, free migration and free domain transfer could save you a few hundred dollars.
SUMMARY
With all this in mind, we've put each VPS provider in the "best for" category above. Use this list as a guide to steer you in the right direction. As you can see, every review on our list stands out for a different reason. So, we are sure that you and your website's needs will fit into the categories below.
LiquidWeb – Best Fully Managed VPS with high memory and storage plans.
InMotion – Best Cloud VPS plans.
A2 Hosting – Best Low-cost unmanaged plans for developers.
Bluehost – Best for Power and Flexibility at a reasonable price.
HostGator – Best for Locking in low introductory pricing rates.
HostPapa – Best Enterprise-level VPS plans.
iPage – Best Cheap VPS plans.
 
Is your current hosting provider included in our list of Best VPS Hosting? Please leave a comment below.
This is Website's Advices Best VPS Hosting Providers. Thanks, and see you again!