SHOPIFY – THE LEADING ONLINE STORE BUILDER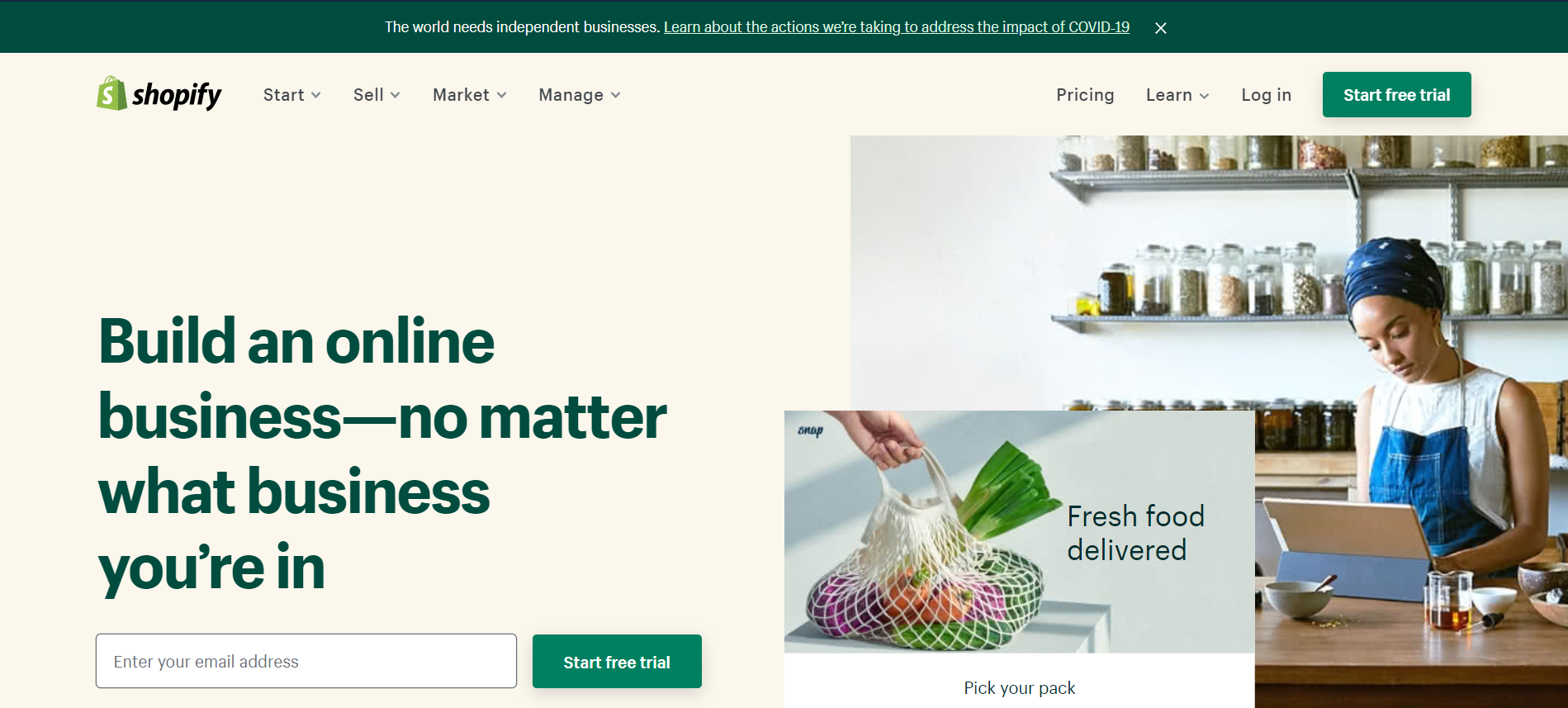 Hi there! Welcome to another comprehensive review provided to you by www.websitesadvice.com. In this Shopify review, we 're looking at one of the most popular online-store building tools currently available. Read on to learn more about the pros and cons of this e – commerce solution. Is that right for your business?
A growing number of website building tools are now available, and choosing the right one for your business can feel really hard. You 're probably here because you've heard a lot about one of the top apps, Shopify— but you're not quite sure if that's the right option for you. So, this post, I'm going to break down the pricing, features and functionality of Shopify. By the end of this review, you will have a much clearer idea of whether Shopify is the right tool for you and the trust to either take out a subscription or go to a competing product.
WHAT IS SHOPIFY?
Shopify is a web application that allows you to create an online store of your own. It provides you with a wide range of templates that can be customized to meet your own branding requirements and enables you to sell either physical or digital goods. The key objective behind Shopify is to allow users without technical or design skills to create an online store without the involvement of a web developer (but people who are familiar with HTML and CSS will be pleased to discover that Shopify allows you to access both).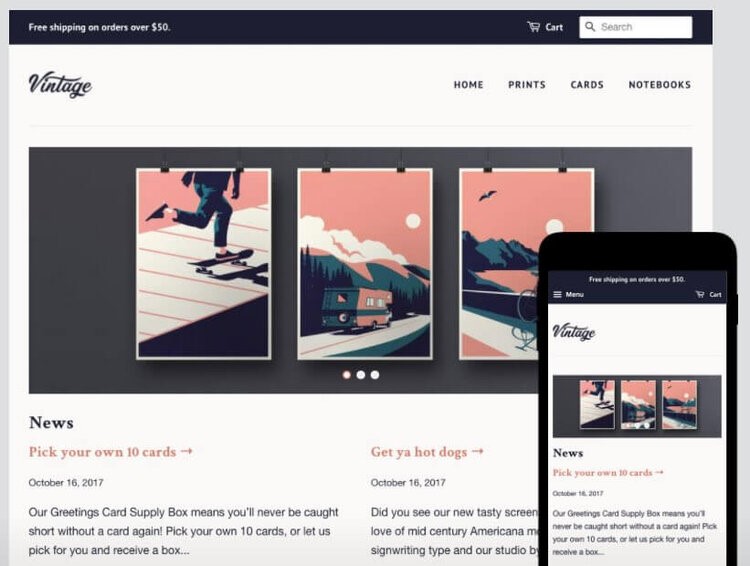 HOW DOES SHOPIFY WORK?
Shopify is a 'hosted' solution — this means it runs on Shopify's own servers, so you don't need to worry about buying web hosting or installing software anywhere. You don't own a copy of Shopify, but pay a monthly fee to use it; and, as long as you have access to a web browser and the internet, you can run your shop from anywhere.
With Shopify, most of the key things you need to build and market an online store— like templates, a payment processor, a blog and even email marketing tools — are provided 'out of the box.' That said, you can customize a Shopify store to meet more individual requirements through the addition of apps — more on which later — or using custom code.
ADDITIONAL INFORMATION ABOUT SHOPIFY
Shopify was founded by German – born entrepreneur Tobias Lütke in Canada in 2004. It now has more than 1,000,000 users and has generated more than $183 billion in sales over the last few years. These numbers matter because when you choose a hosted solution to build an online store, you place a huge amount of trust in the company that provides it.
There have been instances in the past of similar services shutting down in the past— Magento Go being a key example— resulting in serious problems for their customers, who had to switch their stores to a different platform in a relatively short time. But Shopify's strong market position and large user base will make the possibility of financial difficulties for the business less likely, which, in effect, makes the prospect of a shop that you are running with them all of a sudden less likely to vanish.
We'll have a look at what you can do with Shopify early, and how it looks like a store designed with it— but let's test out the pricing first.
SHOPIFY PRICING
There are five Shopify plans available:
Shopify Lite — $9/month
Basic Shopify — $29/ month
Shopify — $79/ month
Advanced Shopify — $299 /month
Shopify Plus (enterprise Plan) — fees are negotiable, but generally in the region of $2000/month
You can take advantage of a 10% discount if you pay up front for a year; paying up front for 2 years gives you a 20 per cent discount. A free Shopify trial, which will last for 14 days, is also available. An add-on fee applies to users who wish to use advanced point – of – sale (POS) functionality— where you use Shopify to sell not only online but also in a physical location. While basic POS features are included on all Shopify plans as standard, you will need to pay an additional $89/month to access features such as multi – location selling, clicking and collecting, receipt printing and more. On the plus side, this fee doesn't kick in until October 2020.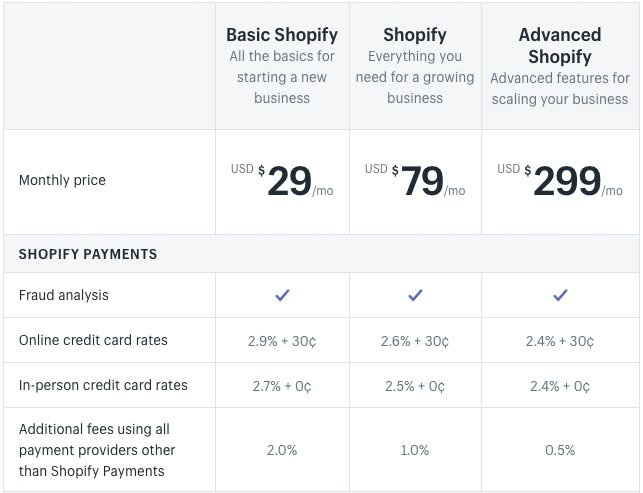 IS SHOPIFY A CHEAP MEANS TO START SELLING ONLINE?
Shopify is one of the cheaper ways to sell online, with its "Shopify Lite" launch plan costing $9/month and allowing you to sell unlimited goods. It's important to note, though, that the' Lite ' plan doesn't actually allow you to build a fully functional, stand-alone online store.
Instead, it:
Let's you sell via your Facebook page
Allows you to use Shopify in a physical location to sell goods or manage inventory
Gives you access to Shopify's Buy Button, which allows you to sell goods on an existing website or blog.
The Buy Button works similar to a PayPal 'Buy Now' button, but there are more advanced ways for tracking orders and syncing inventory, because it links back to Shopify. You can also use a Buy Button to view entire product categories on another platform (e.g., a Squarespace or WordPress website).
If you want to create a standalone online store, though, you'll need to go for one of the other Shopify plans. Let's check out some of the key differences between them.
KEY DIFFERENCES BETWEEN SHOPIFY PLANS
Key features to watch out for, and not miss by selecting the wrong Shopify pricing plan, are:
Staff Accounts — Those allow you to give different permissions to different members of your team. On the 'Basic Shopify' plan you are allowed 2 personnel accounts, 5 on the 'Shopify' plan and 15 on the' Advanced Shopify ' plan.
Reporting — Professional reporting features are only available on the $79 'Store' and up plans. Only the most expensive 'Advanced' and 'Shopify Plus' plans include advanced reporting tools which allow you to create custom reports.
Real Time Carrier Shipping — Only the most expensive 'Advanced Shopify ' plan can provide this.
Inventory Locations — You can allocate stocks to retail stores, warehouses, pop – ups, etc. with Shopify, but the number of locations you can use depends on the program.
Transaction / Credit Card Fees — Those get lower as you go up the price ladder of Shopify.
Shopify Plus, Shopify's enterprise – grade version, provides all of the above-mentioned premium features, but additionally provides some functionality aimed at big companies, namely:
Guaranteed server uptime
API support
'White glove' level of support via a dedicated 'Merchant Success Manager'
Dedicated SSL / IP Address
Advanced Security Features.
Sales Automation Tools
Let's look now at how Shopify lets you actually accept payments for your goods.
TAKING PAYMENTS USING SHOPIFY
There are two ways to accept payments by credit card on the Shopify. The simplest way to use Shopify Payments, Shopify 's built-in payment system, is for consumers in countries where it is supported.   If you are using this, you need not think about transaction fees at all. Nonetheless, there is still a' credit card fee' to consider: you should expect to pay between 2.4 per cent and 2.9 per cent of each purchase in the US, depending on the plan. The rate is lower in other countries (it's between 1.6 per cent and 2.2 per cent in the UK).
Instead, you can use a third party 's payment gateway to accept card payments— you can pick from more than 100. If you use a payment gateway, Shopify can also charge a processing fee— between 0.5 per cent and 2 per cent depending on the Shopify system you are on. One thing worth noting about any Shopify paid card fees is that in case you have to repay a customer; they won't get you back. And, when your company is one with a generous returns policy, you might have a problem with that.
Whether or not it works better with Shopify Payments or a payment gateway will rely heavily on the type of payment gateway you are thinking of using, and the Shopify system you are on. One important thing worth mentioning about Shopify Payments is that in some countries it's only available to customers.
HOW GOOD ARE SHOPIFY THEMES?
Shopify offers 9 free e – commerce templates (or 'themes') that you can use-each comes in two or three different versions, so these templates actually translate into a reasonably decent design selection. That said, by contrast with competitive website building solutions like Squarespace and Wix, the number of bundled templates on Shopify offer is limited.

Nonetheless, the bundled Shopify templates are appealing and they are sensitive too, ensuring they will be easily displayed across all devices. If the free templates don't float your boat fully, you can use a paid-for or' premium' theme — of which there are 64 (and each theme comes in a few variants). They range in price from $140 to $180 and they are all fully responsive, as with the free themes.
Using a wide range of filters, you can search all the free and paid models in the theme store: for example, you can view templates by industry, type of homepage, layout style etc. Which means you should be able to find a suitable theme without too much trouble for your store. The templates are all professional in presentation in terms of esthetics, easy on the eye and very smooth in nature — no complaints at all here. Many of them allow you to use contemporary design features such as parallax scrolling and backgrounds for video.
All in all, Shopify's template offering is one of the highest qualities on the e – commerce marketplace— but if you're not content with Shopify 's theme offering and want to create something that is truly unique, there's always the option to build your own theme. Access to the theme code is simple, and there are plenty of support materials available to help you create your own Shopify template. Nonetheless, one thing worth considering when making a theme decision is whether or not Shopify officially supports it. All the free themes are— but if you are using a premium template, you might need to contact a third – party developer for any help you might need to install or customize it.

Once a Shopify strategy has been chosen and your prototype selected, you will start selling with the app. So, let's look at how easy it is to do that with Shopify, and go deeper into its main e – commerce features.
INTERFACE AND EASE-OF-USE
Shopify is simple to use-it has a smooth, intuitive interface. A menu on the left, in common with other contemporary content management systems, allows you to access features or content that you can then configure or modify to the right.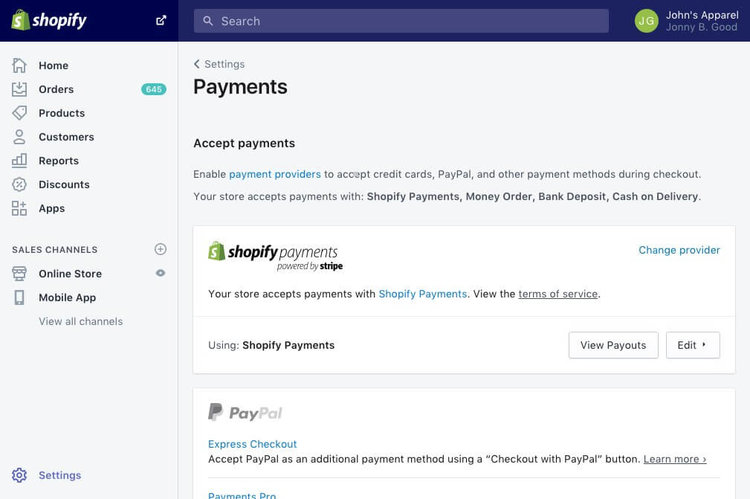 CONTENT LAYOUT
Although the Shopify interface is by no means hard to use, it is a little old – fashioned in that it does not really take a' drag and drop' approach to page layout development. You 're dealing with a rather conventional WYSIWYG (What You See is What You Get) editor that does not give you the kind of versatility that other website builders can offer you when it comes to laying content around a page while working perfectly well.
WordPress (via its new Gutenberg editor), Squarespace and BigCommerce all feature content drag-and-drop functionality — it'd be nice to see Shopify introduce this soon as it can lead to more interesting page layouts (particularly where static, information-based pages are concerned). To be fair, there are apps available for Shopify — such as Buildify — which do add this functionality to a Shopify store, but they can increase your monthly costs quite a bit.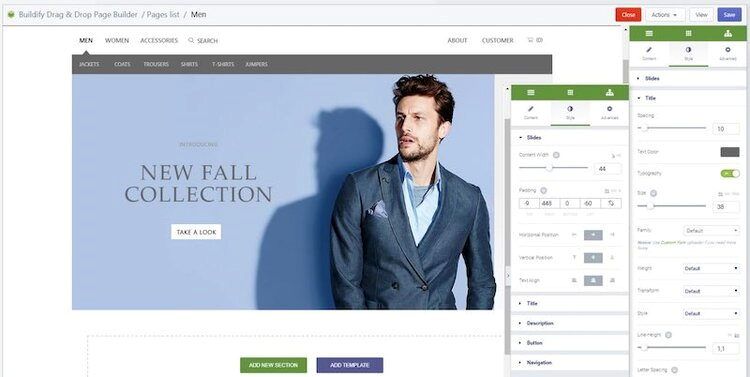 SHOPIFY POINT-OF-SALE
One of Shopify's particularly strong features that deserves special attention and separates it from its rivals is its robust solutions and hardware ' point of sale' (POS).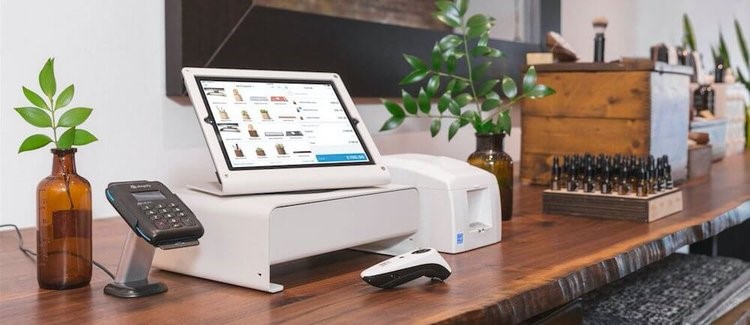 Shopify 's POS hardware lets you use Shopify to sell your iOS or Android app, not only online but also in physical locations. To help you do this, a wide range of equipment is available to buy (barcode readers, tills, receipt printers, etc.). There are a number of applications for Shopify's point – of – sale tools: for example, they allow you to sell in a pop – up shop, from a market stall, at an event or even in a permanently located retail outlet, while automatically synchronizing your inventory and stock count.
However, it is important to note that you will have to pay for a' Shopify POS Pro' add-on from October 2020 to get the most out of the point of sale. While the built-in POS apps cover the basics, and will be perfect for merchants with simple needs, if you want to:
Sell in multiple locations
Facilitate 'buy online, collect in store'
Facilitate exchanges
Provide printed receipts
Define staff roles and permissions
Attribute sales to particular staff members (for commission or performance-analysis purposes).
ACCEPTING MULTIPLE CURRENCIES
A key feature for retailers wishing to sell in multiple territories is being able to show prices in multiple currencies. Pricing displays and allowing checkout in local currencies would dramatically increase selling rates. Shopify allows you to do this as long as you use its built-in payment gateway, Shopify Payments, unlike several leading e – commerce solutions.
It could however be better in terms of the quality of this feature. First, your users will have to use a currency selector to manually select their preferred currency unless you're on a Shopify Plus plan ($2000/ month), or using a third – party app. To detect a user's location and display a currency recommendation, a free' geolocation ' app may be installed, but in our view, this is not as good as fully automatic currency conversion.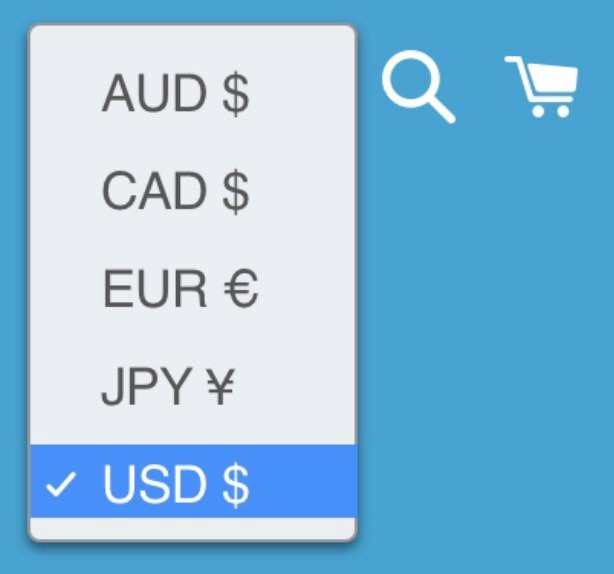 Second, only two Shopify themes (Debut and Brooklyn) currently feature a currency selector. If you do not use that theme, you will need to insert code to create one in your Shopify store. Given the above limitations, I believe that many merchants will find themselves reaching out to a third – party Shopify app to handle multi – currency payments; based on my research, Bold Multi-Currency is probably your best bet here.
Overall, for merchants wishing to sell in multiple currencies, Shopify is a reasonably good option but there are improvements that could be made here. Some other platforms, particularly BigCommerce, make selling out of the box in multiple currencies easier, without the need for currency selectors.
SEO FEATURES
The SEO feature set of Shopify is generally good, and compares favorably with other platforms hosting site construction. The on-page SEO in Shopify's nuts and bolts are very easy to handle — changing page titles and meta descriptions is extremely straightforward, as is adding headings and alt text.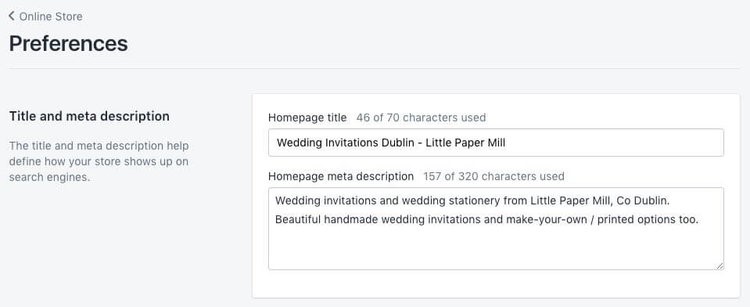 One thing to remember is that built-in SEO functionality is just a part of the picture when it comes to making a Shopify store rank; as with any website or online store solution, you do have to do a lot of legwork when it comes to keyword research and backlink development.
SHOPIFY'S APP STORE
Besides the core functionality of Shopify, there's also an app store that you can visit to get applications (free and paid) to beef up what your store is able to do. A huge number of apps are available (more than 3,200)— more than any other e – commerce platform I've found. Such apps either add specific features to your store or make it connect to a different tool (such as Xero or Zendesk).
This large variety of applications is perhaps one of Shopify's best points over its competitors — but also potentially a point against. In the other side, it means that not only when it comes to adding features to your store, but also when it comes to integrating it with other tools and platforms, you have a wide range of options. At the down side, that means there are many cases where having the features you need (e.g. AMP format, more product options, custom fields or a drag-and-drop page builder) inevitably involves downloading a paid-for app.
Conversely, competing platforms like Wix and Squarespace tend to include more features like this out of the box, meaning you don't end up paying as much on apps.
SUPPPORT
Support for Shopify is extensive-you can contact the company via email, live chat or telephone 24/7. This is significantly better than some rivals ' support options — for example, main competitor Squarespace doesn't provide phone support at all.
There are, however, a few things worthy of mention. First, having used Shopify support in the past, I find that if your enquiry is of a particularly technical nature — i.e. if you want to code something and need help — then you may not always get the answers you are searching for from the regular Shopify support service. Often, you 're better off posting a question in a forum and hoping that a Shopify developer will get you back on it.
This could be enhanced a little bit, I think— it would be great if Shopify provided a more straightforward way to directly contact their developers for technical advice on relevant queries.
CONCLUSION
Ultimately, Shopify is one of the best hosting options for those who want to create an online store–and probably the best solution for anyone who wants to use one product to sell online AND at a physical site. It is particularly good for users involved in drop shipping too. The product is competitively priced— especially when you consider that abandoned cart saver functionality is available on its $29 'Free' plans, a benefit for which many other platforms charge a premium for. It's also easy to use, well integrated with a vast array of other apps and appealing are its versions.
According to Shopify, it has a large user base—1,000,000 users — which also inspires trust (the last thing you want to happen is for a host e – commerce solution provider to go bankrupt and close a profitable store that you might have with them). Nonetheless, there are some important disadvantages to be aware of using Shopify too.
Next, there are transaction fees for those using a third-party payment gateway (some of its rivals don't charge any transaction fees at all, irrespective of the gateway used for payment). Second, its cap of three options per product is not optimal (note: don't confuse this with versions, of which you can get 100 per product-see above). Then finally, there's the possibility that you may have to install a paid-for app to get the features you need in quite a few instances.
Do you have any experience using Shopify? Drop your comments below and let's discuss!
Again, this is WebsitesAdvice saying: peace and stay safe!