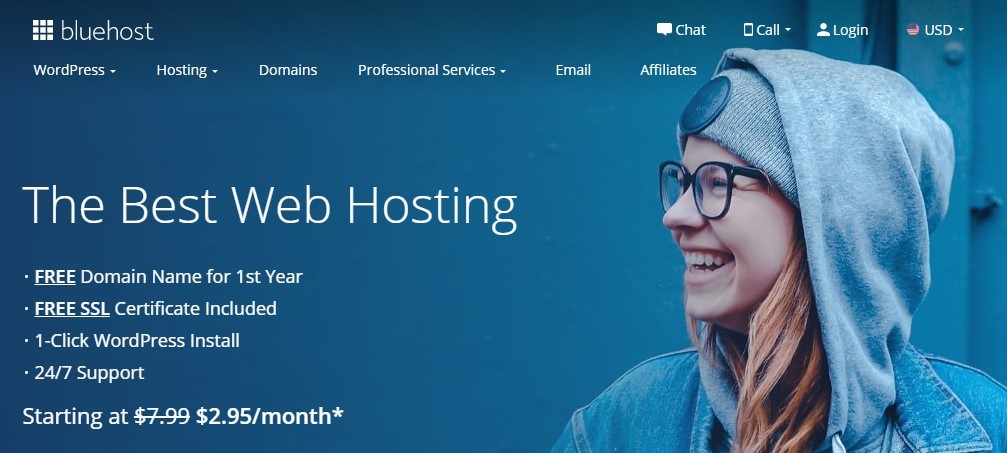 Hey there! We hope you are doing great. Like we always do, a warm welcome to WebsitesAdvice's series of reviews about different Web Hosting Providers. Today, the spotlight's on BlueHost, one of the world's web hosting pioneers and juggernauts.
Bluehost was founded in 2003 and is one of the largest web hosting companies known for its feature-rich hosting solutions based on Linux. They provide a robust hosting service ranging from shared web hosting, VPS hosting to dedicated servers, website beginners, bloggers, web developers, and small and medium-sized enterprises. It is considered one of the most popular web hosts in the industry, with 2 million+ domains hosted, and has a solid reputation among webmaster communities.
Bluehost is a company hosting under the EIG umbrella.
Like Website Design, Development and Maintenance, a stable and reliable website is a crucial part of any successful website. During the planning stage, a website's choice of web host is probably one of the last things you have in mind. However, failing to pick the correct host can cause many problems to your website and, more importantly, to your business. Here at WebsitesAdvice, we will try our best to help you to choose what hosting is the best for your needs.
Established in 2003 by Matt Heaton and Danny Ashworth in Utah, conglomerate Endurance International Group (EIG) acquired Bluehost in 2010. In 2017, Suhaib Zaheer took over as CEO. That same year, EIG reported layoffs of more than 400 employees and a shuttering in favor of consolidating customer service operations at Bluehost's Orem, Utah office. They are now officially based in Burlington, MA. Today they host more than 2 million websites.
If you're looking to build a website or blog, you 're going to want to check out Bluehost, since it's one of only three WordPress-approved hosting companies. Bluehost is a massive web host known for its expertise in WordPress, a variety of "one-stop-shop" tools, and bargain rates. It has engineers working on the very core WordPress program and their cheapest shared hosting plan cost only a few dollars a month for a single domain. You can add unlimited domains and subdomains, for a little more money. Bluehost isn't solely for beginners, in any case. They are ardent supporters of the Open Source movement and offer specialized developer tools such as SSH Access, FTP and a fully customizable Linux kernel. Their corporate vision is to create "a better, safer web for all." Bluehost supports this vision by investing in open source projects, promoting web civility, and making it easy for people of all ages to use their service.
A team leads Bluehost with deep knowledge on Web Hosting and Linux – Add those self-operated data centers, hardware and technology. These tell apart Bluehost from other web hosts and make it one of the industry-leading reliable and fast web hosts. Unlike other Web Hosting, Bluehost has developed data centers on its own. All of its 3 data centers are equipped with UPS, redundant diesel generators and multiple 10-gigabit fiber connections that connect data centers to locations around the globe. Plus, the data centers are run by Bluehost engineers, including management, monitoring, and others.
Bluehost is Easy to Use – Managing your Bluehost server is truly simple, even for newbies. Bluehost offers cPanel based icon to its user, including features such as file management, email, domain, database management and more. Also, Bluehost has added other free features to its cPanel, such as SimpleScript 1-click program installation, Free SSL certificate issuance, and many more. Below is a cPanel control panel dashboard screenshot, you'll find most of the website management tools that you need.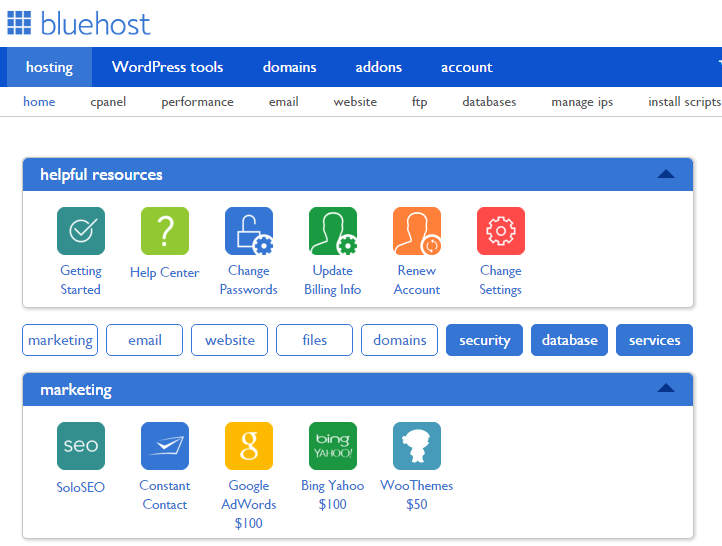 Topnotch Customer Support – Bluehost provides superb customer support for its users. All of its customer support engineers are 100% in-house and US-based, well-trained with extensive knowledge to answer any technical questions that the customer might have when hosting a website. Customer support engineers are available 24/7. They could be contacted via a toll-free telephone call, live online chat, email and customer support forum. The team also develops an online knowledge base and a series of tutorials to help clients learn about server management skills and diagnose issues on their own. More than that, Bluehost guarantees an average hold time of fewer than 30 seconds when people contact them by phone or live online chat.
Excellent PHP Hosting Provider – It's pretty hard to find a web host that could offer more powerful features than Bluehost. Bluehost's hosting plan can provide almost everything you need to create a successful PHP website.
BENEFITS OF USING BLUEHOST
A BETTER WEB FOR ALL
It's not just about getting people online. It's about creating a better, more secure web for everyone in the process. Bluehost is fighting spammers, blocking pornography, and investing in countless open source projects to help push the internet to its full potential. They promote web civility and do everything they can to foster a safe place where young and old, novice and pro, can make full use of the web to make great things.
COMPLETE WEB SOLUTIONS
Their best-in-class solutions are designed to meet the needs of a wide range of clients. All fully managed, these solutions empower novice users with simple-to-use tools and help pro users save time and energy usually associated with maintenance. Whether on a traditional hosting site or a cloud-based server, they all incorporate the ability to upgrade so that customers can quickly scale as they grow.
COMMITTED TO WORDPRESS
They believe in WordPress and their partnership has allowed them to support it for more than 10 years. Their in-house team is made up of dedicated WordPress experts to provide the best customer support whenever customers need answers. They even specialize engineers to their development staff in developing WordPress CORE on a full-time basis. No one can better or understand WordPress than they do. Bluehost is constantly driven to be the number one provider of a web solution.
CONTRIBUTING TO OPEN SOURCE
From their servers to their internal tools to the scripts that customers rely on, their secure web hosting company is built on an open source. To give back to the community, they work hand-in-hand with developers to leverage resources and expertise to help their software thrive. With its development team experienced in optimizing over 80 open source platforms, Bluehost is the world's leading open source implementation and development solution.
PART OF A BIG FAMILY
Since 2010, they have been lucky enough to be part of the Endurance International Group's brand family. They have been able to accelerate its mission in every way with their support.
BLUEHOST PRICING AND FEATURES REVIEW – SHARED HOSTING

Bluehost started its hosting business by offering only one shared hosting and grew very quickly with this strategy. After years of growth, 3 shared hosting packages are now available, each with a free domain, SSD storage, free SSL certificate, unlimited bandwidth, and more. As a webmaster, you can easily host your website. Their shared hosting has almost everything you need, such as MySQL 5.5 +, PHP multi-version from 5.6 to the latest PHP 7.3 +, so you can choose the best one for your websites. Bluehost also configures PHP to run as suPHP to make your site more secure, PHP memory limit could be up to 128 MB. Also, you could configure php.ini as you want.
 In terms of price, the shared hosting list price is $7.99 per month. People could receive more than 60% off their regular price and subscribe to their award-winning service at $2.95/month only, a price that everyone could afford. More than that, people will also get Bluehost Plus hosting at $5.45/month with a lot more features.
To know more about Bluehost's plans and pricing, please click the image below!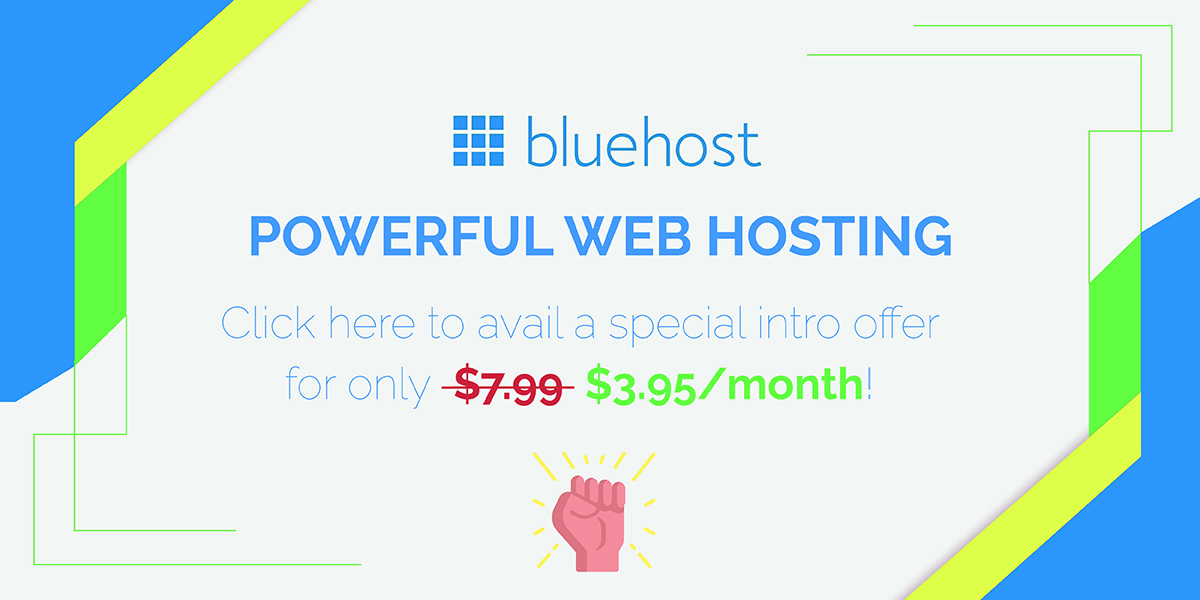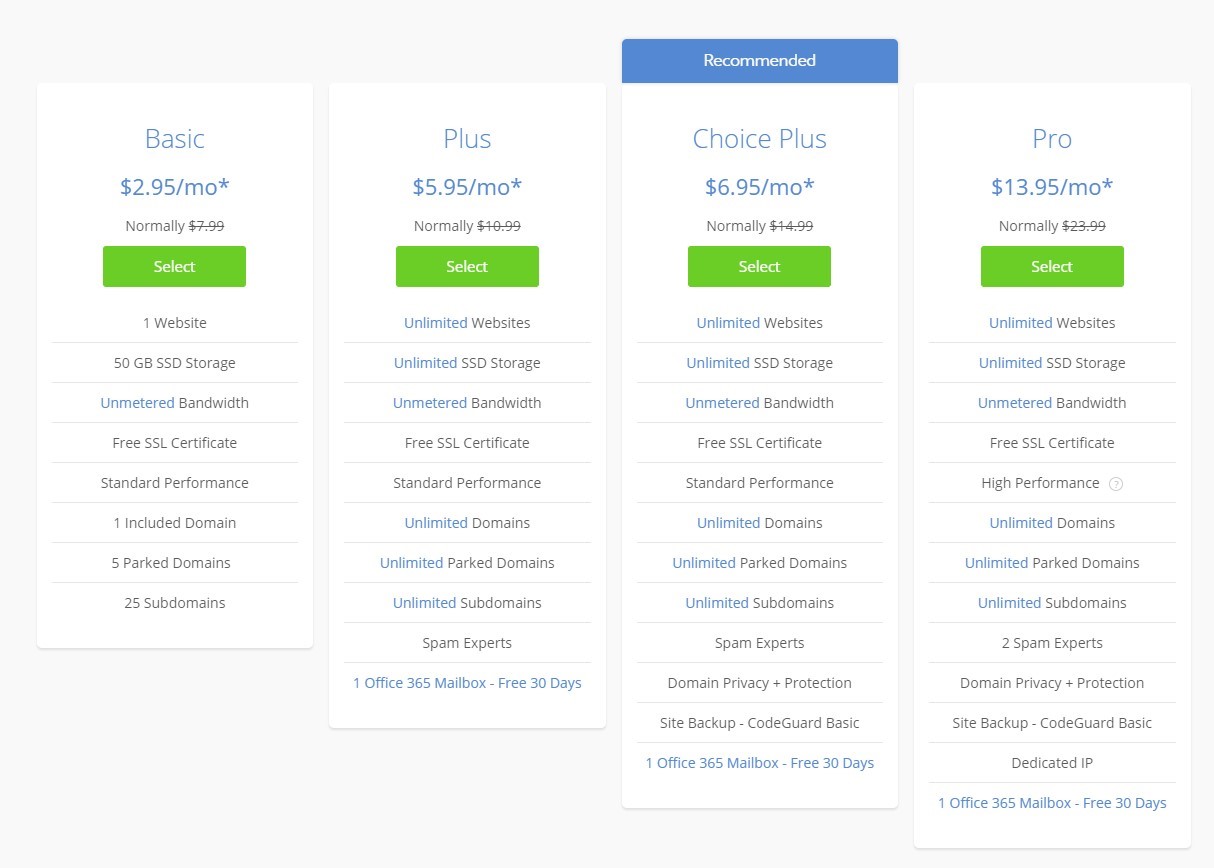 Bluehost guarantees "30 Days of Money Back". The clients could get a 100% refund within the first 30 days of subscribing to their service if they don't like the service, but it is still subject to their terms and conditions. It's putting your money in safety when you work with them.

BLUEHOST PRICING AND FEATURES REVIEW – VPS HOSTING
Bluehost started its VPS hosting business in 2013 but raised the VPS hosting service bar to its competitors. The technology is based on OpenStack and KVM technologies. Bluehost offers its VPS hosting range from 2 cores, 2 GB of RAM to 4 8 GB of memory. These different VPS configurations will surely satisfy every business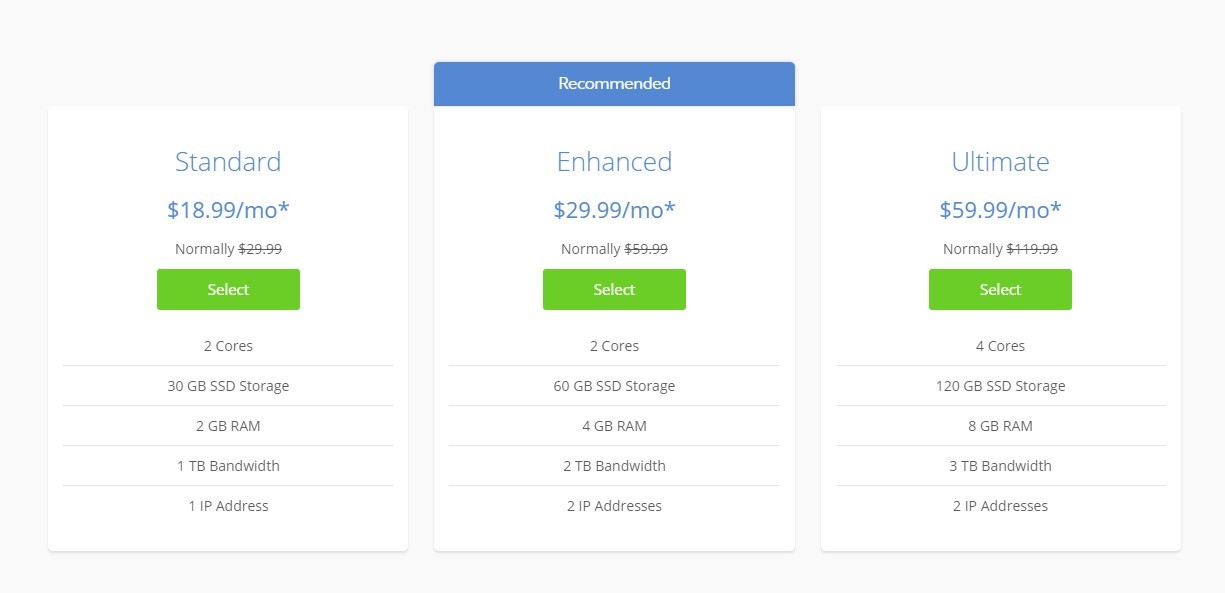 People could start with a standard VPS of only $18.99/month and then upgrade to a high-performance one based on their websites. There will be no downtime to upgrade or downgrade a VPS subscription. Upon subscribing to their VPS service, you will be provided with root access and a customized cPanel that includes many useful features such as a one-click script installer, and so on to simplify VPS management.
As far as VPS pricing is concerned, Bluehost allows its customers to choose monthly billing at a list price or up to 3-year billing cycles to receive a deep discount. Take the entry-level standard VPS package as an example. While the regular monthly price is $29.99/month, people could pay $18.99/month for 3 years.
BLUEHOST PRICING AND FEATURES REVIEW – DEDICATED SERVER
Bluehost offer managed dedicated server hosting services, with which their clients will experience one of the best performances and reliability. The dedicated server starts with 4 x 2.3GHz CPU, 500 GB Raid-1 storage, 4 GB RAM, 5 TB bandwidth, 3 IP addresses and free cPanel. The price could be as low as $79.99 per month after the discount.
Unlike some other providers that take hours and days to activate servers, Bluehost uses advanced technology to deliver dedicated servers instantly. In the meantime, to ensure that customer data is fully protected and highly secured, Bluehost only uses high-quality storage with RAID Level 1 support on its dedicated servers. As a result, customer drives are fully mirrored. Considering the price and service offered by Bluehost, it is one of the best managed dedicated servers that we would like to recommend.

DO WE RECOMMEND BLUEHOST?
Our editors strongly recommend Bluehost. Its hosting solutions are great for individuals and businesses of all sizes. Whether you plan to build a personal WordPress blog, Joomla site or corporate site, Bluehost is just right for you. Besides, Bluehost supports you all the time and helps you upgrade easily when your website grows.
Thank you for making this far. If you are a current subscriber of Bluehost or have previously used their services before, drop a comment below and let's discuss!
Again, this is WebsitesAdvice saying peace and stay safe!