INMOTION HOSTING: A WEB HOSTING COMPANY THAT STANDS BY YOU

How are you? As always, welcome to the third installment of WebsitesAdvice's series of comprehensive reviews about different Web Hosting Providers.


Today, we will take an in-depth look at Inmotion Hosting, a 17-Year CNET Certified web hosting company due to its outstanding service, secure website transactions, and best business practices. InMotion Hosting is an employee-owned and -operated domain name and web hosting company founded in 2001. Its web hosting network is based on Linux and Unix operating systems. The company maintains offices in Virginia and California. The company is ranked #20 in the U.S. 2015 market share. The company provides a wide range of web hosting solutions, including business class hosting, VPS hosting, personal/cheap hosting and dedicated servers. It also offers custom web design for clients. The company uses the most up-to-date cPanel control panel. It also provides access to Fantastico scripts for the easy install of blogging software, content management systems, wikis and customer service tools. As always, we will review on why you should consider InMotion Hosting as your next hosting provider.

Like Website Design, Development and Maintenance, a dependable website is a crucial part of any successful website. During the planning stage, a website's choice of web host is probably one of the last things you have in mind. However, failing to pick the correct host can cause numerous problems to your website and, more importantly, to your business. Here at WebsitesAdvice, we give our best to help you choose what hosting is the best for your needs.
Without a doubt, all of the web hosting providers have fantastic hardware. However, Inmotion Hosting prides itself because its real talent comes from its associates. Their team of web hosting experts has an average of 4 years of professional hosting experience. Moreover, all of their support staff undergo a rigorous internal training program. No support can handle our chat, phone or emails unless they have at least 160 hours of internal training on subjects such as the LAMP stack, email clients, CentOS and everything in between. How awesome is that? If that does not amaze you, how about their management team that is composed of technology experts who average 10+ years of web hosting expertise. That is some serious amount of experience. They strive to keep their associates happy through team outings, free lunches, annual picnics and more because they believe that a happy associate is more likely to treat a customer well.
Fast, Reliable and Affordable Hosting – Their web hosting network is based on Linux and Unix operating systems, which are fast and reliable. For any irregular operation, it is tracked 24/7 and benchmarked continuously for results. This service helps us respond to short-term problems quickly and to optimally expand our system-keeping it ready, cost-effective and fully redundant at all times. By staying true to this technology and philosophy, we have been able to deliver domain name registration and web hosting that consistently outperforms our rivals-in terms of reliability, speed and economy. InMotion is also the only host company to provide such services.


InMotion Hosting Data Centers – their fully redundant (N+1), climate-controlled data centers on both coasts offer customers the reliability that they need. InMotion Hosting also just invested in brand new expansions and improvements to both data centers that included upgrades to our own carrier-level platforms as well as consulting on the improvements made by our business partner to meet our needs better.


Award-Winning Support – They have broken and fixed just about everything website hosting related that can be broken and fixed. Combine this knowledge with friendly staff and responsive management yields their top-rated tech support team.


90-Day Money-Back Guarantee – They stand by all their claims and invite you to make no obligation to try them out. If they don't live up to what their customers are expecting, they offer a 90-day money-back guarantee with no questions asked. They want you to be genuinely content.


BENEFITS OF USING INMOTION HOSTING
Ease of use
All products for InMotion Hosting include cPanel, an icon-based control panel that enables people to easily access files, domain, database, email, FTP accounts and more. Moreover, the web host adds a 1-click application installer in its cPanel to allow its customers to install CMS like WordPress, Drupal, or Joomla with a few simple clicks. They also provide advanced backups. It backs up the entire server as the company also provides customers backup software to conduct backups on their own. Most significantly, InMotion Hosting doesn't charge backups and recovers even files.


World-class data centers and technology
All packages for InMotion Hosting include cPanel, an icon-based control panel that allows people to easily manage files, domain, database, email, FTP accounts and more. Furthermore, the web host also adds a 1-click application installer in its cPanel to allow its customers to install CMS such as WordPress, Drupal or Joomla with a few simple clicks. Hosting with InMotion offers automated backups. It backs up the entire server while the company also provides customers backup software to conduct backups themselves. Most notably, backups and even data recovery do not require payments. InMotion Hosting also enables SSH access. This functionality would also get its joint hosting customers. SSH access helps customers access their servers via command line and control the servers. The organization also offers convenience to meet payments for its clients. Payment options include Visa, MasterCard, Discover, American Express, Purchase Order and Check.


100% Customer satisfaction guaranteed
InMotion Hosting also takes its customer service to heart. It recruits only people with at least 4 years of work experience, and the administrative engineers need more than 10 years of experience. This award-winning customer support team could respond to their customer requests timely and resolve their issues effectively.


Industry-leading PHP hosting
InMotion Hosting is operated by a community of people who have an in-depth knowledge of Linux. They fully understand their customer's needs. Both of its web servers come with dual versions of PHP (5.6+~7.3) and MySQL 5.5 +, no matter which CMS you use to create the site, from InMotion Hosting you will always find the best version of PHP for it.


Fastest WordPress Hosting
InMotion Hosting has proved to be great for WordPress and it is one of the best WordPress hosting companies. Only very few web hosting could compete on pace with InMotion Hosting. The return on data center assets from the massive investment is clear. Our test data shows how WordPress site could run in InMotion Hosting, which shows that WordPress's average page loading time is close to 1s in most cities. It is the best data we've personally seen from shared hosting. What makes InMotion Hosting a great WordPress choice is that it has a team which knows WordPress very well. Most of InMotion Hosting engineers write blogs using WordPress. They understand any possible problem that a WordPress user may experience. You could feel free to ask them any questions related to WordPress as its customers, and its customer support engineers would be there 24/7 to help.



INMOTION HOSTING PRICING AND FEATURES REVIEW – SHARED HOSTING
Shared hosting starts at $6.39/month at InMotion Hosting, 20% off the regular $7.99 month. This shared hosting package includes features such as a free domain, unlimited SSD storage, unlimited monthly transfer, hosting 2 domains in one account and supporting multiple versions of PHP, MySQL, Custom PHP.ini, suPHP, high PHP memory limit, WHM, cPanel and more.
And what separates InMotion Hosting from other web hosts is its nightly data backup, integration of Google Apps, the BoldGrid WordPress Website Creator, Spam Free Email, and its hardware for business class. The company is doing its utmost to increase its hosting solution's reliability and security and keep its customers away from spam. Inmotion Shared hosting is the most affordable business hosting in the industry and it's also used by many individuals to host their personal blogs.

INMOTION HOSTING PRICING AND FEATURES REVIEW – VPS HOSTING
The InMotion Hosting manage VPS hosting. It is operated by Virtuozzo and comes with a high availability option. In addition to integrating high-quality servers with a robust hardware cluster network to ensure minimal downtime, the hosting service also requires regular server maintenance, including changes to the operating system, security fixes, and more without affecting any other sites within the server. Customers can enable root access for their server by request. Therefore, they can build their stack and use other languages and technologies to meet their development needs. Both of the VPS hosting plans operated by InMotion Hosting provide free server maintenance. This provision ensures that not only cPanel / WHM licenses and OS protection layers are included as part of the VPS hosting package, but the web host also upgrades and patches them to clients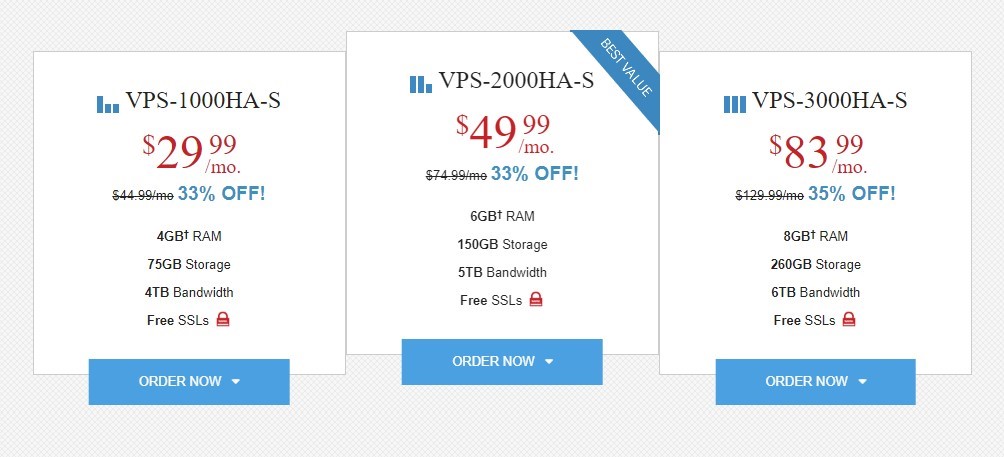 Furthermore, InMotion Hosting provides free Launch Assist, which involves 2 hours of dedicated time with one of its T3 System Administrators. It can also be used on purchase for a range of practical applications, such as site conversion, server security setup, hardware setups and more. Customers can choose from three choices for customized configurations: Regular Configuration, WordPress Configuration and PHP Configuration. The Standard Configuration is a quicker version of the conventional LAMP stack. The WordPress configuration is operated by InMotion Hosting 's advanced NGINX architecture and comes with automatic caching. It can manage traffic up to 10x the traffic with just one click, and PHP Configuration is designed for PHP applications like Drupal and shopping carts like Magento, giving customers extreme performance at 1/10th the resource usage.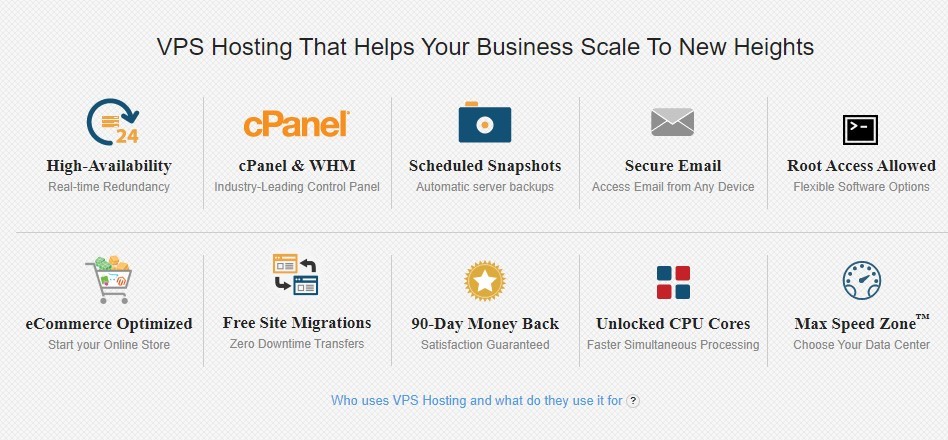 The InMotion Hosting features redundant device resources in addition to usable CPU cores for faster loading. Even the simplest VPS-1000HA-S Plan includes 4 GB of RAM, 75 GB of SSD disk space, 4 TB monthly upload, permitted unlimited domains, 3 dedicated IP addresses, free SSL certificate and licensed PHP 7. Also, InMotion Hosting offers a Resource Management Dashboard that helps customers to track the resource use and distribution based on a variety of charts and graphs on their VPS partition. Inmotion Hosting provides one of the Best VPS Hosting.



INMOTION HOSTING PRICING AND FEATURES REVIEW – DEDICATED SERVER FOR BUSINESS
All servers dedicated to Inmotion Hosting are installed with cPanel, which makes its server relatively easy to use and more stable. InMotion Dedicated hosting servers are affordable compared to their competitors. The entry-level server begins at only $115.69/month. It features 4 Cores, 8 GB RAM, 500 GB SSD storage, 6 TB monthly transfer, and 2 free hours of controlled service.e

INMOTION HOSTING PRICING AND FEATURES REVIEW – RESELLER HOSTING
Inmotion Hosting provides Linux-based hosting of resellers using WHMCS, WHM / cPanel, which allows you to quickly identify the suitable hosting package and price to start your web hosting.
Inmotion Hosting has 6 reseller hosting packages to meet the demands of different clients. The entry-level R-1000S has disk space of 80 GB RAID-6 SSD and a monthly bandwidth of 800 GB, costing $29.99/ mo. With our exclusive coupon hosting connection Inmotion, people can save up to 48% off paying only from $15.39/month.
All reseller plans come with 1 free first-year domain name registration, unlimited websites,  email accounts, FTP accounts,  MySQL databases, SSH Access, cPanel transfers, backups, 1 dedicated Address, and more. Combining withInMotion Hosting reseller hosting provides and charges, we firmly believe it is one of the industry's best reseller hosting.
For more information about their hosting plans and promos, click the image below!
DO WE RECOMMEND INMOTION HOSTING?
With its outstanding credentials, it is DEFINITELY A YES.

InMotion Hosting has a strong industry reputation for providing business-class hosting at an affordable price, and its customer service is truly outstanding. InMotion Hosting is the only A+ web host rating over the past 9 years with BBB. For all sizes of businesses and individual freelancers who want to take their websites seriously, we strongly recommend this.
Thank you so much because you've made this far. Comment down below your experiences if you are a current or previous subscriber of InMotion Hosting.

This is WebsitesAdvice saying, thanks and stay safe!