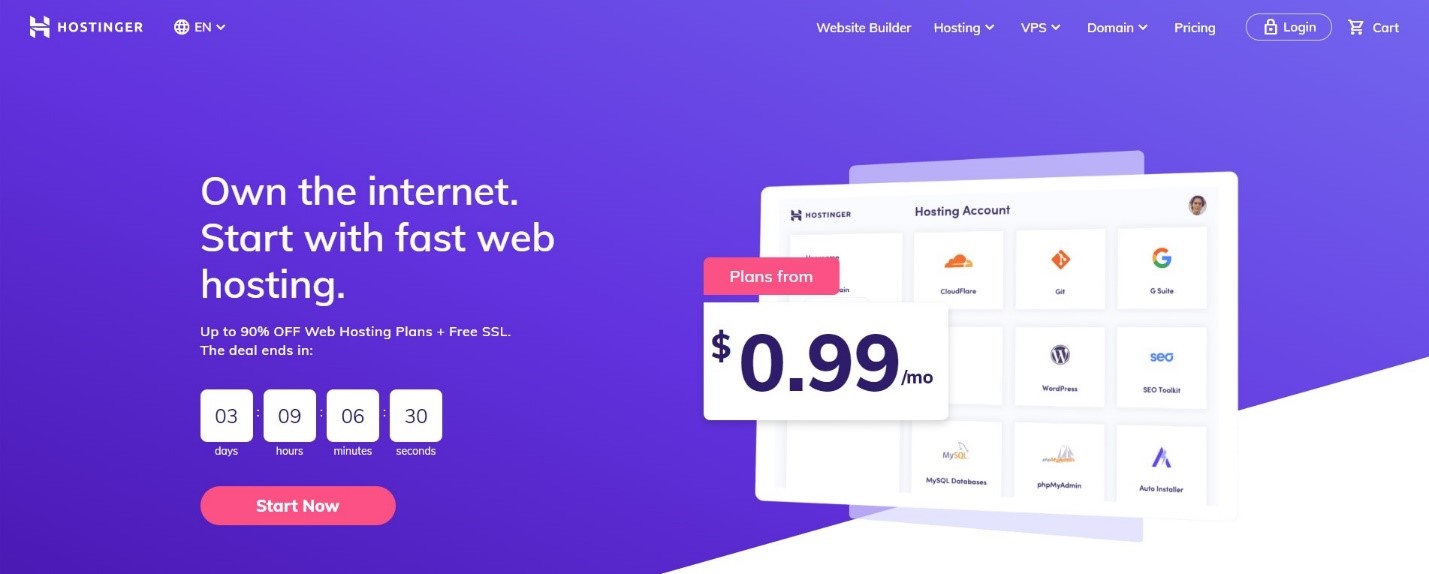 Hi there! We are so pumped to see you again. Welcome to another website hosting review brought to you by WebsitesAdvices. We want to thank everyone for continuously following our set of comprehensive reviews. Be sure to check our website for more updates and reviews regularly. For this review, we will be discussing Hostinger.


Hostinger is an organization that offers a hosting platform for more than 29 million users in 178 countries with a world-class website. On average, 15,000 new sign-ups every day – that is one new customer every 5 seconds! They have developed a powerful technology for learning, creating and growing the business of its customers. In 2004, Hostinger was bootstrapped and they have been on an amazing journey ever since. They had a simple idea to let you create a FREE website. With no-limit PHP, MySQL, cPanel & no ads-the freedom to express yourself online is complete.


Like Website Design, Development and Maintenance, a dependable website is a crucial part of any successful website. During the planning stage, the choice of web host is probably one of the last things that you have in mind. However, failing to pick the correct host can cause a lot of problems to your website and, more importantly, to your business moving forward. Here at WebsitesAdvice, we will try our best to help you to choose what hosting is the best for your needs.
Hostinger International, Ltd is a web hosting company and internet domain registrar operated by the employees. Established in 2004, Hostinger now has more than 29 million users, collectively with its subsidiaries in 178 countries. The company uses cloud web hosting technology and provides MySQL, FTP and PHP hosting services. Hostinger is a parent company of 000Webhost, Weblink and Niagahoster. It was initially named Hosting Media and was founded in Kaunas, Lithuania. After reaching a 1-million-user milestone in 2011, it changed its name to Hostinger. A subsidiary 000webhost was established back in 2007, providing free web hosting around the world, and a US web hosting brand Hosting24 was launched in 2008, with data centers in Asheville, NC, and UK.


In Indonesia – Niagahoster.co.id, just before Hostinger International reached 10 million user bases, another web hosting brand and a company was bootstrapped after rapid international expansion. Hostinger services were located in 39 countries in 2014, and a company was founded in Brazil, along with a new brand-weblink.com.br. A new data center and a business have been opened in Singapore in October the same year.
SETTING UP A SITE – Hostinger has several options to create a website, including a website builder of its own. The drag-and-drop functionality of the app lets customers build an attractive test site with slideshows, contact forms, social media links and other common elements quickly. Also, you can install WordPress or any other CMS platform.


E-COMMERCE AND SECURITY – Making money online needs tooling for e-commerce, and Hostinger has it in abundance. You can download common and useful resources such as OpenCart, PrestaShop, Simple Invoices and ZenCart by dipping in the Hostinger shop. If you're looking to secure your website, Hostinger has a lot of tools to do just that. For instance, you get a free Secure Socket Layer (SSL) certificate with some hosting plans or buy one separately. The technology ensures the connection between your website and the computer of a visitor, which is vital to safety.


You can also sign up for the $19.99 protection from Cloudflare, a tech that protects your site from DDoS attacks and other threats.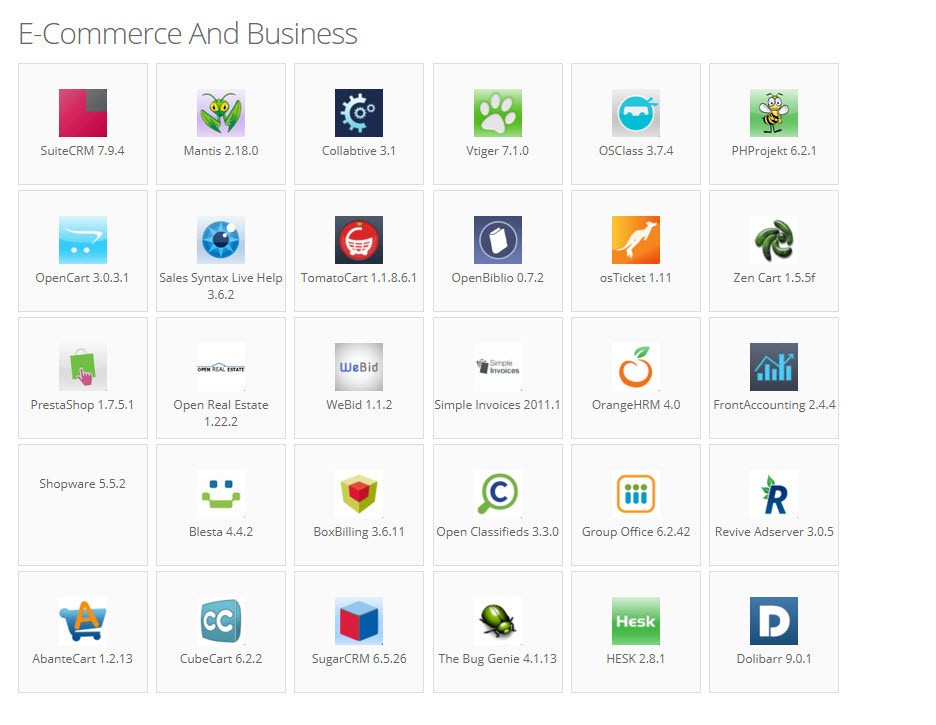 CUSTOMER SERVICE – If you encounter a problem or have a question that you would like to ask the customer service squad at Hostinger, you can hit the crew on a 24/7 basis via webchat. I found the staff incredibly friendly and informative, and with the appropriate links and some feel-good GIFs, they answered my test questions. Unfortunately, telephone support for Hostinger is missing. If you want to contact a person, this is a web chat or a bust. On the upside, Hostinger has a sizeable database of knowledge that answers common (and rare) web hosting questions. Plans for the Hostinger come with a money-back guarantee of 30 days.


QUALITY UPTIME – Uptime is a critical element for web hosting since it is a measure of your website's availability. Sites with excellent uptime are considered reliable; sites with low uptime are unreliable and unavailable. Hostinger proved itself a reliable web hosting service in our two-week testing period. In fact, during the 14-day observation period, our test site descended only once, briefly. So, you should be able to rely on good uptime from Hostinger.

BENEFITS OF USING HOSTINGER
DECENT UPTIME
On the surface, cheap web hosting services could seem appealing. But if your uptime rates are going to be insufficient, it is not worth going this route. Hostinger doesn't have the industry's best uptime rates, but they sure don't have the lowest either. We usually like to see web hosting services delivering an average uptime of 99.9% over a year. Hostinger has a 99.8% range of several months, and even as low as 99.04%, which has reduced its average. But their average was saved by some months of 100% uptime. You have to weigh the cost against your requirements. If you have a small personal website with minimal traffic, it won't kill you 10-14 hours of downtime in one year. If you have a business website, though, you'll want somewhat better rates.


FAST LOADING TIMES
Hostinger has surprisingly fast load speeds for a cheap Web host. Hostinger says its server response time on their website is 43 milliseconds, which is good. Though in any test, I was unable to verify that number. Instead, I would suggest this should be marketed as "as small as 43 ms." You would probably need a top-level plan that uses minimal resources to achieve those speeds.


MONEY-BACK GUARANTEE
If you are unhappy with your Hostinger web hosting services, within 30 days of signing up, you can get your money refunded. This offer should be a good reason enough for you to sign up if you're on the fence about how your site uses Hostinger to do. Hostinger's money-back guarantee is good, but compared to some other web hosts out there, it does not go beyond and beyond that. We'll be thinking about that in more depth shortly.


LIVE SUPPORT
Customer service may agree to use a web hosting provider or split it. I need to know if I can instantly contact my web host if I have any questions or issues. That may not be as important to some of you; however, if you use Hostinger to host a tiny personal blog, it may not be at the top of your priority list to contact a customer service representative in an instant. It's nice to know that Hostinger's live chat is fast and straightforward, no matter your situation. We sent them a message requesting support to try it out, and we got a response in less than one minute. I was impressed with the vocabulary and terms the customer support rep also used. Their advice was straightforward and easy to obey. Furthermore, Hostinger has knowledge base articles on their website that provide self-help guidance. If you end up choosing Hostinger, I would recommend using those as a resource.

HOSTINGER PRICING AND FEATURES REVIEW – SHARED HOSTING
Hostinger provides collaborative web hosting, as do many other web hosting companies. Your website sits on a server with other websites with that hosting. Simply put, the sites share the resources of a single server. The advantage of that cohabitation? You split the cost of hosting, which results in an inexpensive web hosting. The backside? Shared hosting is not a very effective hosting because your site can slow down or become inaccessible if your content (or that of your cohabitants) gets a significant hit from social media.
Hostinger has three plans for shared web hosting: Single, Premium, and Business. The Single Plan (starting at $0.99 / month) allows you to host just ONE website and provide ONE email account, 100 GB of monthly data transfers, and 10 GB of solid-state storage. The Premium plan (starting at $2.89/month) boasts unlimited site hosting, email, monthly data transfers, and 20GB of storage. It also comes with a free domain name. The Business plan (starting at $3.99/month) has all of the Premium plan's offerings and adds a free SSL certificate, daily backups, and double the processing power.

HOSTINGER PRICING AND FEATURES REVIEW – VPS HOSTING
Virtual private server (VPS) hosting is the minimum web hosting tier you want if you are serious about creating the presence of your online business. Compared to shared hosting, VPS hosting provides additional server resources for your website, as there are fewer websites on the server. Hostinger has six Linux-based VPS plans and four Windows-based VPS plans. The Linux entry level has 1 GB of RAM, 20 GB of storage, and 1,000 GB of monthly data transfers for $3.95/month. The top-tier Linux VPS plan includes 8 GB of RAM, 160 GB of storage and 8,000 GB of monthly data transfers for $29.95/month.
Windows-based VPS plans for Hostinger have slightly different specifications. The entry-level option includes 2 GB of RAM, 50 GB of storage and 4000 GB of monthly data transfers for $26 per month. That price holds even if you sign up for a one-year plan — there is no prepayment discount. The Windows VPS high-end plan includes 16 GB of RAM, 400 GB of storage, and 7000 GB of monthly data transfers for $250 per month. Again, even if you sign up for one of the annual plans, you pay the same rate.

HOSTINGER PRICING AND FEATURES REVIEW – CLOUD HOSTING
Hostinger has three levels of cloud hosting: Cloud Startup, Cloud Professional, and Enterprise Cloud. The entry-level (starting at $7.45/month) includes 3 GB of RAM, 40 GB of storage, and unlimited monthly data transfers.

The mid-of-road tier (starting at $14.95/month) raises the RAM to 6GB and the storage to 80 GB. The high-end tier (starting at $37/month) has a RAM of 12 GB and a 160 GB storage. Both the plans come with a common IP address, a free SSL certificate and unrestricted hosting.

HOSTINGER PRICING AND FEATURES REVIEW – WORDPRESS HOSTING
Like many other web hosting companies, Hostinger has plans for WordPress. These are Starter, Premium and Business. They share the same name as the shared hosting plans of Hostinger, but they also have the same specifications. In other words, WordPress hosting by Hostinger is pretty decent, except for the  skimpy specs associated with the single plan entry-level.

DO WE RECOMMEND HOSTINGER?
Hostinger is neither a stellar Web host nor a stinker. The business falls right into the middle ground, where decent providers of web hosting work. The uptime and customer service of Hostinger shine, but the lack of dedicated servers and telephone support slightly dulls the experience. If you are looking for other options for web hosting, kindly check out WebsitesAdvice's other comprehensive reviews. Thanks and see yah!