THE FLEXIBLE WEBSITE BUILDER – WIX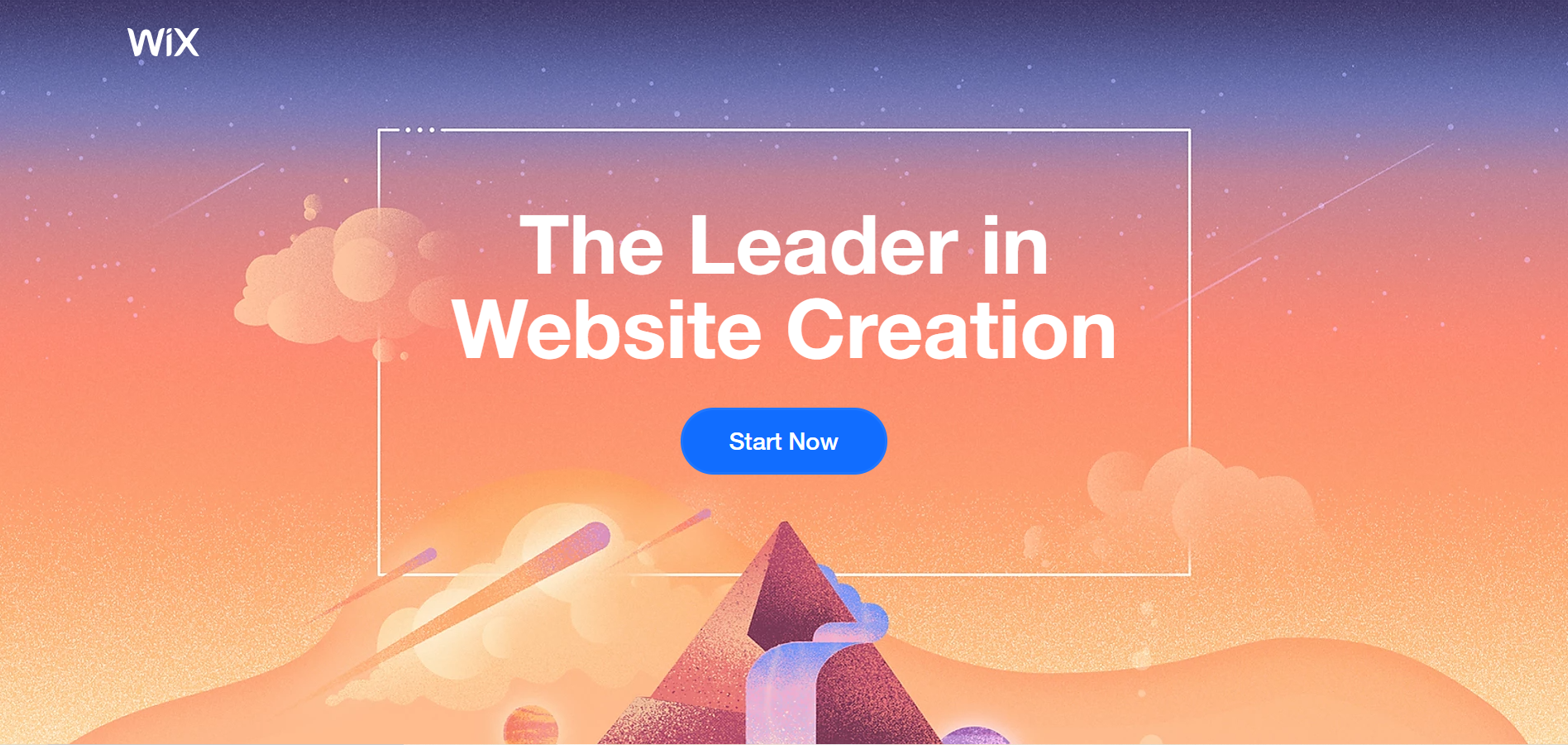 Over the past few years, Wix has become quite well known, partly because of budget-busting marketing campaigns featuring stars such as Heidi Klum, Jason Statham, and Gal Gadot, better known as Wonder Woman. But let's just start with the fundamentals. Today, Wix is the web-building landscape's largest player and hosts a whopping 160 million sites. Wix offers an excellent site builder for drag – and – drop building small websites. Free templates are available on 100s. Wix offers its own web hosting and (free and paid) domain names. The App Market encourages the introduction of additional functionality such as photo galleries or ecommerce.
WHO SHOULD USE WIX?
Their visually impressive models are designed for small businesses, restaurants, online stores and artists including photographers and musicians alike. These are optimized for mobile devices, and can be spiced up with one of the many Wix App Market apps available. You may equate Wix to a prefabricated house in a way: the basic structure already exists and cannot be changed. However, you can paint the walls to your taste (select a theme) and mount the furniture you love (photo galleries and other apps).
WIX'S PRICING OPTIONS
For as long as you want, Wix is available for free. If you need professional features such as your own domain name or ecommerce, you have to choose between one of their premium plans from "Combo" to "Business VIP" The cheapest ad – free plan cost $13/month, with a personalized domain name.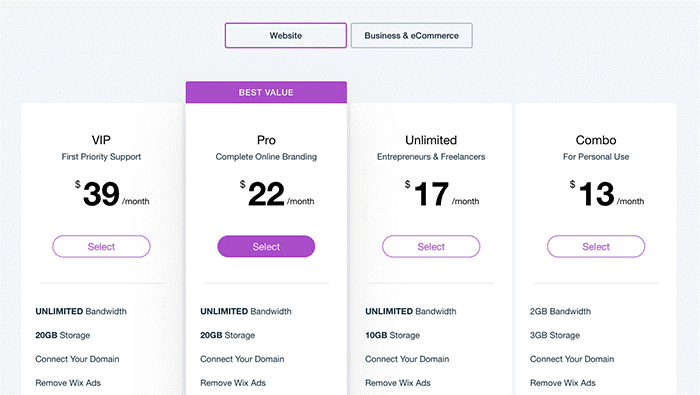 Now you might wonder if Wix 's right for you. Figure out what's good about this product and what's bad about it:
Free ($0)
Create a free website with Wix ads. Not included: your own domain name.
Connect Domain ($5)
Connect your own domain with your Wix site. Your site will still show Wix ads. (Plan is not available in all countries).
Combo ($13)
Ideal for smaller professional websites. No ads and plenty of storage.
Unlimited ($17)
The right plan if you need a lot of web space (up to 10 GB included).
Business & eCommerce ($23)
Best plan to create an online store or use premium apps like Wix Bookings or Wix Hotels. Higher plans (VIP & Unlimited) available too.
From our view, Combo is by far the best plan for regular websites without ecommerce. It is ad-free, includes a domain name for 1 year and provides enough storage for most needs.
PROS AND CONS OF WIX
Let's start with the PROS.
EXCELLENT TEMPLATE: The most remarkable thing about Wix is his templates The designs are exceptional and offer pre – built layouts for a wide range of industries.
EXTREMELY FLEXIBLE: Wix allows you to finish your work off "pixel perfect".
ADDING ANIMATIONS: Wix is one of the few site builders that let you animate text and other elements.
APP MARKET: There are hundreds of website applications you can link to your website. There's a newsletter app, live chat apps, and online booking widgets.
WIX ARTIFICIAL DESIGN INTELLIGENCE (ADI) – Wix provides a smart assistant to help you develop your website. But this is only possible for certain types of projects.
AUTOMATIC SITE BACKUP – Wix automatically creates backup points on your website that can be restored at any time. You will never lose any important information in this way.
RATING DETAILS
EASE OF USE
It's a very fast editor to understand. If you're stuck, the FAQ section will help. Short introductory videos give instructions on the various functions. Total novices will love Wix ADI: this new system will take you by the hand when configuring your website. It's a little less versatile, but it's very easy. Best of all: you can turn to a standard builder whenever you like.
CHOICE AND FLEXIBILITY OF TEMPLATES
The designs look professional and allow the pixel to be fully customized (see examples). There's a mobile – friendly edition that can be personalized individually. You can also add videos in the background and upload your own fonts to the Wix editor.
ADVERTISEMENT-FREE
Ad-free only from the "Combo" premium plan. The free version and the Attach Domain plan are displaying some pretty noticeable Wix ads.
LANGUAGES
The editor supports sixteen languages. Multilingual sites are generally available. Here is a guide to the creation of a multilingual website. While it's a pretty efficient system that's easy to use, we wouldn't recommend it to larger sites because it's not suitable for SEO (you can't use unique URLs for each language).
YOUR OWN DOMAIN NAME
Free domain name included in the "Combo" premium and cheaper plans for one year. Wix supports domain ends, including:.com,.org, .net, co.uk and.info. Renewal prices start at $14.95 per year. Using the Connect Domain package (and above) you can move your existing domain to Wix or point it from another domain registrar to Wix. More information, please. Always included: SSL (https) encryption.
DEPTH OF NAVIGATION
Up to two levels are possible. A third level would be desirable as it is not very convenient to manage a larger site with Wix (30 + pages) right now. Often, the more pages you add, the quicker your editor appears to load.
WIDGETS
Wix App Market offers a wide range of exclusive widgets and games. We really like Wix Music, selling and promoting music, and Wix Bookings, which will let your customers book and pay for appointments and consultations. External programs can also be easily integrated.
E-COMMERCE
The online shop is included in the Business & eCommerce packages. You can test the function in other plans as well. At $23/month, the price is fair (there are no sales fees) and allows you to sell both physical and digital goods while tracking what you have in stock.
SEARCH ENGINE OPTIMIZATION (SEO)
You might have heard some bad things about Wix 's SEO capabilities, which were still true a few years ago). However, they have improved massively, allowing you to edit page titles, meta descriptions, and alt tags individually. Even advanced SEO tools like 301 redirects are available. Unfortunately, Wix changes image file names to something cryptic (e.g. 09ab7~mv2.jpg/), which is a minor drawback.
BLOG
Wix 's blog is a pretty good add-on, which is SEO – friendly as well. It comes with most of the features you'll need (e.g. tags, categories, RSS, etc.). You can also schedule blog posts. You can edit and publish articles on the go with the Wix mobile app. The downside is a lengthy commentary feature. Your visitors need to sign up for your website account in order to leave a comment.
BACKUP & RESTORE
Wix comes with a very convenient version control system, called Site History, that will let you restore to any previous version of your site with one click.
CONCLUSION
If we're frank, at first, I had my reservations about Wix, because their program wasn't always easy to recommend. Back in the days, it was Flash-based and always a bit different (like the old classmate who had that odd taste in clothing). We also got Google's John Mueller to state publicly that Wix's SEO tools are fine for their search engine. So, unless you seek to rank for some insanely competitive keyword, you shouldn't have any problems with Wix! In the end, SEO depends much more on your ability to generate outstanding content than on the site builder. However, Wix has a SEO downside due to its relatively slow loading pace on mobile devices.
One location where they just did something well is their app store. Most other website builders rely mainly on third – party apps that can break if the business stops supporting them. Wix 's strategy is a bit different: they have created more than 80 high – quality apps themselves. Among the following: appointment scheduling tool (Wix Bookings), event management app Wix Events, hospitality widgets (Wix Restaurants and Wix Hotels) as well as photo gallery and video tools. And you can bet there's going to be more.
FINAL WORDS
We would recommend it without reservations for smaller websites (not more than 30 pages) that look flawless. Why don't you press for larger projects, too? However, the navigation menu does not really fit complex site structures as there is only one sub-level. Weebly usually works better on major websites.
Wix has the widest selection of pre – built prototypes for any kind of industry. Since it's not possible to switch to a new theme after your initial choice, it's more difficult to redesign the design of your site (you'll have to redesign it manually or start from scratch). On the positive side, this limitation makes Wix's greatest strength easier: unparalleled versatility within your chosen theme.
And even if you want to get into the ecommerce game sometime down the road, you can easily add a shopping cart at a relatively low cost. Read our review of Wix Ecommerce to learn more. What Wix has created here is certainly impressive in many ways, with a speed of development that is almost breathtaking. Just make sure you try a free plan before switching to a paid plan to find out if it's the right choice for you.