Welcome to the first installment of WebsitesAdvices' series of comprehensive reviews about different Web Hosting Providers. Today, we will take an in-depth look at Asia Pacific's No.1 Hosting: Alibaba Cloud. In this review, you learn more about the e-commerce giant's cloud business and how it stands above the competition.
Similar to Website Design, Development and Maintenance, a stable and reliable website is a crucial part of any successful website. During the planning stage for a website, the choice of web host is probably one of the last things that you have in mind. However, failing to pick the correct host can cause a lot of problems to your website and more importantly, to your business' success. Here at WebsitesAdvice, we will try our best to help you to choose what hosting is the best for your needs.
Alibaba Cloud is a Chinese cloud computing giant that provides a variety of high-performance business-oriented cloud services: data storage, relational databases, big data analytics, content delivery networks and more. They have many of the same products that Amazon Web Services does. But the business offers several more accessible products, including domain registration and various types of website hosting, among other enterprise-only services.
Global Minded with a strong presence in Asia – Alibaba cloud is committed to building stable and reliable data centers spread across the world to serve our customers, together with local partners. At present, Alibaba has the most data centers and CDN nodes in the Asia Pacific than any other cloud service provider.
A front runner in data intelligence – Alibaba cloud provides reliable and easy to use intelligence-driven cloud services. In addition to an extensive portfolio of products and services, Alibaba Cloud is serving global business with more than 3 million customers in 200+ countries and regions through numerous-cross industry solutions.
Proven performance and reliability – Over a decade, the world's largest online shopping event, 11.11 Global Shopping Festival, has been being a significant testing field for the technological capabilities and innovative practices of Alibaba Group. And Alibaba Cloud's data-intelligence technology has been the key factor to the Group of standing up to the world-class flood peak. At the 11.11 Global Shopping Festival in 2019, Alibaba Cloud had supported a record-breaking 544,000 transactions per second at peak time.
Your Partner in Mainland China – China Gateway is Alibaba Cloud's Flagship Solution to help customers establish and operate a business in Mainland China. It provides one-stop services, including the entire process of online registration, cloud migration and developing cloud services, which help global customers to quickly gain a foothold in China, tapping into the vast resources of this large and growing economy.
Comprehensive security and compliance solutions – Building on the wealth of security services experience for Alibaba Group itself, Alibaba cloud offers a comprehensive portfolio of security products and services to stabilize your business on cloud. Alibaba Cloud adheres to international information security standards, complies with local regulations, and committed to safeguarding the privacy of your data.

Benefits of Using Alibaba Cloud
As the subsidiary business unit and the cloud computing arm of Alibaba Group, Alibaba Cloud provides cloud computing services covering PaaS, IaaS, SaaS, big data and bespoke solutions. An exclusive range of cloud computing products and services including Elastic Computing and Networking, Security and Management, Database, Application Services, Domains and website, Storage and CDN and Analytics are available on Alibaba Cloud. Besides, users are eligible to get benefits like cloud security, record-breaking computing power, and others.
With extensive web security experience of Alibaba Group and hundreds of well-known e-commerce platform in China like Taobao, Tmall and Alipay, Alibaba Group understands both the vulnerability and importance of cybersecurity. The cloud-based security service of Alibaba Cloud, Anti-DDoS Basic integrates with Alibaba Cloud ECS and safeguards data and applications from DDoS attacks. Users can have increased visibility and control over the security measures. Other security services include Anti-DDoS Pro, Mobile Security and Web Application Firewall. What's more, this service is available to all Alibaba Cloud users free of charge!
Alibaba Cloud is the first cloud security provider to earn the ISO27001 Information Security Management System Certification in China. Furthermore, it is the first cloud service provider to offer Cloud Security Alliance (CSA) Star certification for its facilities all over the world (CSA Star certification is an enhancement to the ISO/IEC 27001 standard that addresses issues around cloud security).

China's Largest Cloud Computing Provider
Alibaba Cloud is the leading cloud provider in China and is rising to be one of the influential cloud service providers in the world. Alibaba's cloud division has a 22% market share in China's IaaS market, while Amazon Web Service has a 28% market share in the global IaaS market. Moreover, Alibaba Cloud offers a borderless cloud service with minimal latency and an international network of 14 data centers. Users could access their services around the world through a single global account.
Alibaba Cloud is well-known with its high scalability and hybrid capability features backed by the world's largest hybrid cloud architecture with scalable computing power, advanced real-time data processing and analytic capabilities. Apsara, the super computational engine developed by Alibaba Cloud, is capable of ensuring the efficiencies of networks and systems.
Initially designed and launched to support the traffic and data-management of Alibaba Group's e-commerce platforms, Alibaba Cloud is now rising as another top global player in the cloud computing industry, providing robust services to people. The growth graph of Alibaba Cloud portrays its potential and capability in cloud computing services.

Alibaba Cloud Web Hosting Pricing and Features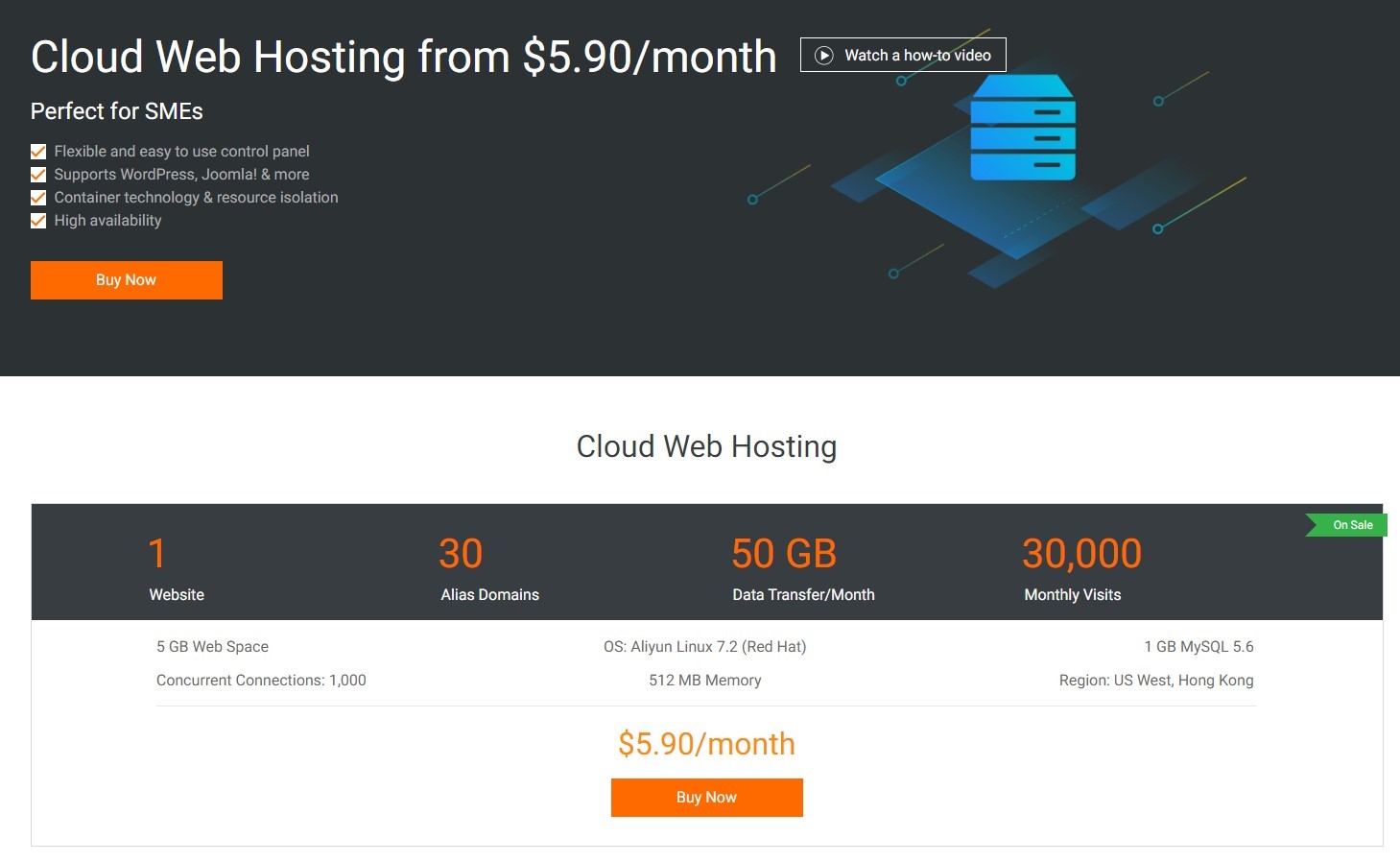 The regular hosting plan seems a little limited, with only 5GB disk space, a single 1GB MySQL 5.6 database and 1,000 concurrent connections (the website suggests it's suitable for up to 30,000 visits a month). Bandwidth is theoretically limited to 50GB. Right now, that's not applied since extra traffic is free of charge, but this could change at any time.
Dig into the details, though, and you'll notice some plus points. Container technology ensures websites are isolated from each other and a problem in one site can't bring the server down. Servers are configured to ensure you'll get 512MB RAM, too, something you won't generally benefit from with regular shared hosting.
Despite Alibaba Cloud's global network, you only have a choice of two data centers: the US or Hong Kong. Still, as this is a company which owns and manages its servers, and uses them for some very big-name corporations, you can be sure of top performance, and that any problems are fixed at the maximum possible speed. Pricing is refreshingly simple at $5.90 a month plus tax, whether you sign up for 1, 6, or 12 months.
An alternative option is the Simple Application Server. This alternative makes it quick and easy to set up a server with your choice of operating system and app images – CentOS, Ubuntu, Debian, Windows Server 2008/2018, WordPress, Joomla, OpenCart and more – and there are data centers in the US, Australia and Germany.
Prices vary depending on the resources you need, but they start at a reasonable price of $4.50 a month for a single core, 512MB RAM, 20GB storage, and 1TB of data transfer.

Cloud Web Hosting Features
 1.Easy to use – No tech background? That's fine. You can use the visual control panel to add domains and manage files, set the environment, and analyze traffic and other operations.
Wide Range of Web Builders– WordPress, Joomla!, UCenter Home PHPCMS Discuz and more website builders are supported. 
Fast and Secure– Based on container technology, resource isolation, attack isolation capabilities, WAF security protection and 99.999% data reliability.
Alibaba Cloud's Elastic Compute Service (ECS)

Alibaba Cloud Elastic Compute Service (ECS) provides fast memory and the latest Intel CPUs to help you to power your cloud applications and achieve faster results with low latency. All ECS instances come with Anti-DDoS protection to safeguard your data and applications from DDoS and Trojan attacks. Deploy ECS instances with just a few clicks from the easy-to-use console and scale capacity up or down based on real-time demands. This feature means you only pay for the resources you use and avoid the need to procure expensive IT infrastructure and hire large network teams.
Alibaba Cloud ECS offers an industry-leading SLA, with a commitment of 99.975% availability for individual instances and a commitment of 99.995% availability for multiple zones within the same region. ECS provides multiple billing methods to cater to the cost-effectiveness requirements in different scenarios. Exclusive bandwidth billing methods are also provided to help you save more on resources.


Alibaba Cloud delivers a wide range of cloud computing solutions to you at a lower cost.
5X Higher Computing Performance
The Intel® Xeon® Processor E5-2682 v4 and the Intel® Xeon® Platinum 8163 Processor with a CPU clock speed of 2.5 GHz support up to 56 cores and 480 GB of memory.
4X Increase in Packet Handling
Based on the second generation of Apsara VSwitch, a proprietary technology stack by Alibaba Cloud, we provide up to 7 million packets per second (PPS) of packet forwarding capability, reducing latency by 66%.
3X Higher Intranet Bandwidth
Thanks to the second generation of Apsara VSwitch, our virtual machines can provide up to 30Gbps in networking throughout.
Local NVMe SSD Up to 240,000 IOPS
The highest random read and write I/O capability of one instance is 240,000 IOPS, with the access request latency remaining at 200 μs, the maximum sequential read throughput is 4 Gbit/s, and the maximum sequential write throughput is 2.4 Gbit/s.
Up to 8 Nvidia Tesla V100 GPUs
Provide up to 125.6 TFLOPS in FP32 (single precision floating point) or 62.4 TFLOPS in FP64 (double precision floating point) performance.
Alibaba Cloud is running on Apsara, our proprietary cloud operating system. It provides a comprehensive suite of cloud computing services, such as elastic computing, big data, storage, and security.
The technology powering Apsara was born from years of experience gained through Alibaba Cloud's research and development. A single Apsara cluster can be scaled up to 5,000 servers with 100 petabyte storage capacity and 100,000 CPU cores.
Apsara can handle the most challenging customer scenarios with 1 billion GB data storage and analysis capacity, and the processing power of 256K transactions per second. Safeguard your ECS with free Anti-DDoS Basic service that protects against up to 5 GB DDoS attacks. You can also leverage Server Guard, an easy to use free service that provides real-time monitoring of servers to ensure high availability. Our Distributed File System creates and distributes three copies of data onto different server nodes on different racks. The implementation of automatic snapshots further enhanced data reliability.

Similar to other website hosting providers, pricing for dedicated servers are wide and varied. In this review, we will focus on the pricing of ECS for Enterprises. As you can see, there are four basic plans ideal for all enterprise application requirements. First is the Network Enhancement Type that is good for high PPS, front-end web servers and others. It starts at $54.52 per month. Next is the High-Frequency Compute Type that starts at $114.92 per month. Then, we have the third-tier plan that is the Local SSD Type, and costs $155.9 per month. Last on the list is GPU Compute type, ideal for deep learning, scientific computing, multimedia codec and other GPU intensive apps. The price starts at a whopping $751.94 per month. There are more ECS Configurations available so you can check out their website if you need any additional information. ECS is configurable and the pricing depends on your requested specifications

WHAT SHOULD I CHOOSE? CLOUD WEB HOSTING OR ELASTIC COMPUTE SERVICE?
Never settle for anything less. A very famous cliché that we usually hear now and then. However, in choosing the appropriate Alibaba Cloud Web Hosting Plan for your needs, does this apply? Let's discuss this.
It is always better to get the best out there. But, please keep in mind that it is not always the case. Knowing the current and future requirements of your website is the key to determine your best hosting plan. Are you creating a basic corporate website? If the answer is yes, you may avail the Cloud Web Hosting Plan since it is enough for the website needs. However, if there is a plan for a big website revamp in the foreseeable future that includes robust functionalities like e-commerce, franchising and careers, there are a lot of ECS Configurations available for you. However, setting up an ECS Hosting is more complicated compared to the regular Cloud Web Hosting. We were able to talk to one of the Sales Representatives of Alibaba Cloud and he told us that an IT Expert on this field would be beneficial because of its complexity.
We want to commend Alibaba Cloud's Customer Service. They are very responsive and provides accurate information. We inquired about a hosting plan for an e-commerce website that we are planning to establish. Frank, the assigned Sales CSR at that time, gave us much information regarding what plan is suitable for our needs and he even assisted us with our technical questions. It only shows that Alibaba Cloud is investing a lot in their workforce to make their customer service world-class. Kudos!
In addition to this, they also have an extensive library of FAQs. If you subscribed to any of their hostings, please make sure to check their Documentation. There are a lot of available resources and information that might be helpful in the near future.

DO WE RECOMMEND ALIBABA CLOUD?
Yes, WebsitesAdvice do recommend Alibaba Cloud.
Alibaba Cloud is the Number 1 Hosting Provider in China and in the Asia Pacific with speeds and uptime that continuously rank among the top, you should consider them.
Their plans are flexible, affordable and pack with features. The wide variety of plans is a plus, so you are sure to find a plan that suits your website's needs.
As you can see, the decision to spend more than you would expect in hosting matters. Instead of jumping to the cheapest deal, or the first host you've ever come across, spend some time researching all the web hosting options you've got.


You can always move to a new host over time, but making the right decision the first time around is easier. It's easier to find a host that can scale with you over the long term instead of switching providers and migrating your entire site every time your site grows. Hopefully, you have a better understanding of why you need web hosting, what to look for from your hosting company, and your way towards choosing the best web host for your needs.


That's all, and see you in the next installment of WebsitesAdvice Comprehensive Review of Website Hosting Providers.


Ciao!
P.S. Have you used Alibaba Cloud before? Please consider leaving a review or comment below — good or bad — it doesn't matter as long it's helpful to our visitors. Thank you so much!