And we are at it again with another review from WebsitesAdvice. We are glad to have another one of our series of comprehensive reviews about different Web Hosting Providers.


Today, let's take an in-depth look at Hostgator, one of the industry's largest, oldest web hosting companies, but still making improvements, posting an average uptime of 99.98% over the past 24 months. In general, HostGator provides a range of web hosting solutions (both Linux and Windows) and ample functionality to support a website, irrespective of what kind of website people are trying to create: a simple blog, a family gallery, an e-commerce website, or a website. HostGator provides high quality, cheap hosting. In the HostGator review below we'll explain why it's the right option for you from aspects like discounts, market value, efficiency, user-friendliness and customer service.


Similar to Website Design, Development and Maintenance, a dependable website is a crucial part of any successful website. During the planning stage of a website, the choice of web host is probably one of the last things that you have in mind. However, failing to pick the correct host can cause several problems to your website and, more importantly, to your business moving forward. Here at WebsitesAdvice, we will try our best to help you to choose what hosting is the best for your needs.
HostGator.com LLC is a leading global provider of shared, reseller, VPS, and dedicated web hosting services. The company was founded in 2002, with headquarters in Houston, Texas. HostGator has since grown from a small hosting company with just three servers to a world-leading and industry-recognized hosting provider running more than 12,000 servers. HostGator's more than eight million domains make up about 1% of the world's Internet traffic.
As an innovator in technology and product, HostGator can provide innovative products and services to its more than 800,000 customers, designed to complement their existing businesses. HostGator represents customers in more than 500 industries, from independent freelancers to Fortune 500 in more than 300 countries. Because of the nature of reseller hosting, HostGator customers are often Web designers or developers who have chosen to provide their customers with hosting services. Businesses of all sizes and shapes often make use of the affordable but still powerful shared, reseller, and dedicated hosting services provided by HostGator. The clients range from complete novices to specialists in computing and technology.
HostGator with you every step of the way – Whether you are looking for a personal website hosting plan or a hosting plan for your business website, HostGator is the perfect solution. Their powerful website hosting services will help you achieve your overall website goals and give you the confidence you need to know that you are partnered with a reliable and secure platform for hosting websites. They are one of the most user-friendly website hosting platforms and remain committed to providing one of the best hosting solutions.
Get started quickly and easily – Their Website Builder, for example, provides an incredibly convenient drag-and-drop construction experience. You can choose from a wide selection of themes, and even pre-constructed sections, to design and publish your fantastic website in no time!
Hostgator will transfer your existing site for you- Their migrations team is standing by to move and configure your existing content from your previous host to perform optimally on their platform. They are pleased to transfer domain registrations to manage your entire online portfolio in one convenient location!

BENEFITS OF USING HOSTGATOR
STRONG AND STABLE UPTIME OF 99.98%
HostGator has posted 99.98 percent uptime in the last 24 months. For several months, they have been consistent with the uptime of 99.98-100%. But that is not even the best part. They are consistent for one reason: their uptime guarantee says that if they drop below 99.90%, you can receive one month of credit on your account.
AWESOME SUPPORT AND CUSTOMER SERVICE
HostGator provides support for knowledge base, phone, email, and live chat. The last option is the fastest one, connecting us to a service representative in about 15 seconds. We tried to pepper them with questions, jumping from the subject to the subject, and they never hesitated. Their staff seems knowledgeable, well trained and friendly. It's been an excellent all-round experience.
45-DAY MONEY BACK GUARANTEE
HostGator is so confident that they will extend the industry-average 30-day refund policy and an extra two weeks or so to 45 days. It only means that you can use them for more than a month and still get your purchase price back if any issues arise. This 45-day money-back guarantee applies to all shared, reseller and VPS hosting packages. The only catch is that this does not apply to HostGator's dedicated servers, administrative fees, installation fees for custom software. By now, after combing through 30 + Terms of Service documents, we have found that these caveats are relatively common in the hosting industry. For example, if your plan includes a free domain name, the standard fee of $15.00 for the domain will be deducted from the refund amount.
PACKED WITH SITE SECURITY FEATURES
HostGator 's shared hosting plans are pretty bare-bones. You get enough for one site, but not many extras on top of it. Luckily, they do offer some extra security features like the ability to add SiteLock monitoring to your site. This service will run on a daily basis, look out for potential site breaches or hacks, and instantly let you know when they find it. They also offer Spam Assassin to their email plans to help prevent spam from hitting your inbox in the first place. The only downside is that SiteLock is going to cost you a little extra.

HOSTGATOR HOSTING PRICING AND FEATURES REVIEW – SHARED HOSTING
Shared hosting comes with three packages for different clients. Even the smallest package contains unlimited disk space for customers to store content and data, unlimited bandwidth, unlimited POP3 email accounts, and unlimited MySQL databases. However, this package allows customers to host only one website. If customers want to create more websites, they need to choose another two packages. In addition, all HostGator shared hosting packages support:
 The latest PHP version, PHP 5.6, 7.1, 7.2, 7.3;
Ruby on Rails, Perl, Python, CGI, FastCGI;
SSH, shared SSL, FTP;
$100 Google AdWords, $100 Yahoo!/Bing marketing credits.
With such great features, shared HostGator hosting is still affordable. Especially if customers take advantage of their coupons, they pay at least $2.08 per month. There is a 45-day money-back guarantee that ensures that customers can try HostGator securely.

HOSTGATOR HOSTING PRICING AND FEATURES REVIEW – VPS HOSTING
HostGator offers one of the best reliable and affordable VPS hosting services. Their VPS is built on the OpenStack platform, which could quickly scale up and scale down, all VPS will be delivered automatically, so there's no waiting time for you to get the service when you subscribe to their service. In terms of pricing, with as low as $19.95/month, people could get 2GB memory, 2 CPU cores, 80GB storage, and also a free cPanel control panel for free.
With years of operation in the VPS hosting business and a large group of experts in this field, Hostgator can offer you top-notch solutions to meet the needs of your websites.

HOSTGATOR HOSTING PRICING AND FEATURES REVIEW – DEDICATED SERVER
Almost all hosting providers understand that the low price is going to attract webmasters, so does HostGator. At this company, its dedicated server hosting customers can obtain excellent hosting solutions at an affordable price.
There are three Hostgator hosting options, and now with the latest 52% off Hostgator. Their price is low from $89.98/month, $119.89/month, $139.99/month. On their entry-level server, clients could access a server with 4 Cores, 8GB of Memory, 1TB storage, unlimited bandwidth, free cPanel license and more. This price is cheap compared to what Hostgator has to offer. Furthermore, people don't need to enter into a long contract with Hostgator. HostGator allows a monthly payment if you want.

ADDITIONAL: CHEAPEST MANAGED WORDPRESS HOSTING

HostGator optimizes its managed WordPress hosting and designs it with Varnish / WordPress Caching and cloud hosting, enabling users to run 2.5x faster and more securely than before. Optimal features make it 100% WordPress compatible. Moreover, HostGator provides a simplified control panel specifically designed for WordPress. The one-click installer is also set to the control panel. With one-click restores, customers could automate backups; with one-click scalability, customers can quickly increase the capacity requirements for handling traffic spikes. Besides, HostGator integrates individual files, databases and email accounts into a single portal. HostGator includes automatic software updates and all installed apps and plugins. The company also applies and upgrades the latest version of security patches and features. What's more, no matter what customers plan to buy, HostGator offers a free migration service that makes it easy for customers to transfer their WordPress sites to HostGator.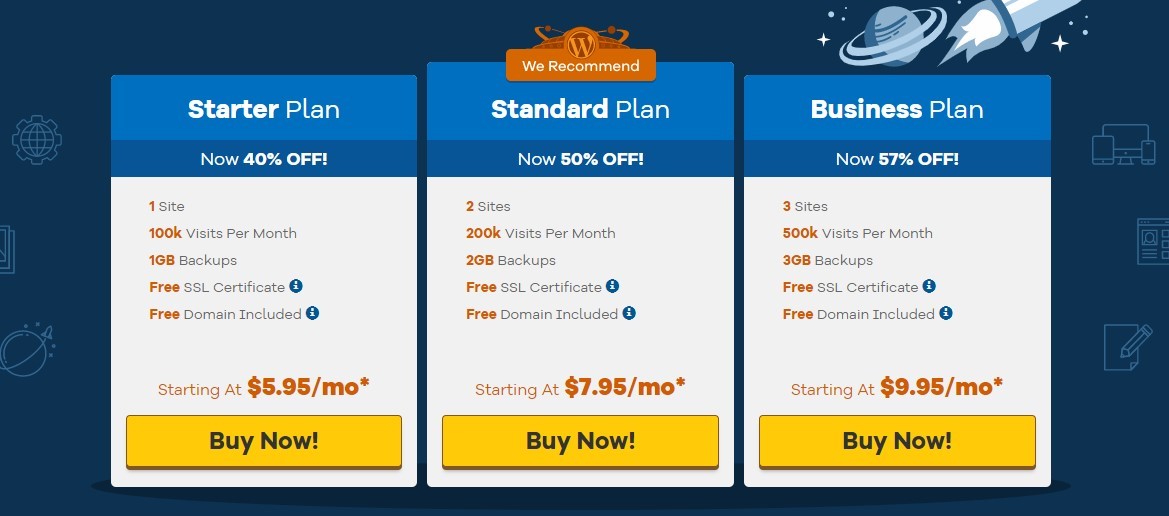 Recently, HostGator is giving away 40% to 57% off discounts on its managed WordPress hosting. Its well-known managed WordPress hosting pricing from just $5.95 per month.

DO WE RECOMMEND HOSTGATOR?
Of course, we do recommend Hostgator.
As you might see from above, HostGator offers affordable rates for good quality web hosting. Since HostGator uses Bluehost data centers, the performance and reliability of their services is close, which is very good. Plus, a high level of ease of use and convenient customer support, HostGator is a pretty nice web hosting option for customers worldwide.
All right! See you at the next iteration of WebsitesAdvice's series of comprehensive reviews. Please share your experiences below with Hostgator.
 Thanks, and see you again! Ciao!