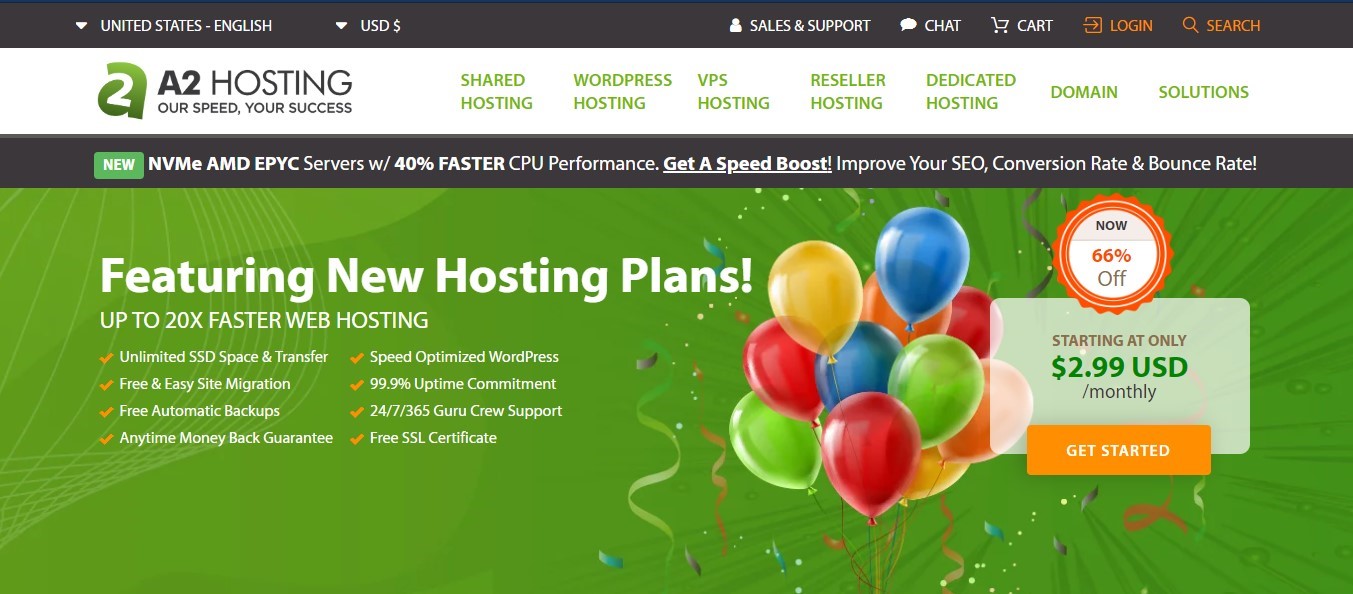 Howdy! We hope you are doing great. Again, welcome to WebsitesAdvice's another installment of comprehensive reviews of different web hosting providers to help you choose. Today, we'll take a deep look at A2 Hosting. Many web hosts are competing for your dollar, so it takes exceptional service to stand out from the crowded field and prove themselves worthy of your money. Web host A2 achieves so due to its excellent products, decent uptime and fantastic customer support. In reality, A2's high-quality WordPress plans are propelling the web host to the front of the WordPress hosting pack, despite some reasonably high prices and zero Windows server choices. A2 Hosting's reputation for high-powered hosting makes speed and reliability a top priority. A2 calls the Turbo Server SSDs that can load pages up to 20 times faster than a standard non-SSD server. A2 Hosting has won several top hosting awards and consistently ranked high on the best hosting lists. They pledge 99.9% uptime on all of their servers. But if you have a problem, their "Guru Crew" support team is available around the clock.
Similar to Website Design, Development and Maintenance, a dependable website is a crucial part of any successful website. During the planning stage of a website, the choice of web host is probably one of the last things that you have in mind. However, failing to pick the correct host can cause a lot of problems to your website and, more importantly, to your business moving forward. Here at WebsitesAdvice, we will try our best to help you to choose what hosting is the best for your needs.
A2 hosting is a web hosting company founded under the original name of Iniquinet by Bryan Muthig in 2001. It was originally planned to accommodate a small number of customers. By 2003, however, the business had acquired a lot more customers than expected. The name was changed to A2 Hosting, named after Ann Arbor, the town where it all started. The business began to expand rapidly. A2H is also a green hosting company, partnered with Carbonfund.org (a major global corporation working to reduce the impacts of climate change). Since 2007, A2 Hosting has proudly claimed to be 100% carbon neutral. Its Icelandic datacenter has no carbon footprint due to its geothermal cooling system. This web hosting company's core goal is to create and maintain such a good web hosting company that the employees want to use themselves. Here are the four main things they concentrate on: lightning-fast loading times, the best developer software, 99.9% uptime and a committed, first-class guru support team available 24/7/365.
FAST HOSTING – Your choice of web hosting companies plays an enormous part in your site's success. You'll be hosted at A2 Hosting on their fine-tuned SwiftServer platform. This platform is filled with devices such as a free CDN, solid-state drives (SSDs), and your datacenter option so you can host your site closer to your guests. You can even select their Turbo Servers with up to 20X faster page loads than competing website hosting services.
USER-FRIENDLY – If you're launching a brand-new website or have been hosting websites for years, you'll find that their services at A2 Hosting are incredibly easy to use. It all starts with the award-winning cPanel control panel included in each of their solutions for managed website hosting. This intuitive control panel makes managing your files, websites, emails, databases and more, within their graphical interface, a breeze. You'll also find a tool called Softaculous inside cPanel that will allow you to install the most common apps with 1-click to your account.
ULTRA – RELIABLE – What you are probably most concerned about is whether you can rely on your website's hosting provider. After all, if you are dealing with a service that you can't rely on, your audience won't be able to buy from your site. They won't be able to read the new blog post you've been spending the whole time on. They will not be able to find the contact information about your business. Rest assured, you can count on A2 hosting. Their professional engineers created their services using the very best hardware, networks, applications, and processes. Bring it all together, and you get their ultra-reliable service backed by their uptime pledge of 99.9%.
DEVELOPER FRIENDLY – Once A2 Hosting began its operations back in 2003, they did make their name by providing support for the best tech solutions. Besides being the ultra-reliable, high-powered host, they are also developer-friendly. Web developers use their platform to construct and deploy their software, apps, and websites.
BENEFITS OF USING A2 HOSTING
WORLD-CLASS E-COMMERCE PLATFORM AND SECURITY
If you plan on selling products, A2 has numerous e-commerce tools to cover you. To create an online store, you can use AbanteCart, PrestaShop, OpenCart, or another tool. All offer a one-click setup that makes it reasonably easy to get started. Magento, a popular and common e-commerce app, lets you easily drag and drop items to create a store. You will, of course, need a Secure Socket Layer certificate to accompany that store. The secure socket layer encrypts the data for safe online transactions between your store and customers' browsers. A2 SSLs launch for a one-year certificate and 256-bit encryption at $49.95 per annum.
EXCELLENT UPTIME
Website uptime is a vital Web hosting element. If your site goes down, consumers or clients may not be able to reach you or access your goods or services. Finding a reliable web host that can keep your site up and running is in your best interest. Otherwise, consumers may go elsewhere — and might never return. I use a website-monitoring tool to track my test site's uptime for two weeks to determine reliability. The tool pings my website every 15 minutes and sends me an email if he cannot reach the website for at least 1 minute. The data show that during our testing, A2 has been remarkably stable.
AWESOME CUSTOMER SERVICE
If you are ever in need of technical assistance, the appropriately called Guru Crew of A2 is willing to lend a helping hand. The Guru Crew is one of the best customer support teams I've experienced in the web hosting room, available 24/7 by phone or live chat. On a weekday morning, I contacted the team to learn about windows-based hosting plans offer and how to install WordPress. I just waited a few seconds until a member of the Guru Crew answered my questions.
A2 HOSTING PLANS, PRICING AND REVIEW – SHARED WEB HOSTING
Shared hosting should be on your radar if you wish to launch a site without spending a lot of money. Shared hosting places your website with many other sites on a server. In this kind of setup, websites share server resources, thus lowering your overall hosting fee. It is a solid form of low-cost web hosting, but it's not particularly effective. The main drawback is that the other sites that share your server can slow—or even take down—your site if they crash badly or get a big traffic spike.
A2 provides four shared web hosting plans based on Linux: Startup, Drive, Turbo Boost and Turbo Max. The startup has 100GB SSD storage and regular data transfers (starting at $2.99/month), but you're limited to a single domain and only 25 email addresses. On the top, Turbo Max starts on $14.99/month with unlimited websites, unlimited NVMe storage and up to 5x the resources.

A2 HOSTING PLANS, PRICING AND REVIEW – UNMANAGED and MANAGED VPS WEB HOSTING
As with their shared hosting plans, A2 offers several private virtual server (VPS) packages based on Linux. VPS hosting is like shared hosting because there are multiple sites on the same server. What makes VPS hosting unique? Hosting with VPS provides more resources per site. Every server has far fewer pages, so each is separated from its mates. A2's Unmanaged VPS (starting at $5.00/month), a tier designed for experienced website admins with their own IT staff, has a scant 512 MB RAM baseline, 2 TB monthly data transfers, and 20 GB storage. If you go to the Elite tier, the RAM and storage total increase to 1 GB and 50 GB, respectively. However, you're not being locked into those specs because A2 lets you spec its Unmanaged Deals with up to 9 TB monthly data transfers, 32 GB RAM, and 250 GB storage.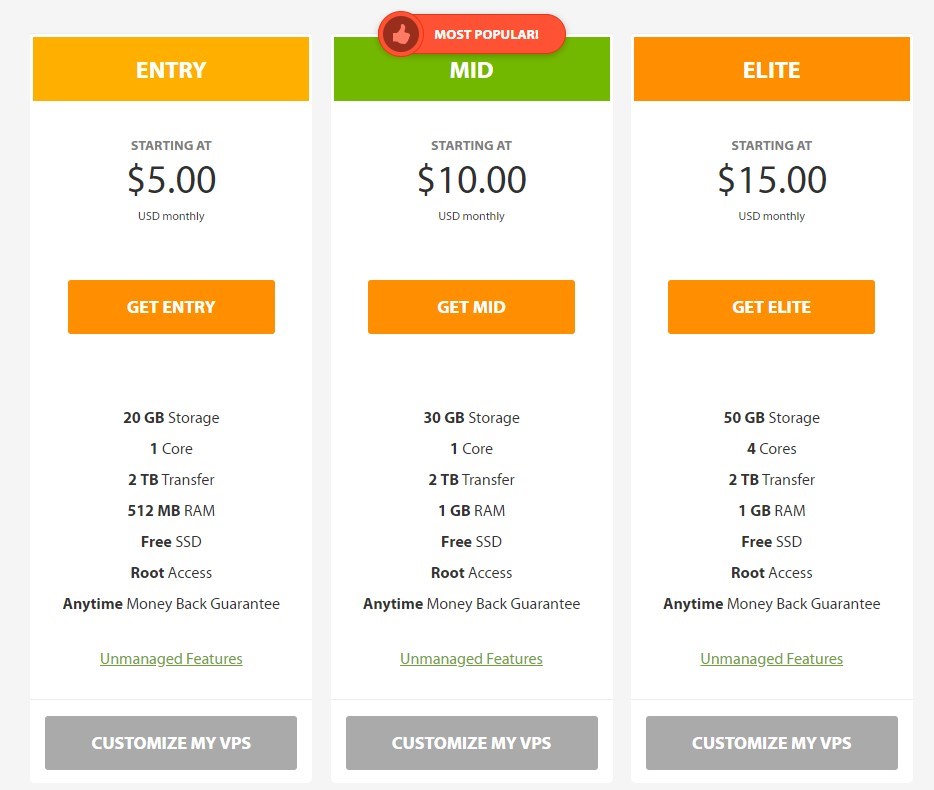 Managed VPS (starting at $25/month) provides a Power+ base plan with 4 GB of RAM, 75 GB of storage, and 2 TB of monthly data transfers. A2's top-level Pinnacle+ plan contains 8 GB of storage, 150 GB of storage and 4 TB of monthly data transfers. The plans come with a HostGuard Management service, so with under-the-hood happenings, you don't have to get your hands dirty.

A2 HOSTING PLANS, PRICING AND REVIEW – DEDICATED WEB HOSTING
As your website shares zero server resources with other sites, dedicated servers are the most powerful web hosting offerings. If you expect a large amount of traffic on your website, you should spring for hosting dedicated to it. A2 has several dedicated server packages that are powered by Linux. The managed SPRINT (starting at $141.09/month), unmanaged (starting at $99.59 a month). The top of the line Mach (starting at $290.49/month for managed and $248.99 for unmanaged) servers all have at least two CPU cores, 8 GB of RAM, 10 TB of monthly data transfers and two 500 GB hard drives. They differ primarily in their ability to let you get root access and use HostGuard Management.

A2 HOSTING PLANS, PRICING AND REVIEW – CLOUD WEB HOSTING
Cloud hosting becomes ever more common. It differs from traditional hosting because it distributes resources through multiple servers, whereas conventional hosting draws power from a single server. A2, like many other web hosts, offers multiple levels of cloud hosting; they're just limited to the Linux operating system.
A2's $5/month Entry Plan comes with 512MB RAM, 20GB of storage, and 2TB of monthly data transfers. The company's $10/month Mid Plan ups the RAM and storage to 1GB of RAM and 30GB, respectively. The Elite Plan ($15.00/month) increases the storage to 50GB.
A2 HOSTING PLANS, PRICING AND REVIEW – WORDPRESS WEB HOSTING
If you want to go down the WordPress route, you've covered A2. Its four Linux-based WordPress hosting plans — Startup, Drive, Turbo Boost and Turbo Max — are identical to the company's shared web hosting plans (A2 also offers more expensive managed plans to provide white-glove treatment for your installation). In fact, the price is the same, even. The benefit of using the WordPress hosting service for A2 is that the optimized platform makes it possible to load it faster than its usual shared hosting package (the company says it is 6X quicker than conventional hosting).

A2 HOSTING PLANS, PRICING AND REVIEW – RESELLER WEB HOSTING
If you're looking to get into the web hosting business, but don't want to deal with infrastructure matters, check out A2's reseller hosting packages. The plans, starting at $13.19/month, boast free SSL and SSD plus up to 400GB of storage and free eNOM Reseller Account. A2 offers a good mix of Linux-based servers, including in the shared, dedicated, and VPS categories. Also, A2 lets you apply your branding to the servers you rent, and it supplies 24/7 tech support.

DO WE RECOMMEND A2 HOSTING?
Yes, WebsitesAdvice recommend A2 Hosting. A2 Hosting provides a variety of flexibility in the types of plans and the different available inclusions. Plans can be used for a vast array of purposes and you can manage your site or have it done for you by the A2H gurus. When you open your account, it's already optimized for WordPress users.
Thank you so much for tuning on and see you on the next installment of WebsitesAdvice's series of comprehensive reviews. Ciao!