Hi there! We hope you are doing good. This post is the second installment of WebsitesAdvices' series of comprehensive reviews about different Web Hosting Providers. In this review, we will focus on Bisend, a leader in the web hosting industry. Bisend is renowned for its innovative hosting solutions that deliver high price value to customers. It's one of the first web hosts to create hosting services using SSD, including a free SSL certificate. Also, they provide WordPress tool kits to their customers and more. We'll show below why you should consider them as your next web hosting provider.
Similar to Website Design, Development and Maintenance, a stable and reliable website is a crucial part of any successful website. During the planning stage, the choice of web host is probably one of the last things that you have in mind. However, failing to pick the correct host can cause many problems for your website and, more importantly, to your business. Here at WebsitesAdvice, we will do our best to help you to choose what hosting is the best for your needs.
Founded in 2011, Bisend is dedicated to providing our customers with high-quality, managed web hosting services using industry-leading technologies. The business is owned by Light Red Tech Co., Ltd, a London-registered corporation with employees in Los Angeles, Chicago, Hong Kong and Mainland China. Like the other web hosting services, Bisend is committed to helping small businesses and individuals thrive online. They provide hosting services that manage and customize the server for different applications, such as WordPress, Drupal, Joomla, Magento and others. As Plesk's platinum affiliate, all applications (both Linux and Windows platform) use Plesk as a control panel, providing a unique and consistent experience to their customers when using their hosting services. Bisend, an integrated online business distribution network, provides retailers all the features required for building websites. This feature aims to provide a website building manager for users and to make the website as simple as buying online. It provides users with a range of website building resources, including managed cloud storage, domains, SSL certificates, and client emails. Whether you are a newbie or an expert, you can use Bisend's services to get your ideas online quickly!


Managed Cloud Hosting – Bisend partners, Plesk and Alibaba Cloud, provide a web hosting operated by Plesk. With a visual interface, the world's leading Plesk control panel makes cloud storage easy to use and to manage. So, you can manage your server and website quickly and easily, and get more time to focus on your own business.
SSL Certificates – Bisend and the world's leading providers of SSL certificates join hands to offer you the most accepted and cost-effective SSL certificates, from Symantac, Geotrust, Comodo, and others. Also, Bisend explicitly develops SSL certification programs for individuals, large and small companies, e-commerce, and financial websites.
Diverse Domain Services – Bisend provides a comprehensive variety of domain choices. Their powerful search domain function can quickly find the best domain and automatically recommend it for you.
Cutting Edge Support – The responsive 24/7 professional team at Bisend will provide you with one-on-one support.
EASY TO USE
 Bisend understands the importance of ease of use for clients, especially those beginners. The business offers a collection of tools for online technologies to help consumers handle the most time-consuming problem well.
PLESK CONTROL PANEL
In each plan, Bisend has established a good partnership with Plesk International GmbH to offer the industry's popular Plesk control panel. Customers can easily control all aspects of their website and hosting accounts with Plesk, including email, phones, applications, and data.
WORDPRESS TOOLKITS
In shared hosting, Bisend provides customers 1-click WordPress installer that enables WordPress website migration, backups, and restore effortlessly.
 BACKUPS AND RECOVERY
Customers don't have to worry about their data security because the company offers weekly automatic backups and recovery. With this service, when customers have a server outage, they can almost immediately restore their site data to the prior state.
Bisend is a young web hosting player, but they know what solutions customers need. The organization currently has available ASP.NET Hosting, Linux Hosting, Reseller Hosting, and SSL Certificates. VPS hosting, WordPress Managed Hosting will come soon after. We 're making the service review one by one below to make it clear.


BISEND WEB HOSTING PRICING AND FEATURES – LINUX HOSTING
Bisend Linux Hosting comes with the same 3 bundles, including rich features, ready-to-code hosting environment and rich tools to make it easy to build a website. The new CentOS 7.x is available to this hosting plan.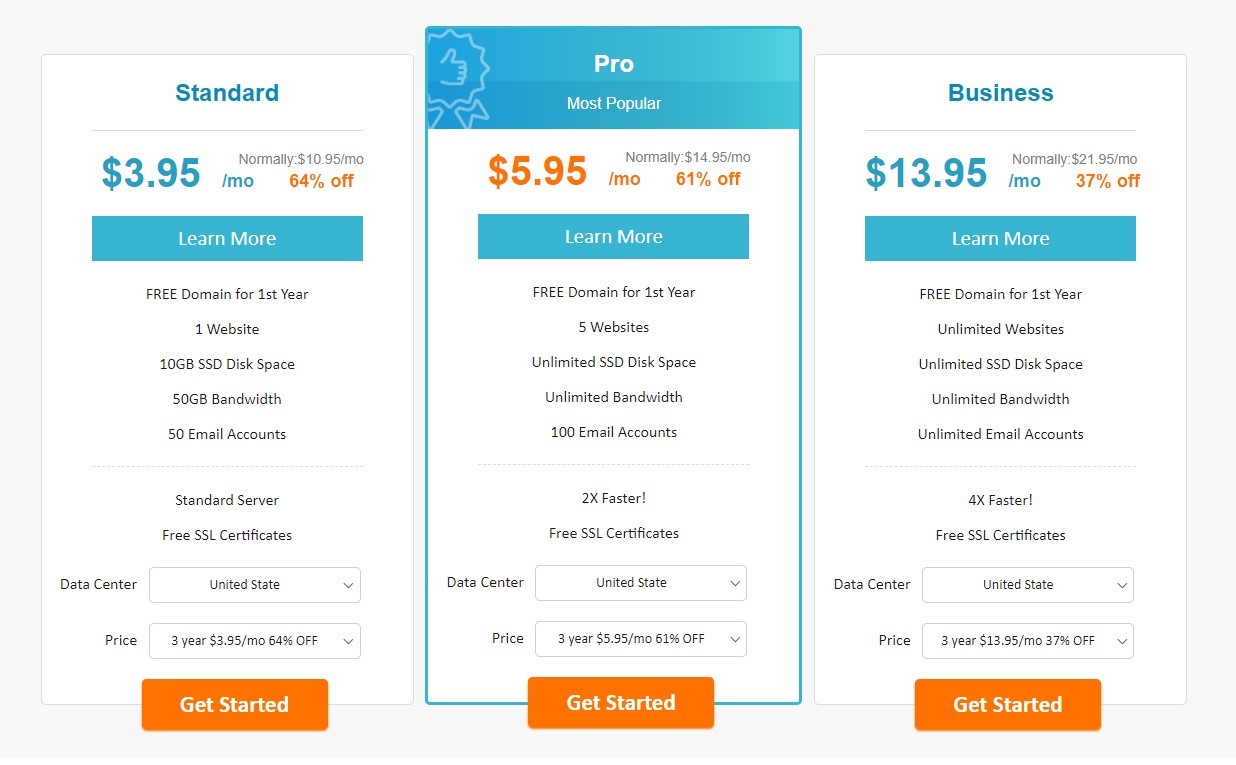 The three packages for Linux hosting offer customers support for unlimited websites, bandwidth, SSD RAID-10 storage, and email accounts. The company provides two data center options for clients, dedicated IP address, and free SSL certificate.
There are supports for Outlook Windows Mail and Thunderbird Messenger, webmail, anti-spam and malware, fake email, and email forwarding. Simple to use email features help clients create email campaigns and make it easier for them to start a business.
Bisend Linux hosting also has MySQL 5.5 + with remote access and phpMyAdmin, Zend Optimizer, PHP 5.4, 5.5, 5.6, and PHP7.0.x for other advanced features. Protection from hotlinks, 301 URL rewrite, customized.htaccess, secure directory, and FTP over https all come to clients.
What's more, the company gives Linux hosting customers greater usability. Now both industry-leading Plesk control panel and WordPress 1-click installer are available.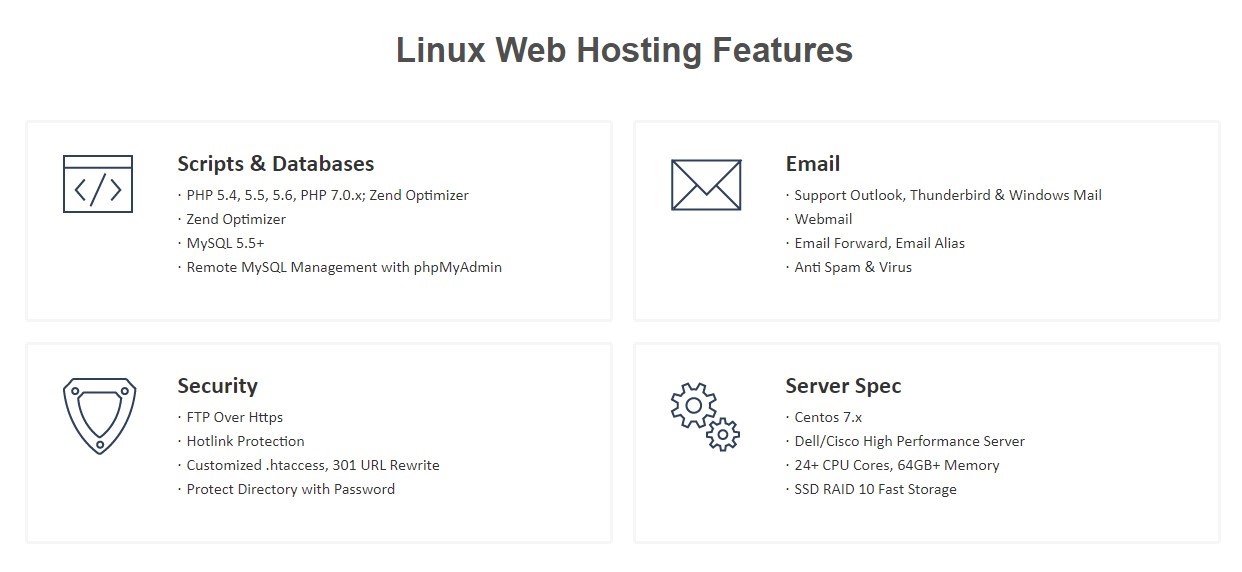 Bisend Linux hosting with free SSL, SSD and Plesk are affordable. It usually starts at $10.95/month, but if customers go with a 3-year plan, it is at $3.95/month only. With this exclusive promotion, customers can save up to 64%.
On the other side, Bisend offers 30 Day Money Back Guarantee to keep consumers satisfied with Bisend. Trying out its programs is perfect for customers. They can get a refund of all hosting fees within the first 30 days if they are not pleased.

BISEND WEB HOSTING PRICING AND FEATURES – ASP.NET WEB HOSTING
For ASP.NET, including ASP.NET hosting, Bisend has enabled shared hosting optimization. By adding a variety of ASP.NET-friendly features, Bisend makes ASP.NET hosting simple to satisfy consumer needs of all kinds.
Bisend ASP.NET is exceptionally inexpensive to host. The organization routinely pays it from $10.95/month. Customers can receive an incredible 64% discount if they click on this exclusive promo link, which starts at $3.95/month only when they sign up for a 3-year cycle
Bisend provides various versions of PHP from 5.4 to 7.0, Zend Optimizer, ASP.NET 1.2, 2, 3.5SP1,4.5, Classic ASP.NET, ASP.NET MVC 3 to 6,. ASP Core 1.0, 1.1, Silverlight 4, 5 and Node.js for ASP.NET friendly applications and databases. ASP.NET hosting also includes SQL Server 2012, 2014, 2016, MySQL & MSSQL DBs, Remote Access, and phpMyAdmin and MyLittleAdmin.
The company includes Plesk control panel, 1-click script installers, webmail, and website backups and restore as regards server management. It provides everything clients need to make website management simple.

ADDITIONAL: BISEND HOSTING RESELLER PRICING AND FEATURES
Bisend carefully designs 3 reseller hosting plans to help clients start their own hosting business, which is both Linux and Windows friendly. Silver, Golden, and Platinum are the 3 reseller hosting plans. Bisend reseller hosting also provides location options like other shared hosting solutions: the U.S. and Hong Kong. Since they have two premium options, resellers don't have to think about their site location.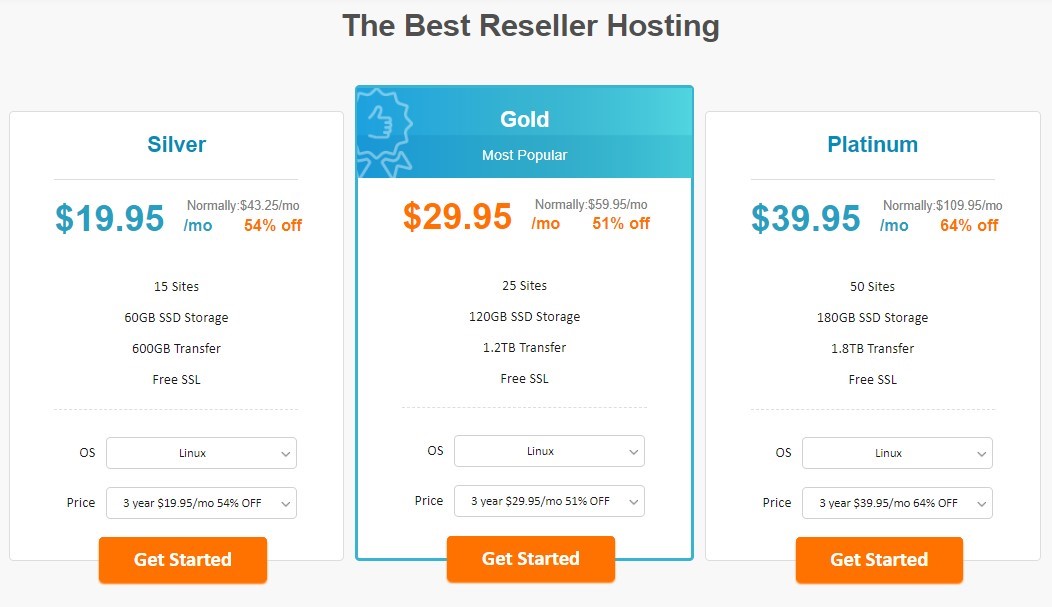 Bisend offers customers the most unlimited websites in three packages, 180 GB of disk space and 1.8 TB of bandwidth. These are enough for them to build their own sales packages for web hosting. Bisend hosting resellers are quite cheap, with a discount of up to 64%. For example, the Silver bundle usually starts at $43.25/month, but if consumers choose a 3-years promo, they can get a 54% discount, which makes it $19.95 / mo.
As for the features, Bisend reseller hosting includes multiple PHP versions and the latest PHP 7.0.x, as well as MySQL 5.5+ with phpMyAdmin for Linux OS packages; in Windows reseller hosting, there are multiple versions of .NET and .ASP Core, MSSQL 2012, 2014 and 2016 available. So, customers can deliver ready-to-code Linux shared hosting or ASP.NET optimized hosting to their clients.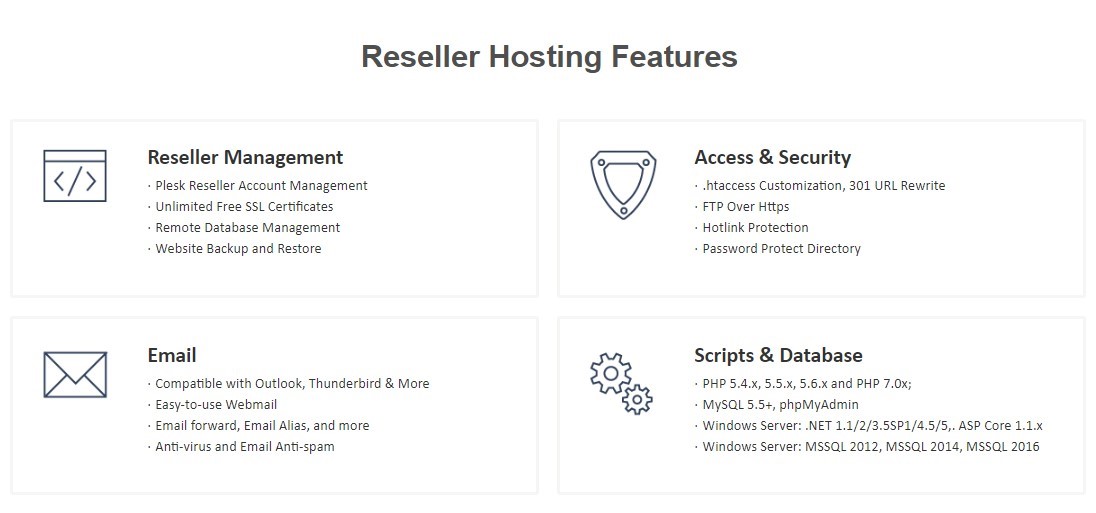 It's also possible to configure feature-rich email services and the same access & security features in Linux hosting to make premium hosting plans for their clients.
Website management is not only important to resellers but also to their customers. Bisend provides Plesk Reseller Account Management to help clients manage their reseller accounts more easily. They can also deliver a free 1-click SSL certificate, remote database management, and website backups to their clients.
To know more or subscribe to any of Bisend's awesome Web Hosting Plans, click the image below!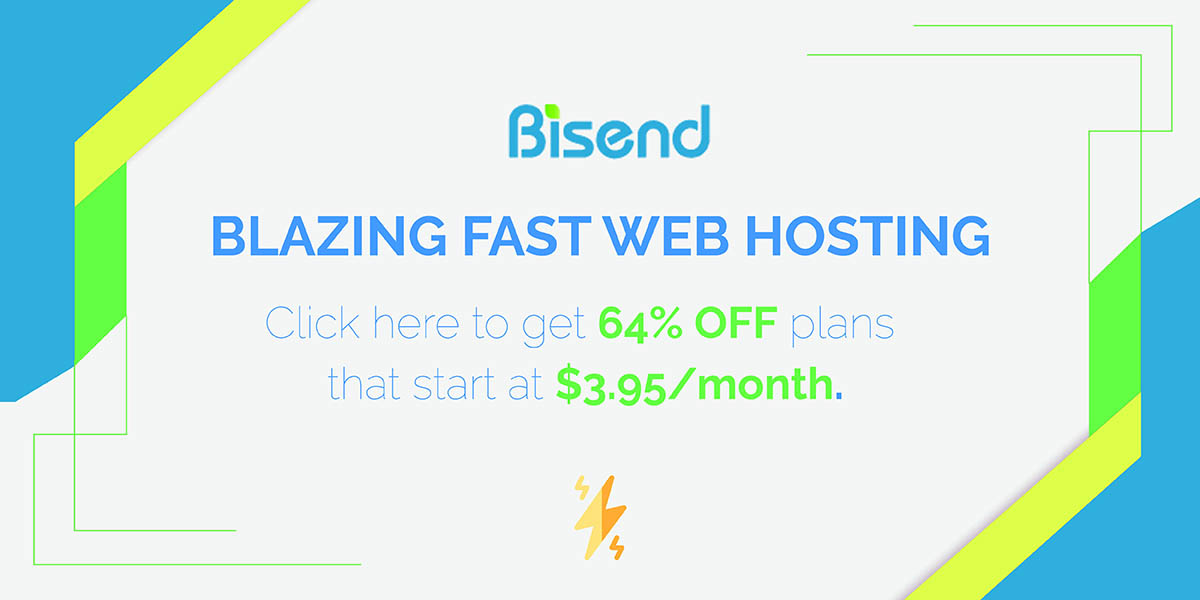 OUR CUSTOMER SERVICE EXPERIENCE WITH BISEND
Bisend takes a serious approach to customer support. With the most professional and attentive customer service, it provides 100% satisfaction guarantee. When customers have any issues, they should feel free to contact Bisend 's professional support team that is available 24 hours a day, 7 days a week. Only launch a live chat or request a ticket and then, as soon as possible, Bisend experts will come in.
Moreover, Bisend has developed an online support center where consumers can check for any questions and answers relevant to core items and buy guides. Bisend Blog also has several recent revised "how-to" tutorials. Bisend Service Terms include the rights of all customers and the responsibilities of the company.
We believe that customers should have their answers according to our real experience, customer reviews, and this detailed analysis. Bisend provides low-cost and easy-to-use hosting of Linux hosting and reseller, low-cost and feature-rich ASP.NET hosting, as well as various secure SSL certificates. Bisend cloud solutions are robust with the help of two premium data centers and attentive customer service. Therefore, to seek Bisend, we genuinely encourage individuals and SMBs to take advantage of its 30-day money-back guarantee and huge discounts.
That's all, folks! Please leave a comment below if you are an existing subscriber of Bisend. Kindly share your experiences and let's discuss. Thanks and see yah!