INTRODUCTION ON HOW TO USE GOOGLE TRENDS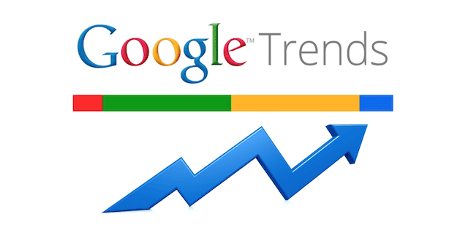 From finding new items for sale on the ecommerce website to seeking content suggestions, Google Trends' list of possible uses is endless. Here's a quick guide to use Google Trends to help your business  from www.websitesadvice.com.
If you've never heard of Google Trends before or used them before then you're in for a treat! Google Trends is a method to compare usage of search words and patterns. Through a variety of different apps, it helps you to gain an understanding of the moment's hottest search patterns along with those in popularity over time.

HOW TO USE GOOGLE TRENDS
Okay, the good news is free on Google Trends! Usage is available to anyone, whenever you like. Only switch to Google Trends, and see the dashboard. You can either browse the trend stories from here, or enter the topics in the search box: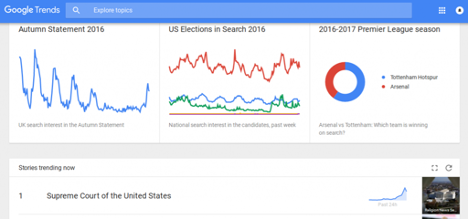 Google Trends ' list of potential uses is endless but here's a fast step – by – step guide to using Google Trends to help your business improve its online presence.
UNDERSTANDING YOUR AUDIENCE
Google was more of an entity than a search engine, as the most popular search engine. A search data can thus be extremely representative of public opinion and desires. By understanding public opinion relating to your business, you can use this to your advantage.
If I were to use Google Trends, I'd like to know how our industry 's perception has changed over time and where it now lies. I 'd get on Google Trends myself and start with the basics. I will type in the search box above some key phrases which I think would suggest a difference of opinion and understanding of our industry as shown in the screenshot below:
You will now be greeted with a graph that shows you the search trends over time relative to each other for these sentences. These will automatically default to Worldwide but you may want to customize your graph to that area if you're targeting a specific country or region. To do this, go to the Regional Interest Panel and select the area or city you prefer:


Now you'll be left with a graph showing you the popularity of certain search terms in your selected area.


From this graph, I can see how the trends over the past 5 years have changed massively and you can see the point where social media (in red) overtook SEO and AdWords towards the end of 2013.   This tells me that SEO and paid search (PPC) services in general may be more common than email marketing, but the popularity of social media continues to rise and the gap between social media and other forms of digital marketing continues to grow.
HOW TO USE GOOGLE TRENDS TO FIND PRODUCTS FOR YOUR ECOMMERCE WEBSITE
Google Trends can be used to help you find suggestions for products to sell on your ecommerce website, or perhaps even to help you come up with a new business idea for retail. Let 's say I 'd like to set up a website in the UK that sells  VR (Virtual Reality) headsets. I will insert some combinations of product terms into the trends in Google and pick the option to view UK data over the last five years. I used to check for' VR headsets' here:


As you can see, the search volume has been quite small but the upward trend makes me think that in 2017 the headsets of virtual reality will continue to be popular.   So I would find these products a good investment for my company. Google Trends can also be used to help you recognize the seasonal peaks in your industry. Say you want to sell food hamper for example: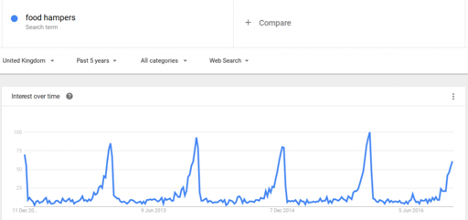 The pattern graph shows what you would suspect-a huge interest increase around December. However, we can see that interest is actually starting to pick up around July / August, which suggests I should start marketing activity earlier in the year to make sure I remain competitive. You can also follow your study or product development and use the section ' related topics' to classify types of food hampers:



We can see here that searches for' savoury' and' health food' are gaining interest which I would see as an opportunity to introduce' The Ultimate Healthy Eating Christmas Hamper' or' Savoury Favourites Hamper!'
UNDERSTANDING YOUR COMPETITORS USING GOOGLE TRENDS
You can also use Google Trends to track the success of your rivals, and your own. The "News Headlines" tab in Google Trends allows you to monitor visibility along with poor (and good) news stories. I've exposed my tennis-loving ways at a loss of who to look for but this exactly illustrates my point. If you've been looking for a rival and their graph looked like this one a little bit, then you might be amazed at how they managed to peak in popularity. You should be able to learn very quickly why these peaks have developed by selecting the News Headlines window, just hover over the letters for a bit of definition. For instance:
We see here that Andy Murray 's loss to Federer caused a huge popularity surge. To find out that this was Murray's first Wimbledon finale we just need to click to see the article for more detail. So what's caused next year's huge high…
Okay, I' m glad the audience feels this was a very exciting time. In reality, correlation with Andy Murray winning Wimbledon has coincided with Scotland's most involvement in Wimbledon in the last 10 years? I don't believe it.


This illustrates how useful this tool can be to find out if you or your rivals were particularly popular, why they were and what this might have influenced.
GETTING CONTENT IDEAS FROM GOOGLE TRENDS
Now we all know that great, important, and popular content is key to a successful digital strategy and SEO. Relevance and timing are essential to the popular content. Google Trends searching is a great way to understand what people are talking about, what they're interested in and, most importantly, what kind of content they 're going to enjoy and when they're going to enjoy it most.
In the News Headlines section, your competitors ' content that has gone viral or correlated with a rise in popularity may be linked to or mentioned–so keep an eye on that! Finally, for a bit of fun, you can use Google Trends, or just confirm some of your assumptions about trends in your industry. Google Trends, of course, has a lot to offer-a lot more than one blog post should summarize!
Is there anything you use Google Trends for, or anything you would like to know about it? Just leave a comment and we'll get back to you as soon as possible! Thank you so much and we hope to see you all again!