Did you ever dream of learning how to create a website? Well, this fact is closer than you would think with today's devices. Historically, designing your website meant learning how to code or hiring a web design professional. But today, you can take a myriad of tools and approaches to build your very own website in record time.
Whether you want to make a website for your small business, create a WordPress eCommerce website, or start a blog to share your thoughts with the world—this post is for you. With these instructions, you'll understand:
How to create a business website
How to create a portfolio website
How to create a personal website
We'll dive into the foundational steps you'll need to take before you start building, which website building tools and platforms you should use, and finally walk you through two different approaches of building out your site.
WHAT TO DO BEFORE YOU START BUILDING YOUR WEBSITE
There are specific foundational steps you will need to take before you start making your website. Namely, choose which route you will take to build a website. We can probably rule out constructing your site from scratch. That path takes too long, and at best, the result will be lackluster. Instead, using a Content Management System ( CMS), like WordPress, or a website builder, like the one offered here at HostGator is a better idea:
With WordPress or a website builder behind you, you will be able to speed up the website build process significantly, plus the result will be a highly functional and professional website. In addition to choosing which tool to use to create your website, you will also need to secure a domain name and hosting, but don't worry; we'll walk you through this step-by-step below.
WORDPRESS VS. WEBSITE BUILDER
As mentioned above, you are most likely to choose between WordPress and a website builder to create a website. Here's an in-depth look at these two options, so you can decide which option best suits your needs. You will also learn how to build a website using both of these approaches below, so we've got you covered no matter which one you choose.
CREATING A WEBSITE USING WORDPRESS
WordPress currently powers more than 30% of the entire internet. That alone is supposed to tell you about the power, flexibility, and usefulness of this tool. There's a little learning curve, but with a lot of useful tutorials out there online, it's easy to teach yourself. WordPress is popular in large part because of its flexibility. It can be used to build small personal blogs, up to massive online magazines and eCommerce sites.
Essentially, WordPress lets you build a highly customized professional website. All you need to do is install WordPress on your server, choose a theme, and add more features via their extensive library of popular plugins. Getting your site exactly right will take some time as there are many moving pieces at play. You can still create a basic website rather quickly, but mastering WordPress and the ins-and-outs of your site will take some time.
CREATING A WEBSITE WITH A WEBSITE BUILDER
WordPress can help you build a robust and very customizable website. But, perhaps some users don't need all that flexibility. Web-builders reign supreme when it comes to ease of use. There are dozens of website builders to choose from, but the core focus remains the same: helping total beginners create a professional site in the shortest possible time.
You will not typically have access to the same level of features as you would be using a platform like WordPress. But, some website builders won't need a feature set that extensive. If you want to build a relatively basic website that still looks incredibly professional, then the way to go is to use a website builder. With a website builder, all you need to do is fire up your preferred tool, select a professionally designed template, customize your site and add contents with the easy drag-and-drop builder, and you're good to go. Hopefully, you feel more comfortable in choosing the right tool or platform to construct your site now. Now, it's finally time to begin construction.
Below you'll learn how to create a website from scratch. Even if you've never built a website before, simply follow the steps below, and you'll be fine:
SECURE HOSTING AND A DOMAIN NAME You'll need a domain name and hosting before you can start building your web site. Your host is where all of your website files will be stored, while your domain name is what your visitors will type into their browsers to access your website. It's impossible to have a website that's accessible on the internet without these two elements.
There is a multitude of places you can buy your hosting and domain name — one of them is right here at HostGator. You can purchase these separately or together, but purchasing them from the same place can be helpful as it will save you some technical steps down the road. To sign up for the hosting, go to the HostGator hosting page and choose your preferred plan.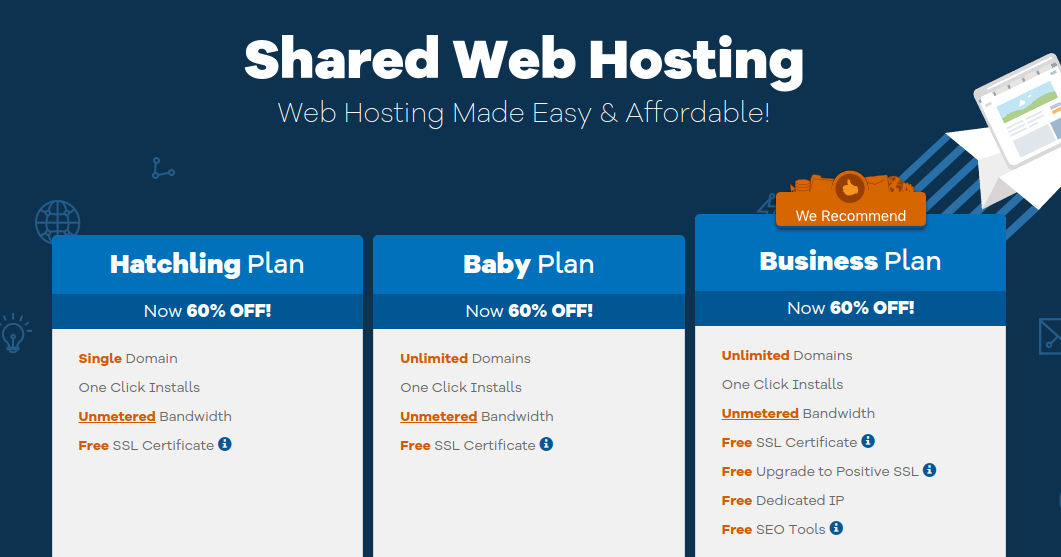 You can also register a new domain on the next screen while completing the rest of your hosting account setup. Easy, huh?
Or, by heading to the HostGator Domains page and looking for and selecting a domain, you can register your domain as standard.
2. LAYOUT YOUR WEBSITE FOUNDATION
You would want an idea of the type of site you should create before you start to design your website. Take the time to visit other websites in your niche and get an idea of the style and the changes you want. You can easily find the right theme or website design by taking note of different website elements that you like. Once you get an idea of the physical look, it's time to plan your site structure and content.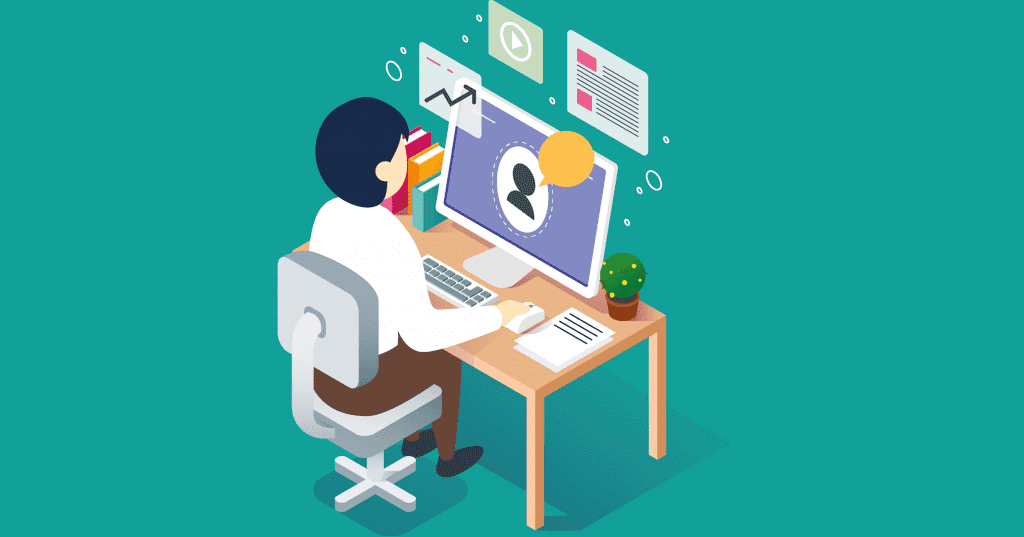 Consider why you are building a website. Are you building a website for business? A site for yourself? Or a website portfolio?
You can choose the right template much faster by understanding what sort of site you are creating. You will wade hundreds, or even thousands, to look for one that suits in blindness. Now it's time to design your website structure. Fortunately, this isn't too complicated. The general collection of pages on most sites is the same: Home Page, About Page, Contact Page, Services/Product Page and Blog. Whether you're using a website builder or WordPress, all of these pages will be easy to create.
3. HOW TO DESIGN YOUR WEBSITE
The best approach is to use the professionally-produced designs of others as a starting point to design your web. Fortunately, you will be given this choice with both WordPress and a website builder. Below are two different ways of building a website: WordPress or the Website Builder.
OPTION 1: HOW TO CREATE A WEBSITE USING WORDPRESS
In WordPress, your web design will be done by your theme. Once you have WordPress installed on your host, you should navigate to the backend of your website to find a link that looks like that: https:/mysite.com/wp-admin.
You 'd like to navigate to Themes > Add New once in your WordPress dashboard.
You can browse themes here, search for a particular theme, or even search by keywords. Upon finding your desired theme, you need to hover over it and click Install, then Activate.
You will have different customization options choices depending on the theme you have selected. You will either be given a settings page within your theme, or use the built-in customizer that can be accessed by navigating to Appearance > Customize. Whichever method you choose, you will find tons of different options that will allow you to change things like your background, colors across the site, header options, menu display, site layout, and more.
CREATING WEBSITE PAGES WITH WORDPRESS
It's a relatively easy job to attach pages to your web. You only need to navigate Pages > Add New.


Then type in your page name and add your body text , pictures and more.
ADDING WEBSITE FEATURES VIA WORDPRESS PLUGINS
Finally, you'll likely want to customize your site further. Use plugins to manage WordPress and add more functionality to your web. Others, like SEO or security plugins, can run in the background. They can also be used to help you configure the front-end features, such as sharing social media.
This is only a brief overview to give you enough information to build a solid foundation for the site. You will want to spend more time experimenting, tailoring and perfectly tweaking your website.
OPTION 2: HOW TO CREATE A WEBSITE WITH A WEBSITE BUILDER
If you decided to create your site using a website builder, then this section is for you. For the sake of the tutorial below, we will use the website builder at HostGator. Their website builder features hundreds of possible themes across a range of different niches. Once you open the builder, the first thing you'll see is the selection of design templates.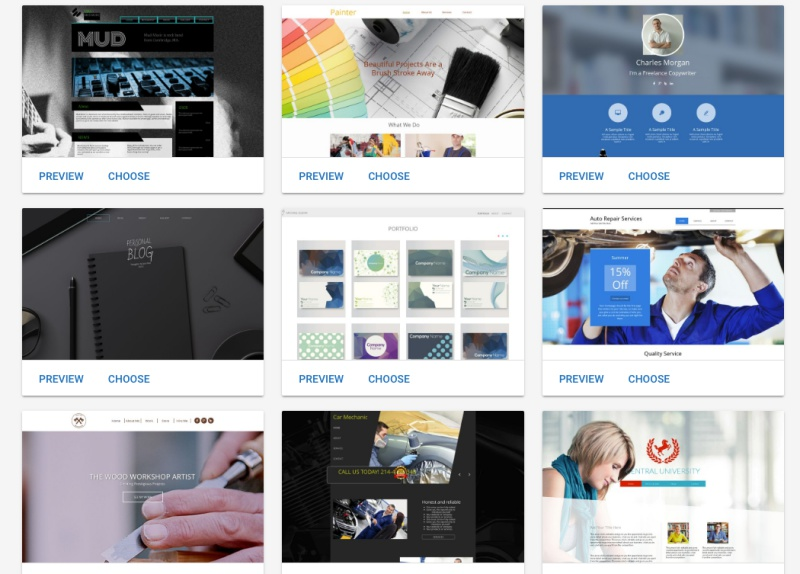 The template you choose will serve as the basis for all of your sites. So, finding the perfect template for your needs is worth the time. Although the drag-and-drop builder allows you to customize your template, the final design will look similar. 
After finding your preferred template, hover over it and press Select. You can start the customization of your template on the next screen.
If you click on any existing website item, a list of options will be provided for the customizations you can make. This can vary from introducing new blocks of content, changing fonts, text, and even incorporating new design elements. Definitely worth playing around with the website creator HostGator. When you have all the elements you want on the list, you can rearrange them by dragging them across the screen and dropping them down. It couldn't get any simpler. 
Here's more good news: It's as easy to add new pages. Just click the "Add Fresh" button and then start writing your content.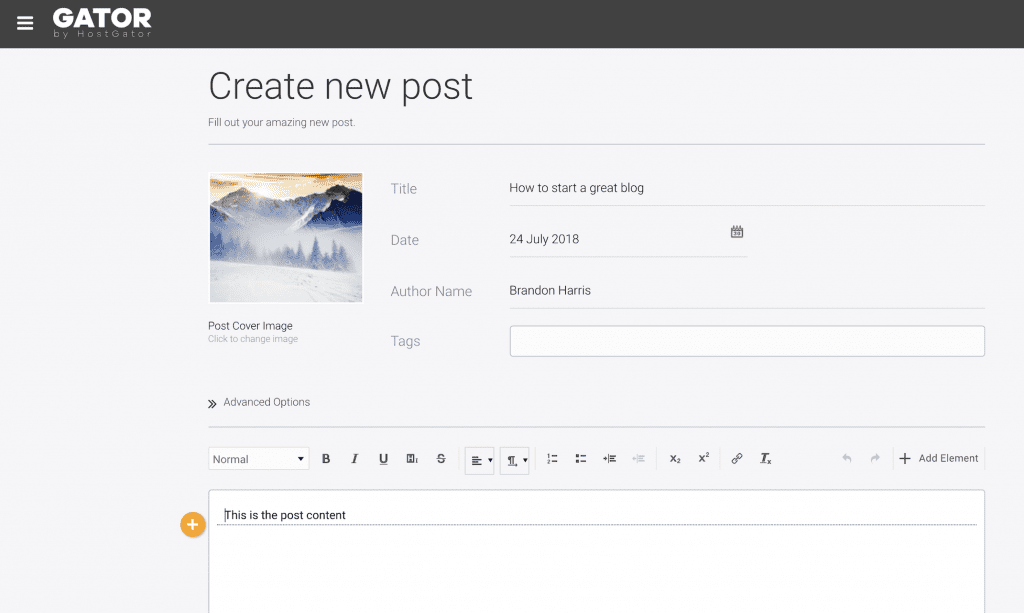 As you can see, it's way easier to build your website than ever before. With WordPress's power or a website builder behind you, designing your website without the aid of a web design professional is quite easy.
If you've completed all of the above steps, you've got a website ready for the web now! Congratulations to you! If you want to take the WordPress route or develop your website with a website builder, you'll soon have a website ready to show the world – and HostGator will help you get there!