Included in the checklist of developing a website is registering a domain. It is the URL (Uniform Resource Locator) or the link address which users have to know in order to get to your website. It primarily has two parts. The top-level domain (TLD) or sometimes called extension will give web users an idea of either the purpose, the owners, or the geographical origin of the website.
Meanwhile, the domain name will help you to be recognized as a brand – what is your website all about? So, it's important to register the right domain to reach your target market and boost your search engine ranking.
So how do you register a domain name?
You can either 1) register your domain first, then integrate it to your website or 2) register your domain directly with the web hosting provider or web builders you chose to create your website. If you chose the first option, keep in mind that you just registered the link, and not the website itself.
Whichever you will choose, the process will be the same. You have to input your preferred domain and the system will automatically check it on the registry. If it is still available, you can move forward to choosing your TLDs, but in case that domain is already registered, you can spruce it up a bit or choose from the alternatives given by the domain hosting provider.
What about the pricing plans?
Always remember to inspect the pricing plans. Some have hidden charges and automatic add-ons. That's dangerous especially when you don't have the luxury to check credit details and particular website management.
Pro Tip: It's much more convenient and CHEAPER if you choose a web hosting provider that also offers domain registration. Here are some of the reliable but cheap web hosting providers now.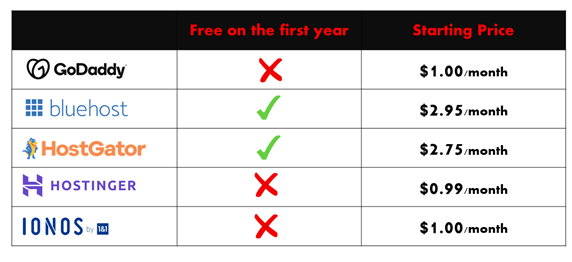 Bluehost and HostGator offer free domain registration on the first year (condition and term applies), then go $2.75 and above on the following months, GoDaddy, Hostinger, and Ionos offer a much cheaper starting price, but without the 1-year free domain.
Choosing the right domain hosting is crucial to your website development, especially when you opt on having one provider for your web and domain hosting. This affects your website integrity, security, optimization, among others.